Digital Advertising Rate Card 2019
EXCLUSIVE OPPORTUNITIES
Reach your audience by engaging them with targeted Rich Media ad campaigns that result in effective conversions and increased brand engagement.
HOMEPAGE TAKEOVER
24-hour exclusive ownership of the homepage;
Leaderboard, Big Square, Half Page, Rectangle
and Half Banner ad spaces.
$2,000/weekday or $2,500/weekend
EXPANDABLE BILLBOARD
Closed - 970 x 90, Open - 970 x 415, placement at top of site.
Home Page $500/day
Inside Pages $500/day
Full Site $1,000/day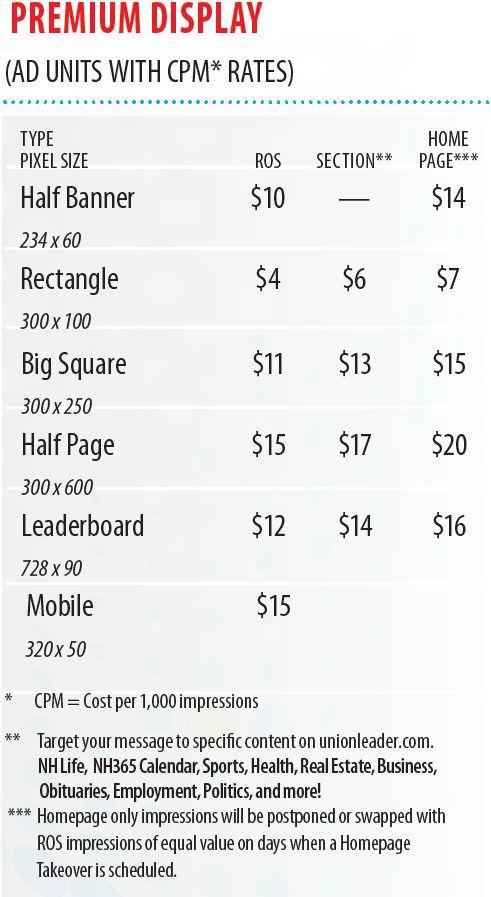 VIDEO INTERSTITIAL (500 x 500)
Make an impression with the Union Leader video interstitial ad. The video interstitial, allows advertisers to target a highly desirable local audience across unionleader.com. This high impact ad unit will deliver your message to your target audience, driving traffic to your business and website.
Static $25/cpm Video $30/cpm
ADHESION AD UNIT (500 x 100)
This ad unit remains at the base of the unionleader.com website while users are browsing. Makes for great exposure and direct response.
Home Page $375/day
Inside Pages $375/day
Full Site $750/day
SPORTS VIDEO ADVERTISING
The New Hampshire Union Leader offers an effective way for local businesses to access iconic professional sports leagues and target a highly engaged local audience. Digital sports content on unionleader.com, creates an engaging viewing experience for users and allows easy integration of your marketing message.*
E-MAIL NEWSLETTER OPPORTUNITIES
Be the exclusive sponsor of a unionleader.com email newsletters. Reach 2,500 to 20,000 registered recipients. Your Big Square ad will be featured in the Email.
Email Newsletters: Daily Morning Headlines, Weekend Top 10, Business News, Breaking News, Queen City Survival Guide, and Out of Range.
CUSTOM SPONSORSHIP OPPORTUNITIES
Target your exact audience with our custom sponsorship opportunities. Put your message in front of the people that care the most! Many opportunities available!
Politics
Sports
Mini Page (print only)
DUI Page
History/Looking Back With Aurore Eaton
Business Editors Notebook
Primary Plus
Contests
From Sports to Politics and beyond
Ask your representative for a complete list.
FOODIE PAGE - RESTAURANT PROGRAM
Now, four days a week! Weekly exposure in:
Wednesday's CityWide (mailed to 40,000 non- subscribing households) Thursday's NH Weekend (weekly entertainment tabloid with 140,000 readers) Friday's New Hampshire Union Leader (140,000 readers) Saturday's New Hampshire Union Leader (140,000 readers) 300 x 150 digital ad on the Food Pages of NH Life. - $250/month
Additional advertising information may be found at www.unionleader.com/advertising