For nearly a decade, Ignite Bar & Grille and its sister seafood restaurant Hooked next door have been fixtures at Hanover and Chestnut streets, part of a mini nightlife district anchored by the Palace Theatre, around the corner from Elm Street and other popular restaurants.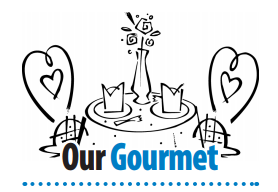 Ignite opened in 2009, and Hooked arrived two years later. The restaurants changed ownership midway through their history, and the neighborhood has changed as well, with the Hanover Street Chophouse a block east as the only restaurant in the immediate area with a longer tenure. The recent addition of the Chophouse-owned Crown Tavern across the street from Ignite and Hooked has brought more diners to the corner, but business seems brisk on both sides of the street.
On a recent weeknight, we opted for a high-top table near the bar of Ignite, a great spot for watching people mingle and chefs preparing entrees over open flame. While we have dined at Hooked previously, we tend to gravitate to Ignite, and since you can order off both menus, it's easy to enjoy the best of both.
Our Gourmet and his Lovely Dining Companion were joined by a couple of special guests for the evening. Having already ordered drinks at the bar before we were seated, we started in with some appetizers. OG and LDC selected Chicken Pepperoncini ($7.49) from the Ignite menu and Scallops Wrapped in Bacon from Hooked ($12). Our companions chose the Buffalo Bleu Chips ($6.99) from Ignite.
The Chicken Pepperoncini consisted of roasted mild Italian peppers filled with chicken, pancetta and Colby jack cheeses, wrapped in smoked bacon. They were scrumptious, the kind of finger food you'd love to have on hand for a football-watching gathering.
The scallops, cooked in a lemon butter wine sauce with pancetta and capers, were nicely seared.
The Buffalo Bleu Chips were a fun twist on nachos: homemade potato chips topped with buffalo sauce, bleu cheese dressing and pancetta, and finished with scallions. The sauce had a nice kick, though potato chips as a general rule don't stand up as well as tortilla chips to being covered with sauce and toppings, so expect to be reaching for some napkins.
For her entree, LDC ordered Hooked's Grilled Swordfish Steak ($26). It was served on top of a white bean purée topped with lobster meat and avocado, accented by a balsamic glaze, and served with asparagus. LDC, a new convert to swordfish, relished its firm texture and moist exterior. Having stolen several bites, OG will vouch for that: It was cooked to perfection.
OG chose a Hooked dish he had sampled at Ignite previously to see if it was still as good as he remembered: Sukiyaki Shrimp ($23), a dish featuring colossal shrimp sautéed in a sweet and spicy sauce, served with shoestring vegetables over basmati rice. The sauce has a nice kick, but it's tempered with enough sweetness to make it palatable to patrons who fear the bite of fire but like that extra burst of flavor.
Our guests ordered off the Ignite menu. One chose The King's Bowl, a gigantic bounty featuring 12 ounces of steak tips, three grilled jumbo shrimp, rice pilaf, sautéed onions, asparagus, mushrooms and peppers served in a homemade tortilla bowl, topped with sour cream and guacamole.
Our female friend was not put off by the gender-specific name, though a queen's portion, had one been available, might have been enough since she took much of the dish home with her. Our other guest chose a Chicken Caesar Wrap ($8.99), among a dozen sandwiches and other menu options priced under $13.
With their two intimate spaces, Ignite and Hooked offer the menu variety of a large restaurant with the homey feel of a bistro. Co-owner Ann Masterson is a regular presence, someone you might see carrying away chairs from the street on one of those summer street-dining nights or greeting patrons at the door. That's always refreshing to see.