I did a double take when I opened my mailbox last week and saw what was sitting inside. Underneath a pile of bills was a magazine. After I picked it up and took a closer look, I realized I was holding a catalog.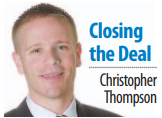 That might not sound like a big deal, but when I saw it was an Amazon catalog, it made me stop and think.
The catalog is focused on toys and is titled, "Play Together." It's filled with all of the popular toys kids are into these days. It's very well put together, high quality paper and relatively small, compared to a typical catalog we're used to getting in the mail.
At first I wondered why Amazon was sending me a catalog full of toys. Then it dawned on me that I've ordered quite a few toys on Amazon and they obviously have all of my sales history. Based on my purchase history and where I shipped all the toys, they probably assume that I have kids. That's a pretty accurate assumption, I suppose.
As I opened the catalog, the first page was an insert titled "Holiday Wish List". The insert easily tears out and becomes a Christmas list a child can fill out as they are looking through the catalog. What a brilliant idea.
The built-in Christmas list isn't the only smart idea Amazon came up with when they designed the catalog. In the middle of the catalog is another insert that is full of stickers. Now kids can take out the sheet of stickers and engage with the catalog even more.
With the massive increase in digital advertising and online sales over the years, catalogs have definitely become less of a focus for most retailers. I worked for a company that used to send out hundreds of thousands of catalogs every month. They were ahead of the curve and pulled the plug on mailing catalogs over 10 years ago. There were skeptics, but eventually their email and digital strategy made up for the mass catalog mailings they used to do.
I have vivid memories of catalogs when I was growing up. Like most households, my parents used to get the Service Merchandise catalog. Remember that one? It was a massive catalog full of different products you could buy through the mail. The back of the book was dedicated to toys. I remember my brother and I analyzing every page and circling all of the toys we wanted. We'd see some of the more expensive toys and hope Santa read our list and brought them at Christmas.
I don't think today's average kid has ever experienced the joy of flipping through a catalog full of toys. And I'm not sure how many catalogs Amazon sent out, but I do know that there is a very high probability they will see a spike in toy sales that has been influenced by kids reading their new catalog.
The Amazon catalog is a great example of how a company can take an old tactic and bring it back to life with a few simple enhancements. It's a brilliant idea and I hope the strategy causes kids to get away from their phones and TVs and go back to the old-fashioned reading of catalogs.