Mid-winter is traditionally high season for timber harvesting. The realities of volatile wood markets, vagaries of incomplete freezing of wet ground and fluctuating weather now squeeze timber harvest operations into a smaller window of frozen ground flanked by spring and fall mud seasons.
At the Forest Society, our mission as both a land trust and a forestry organization includes protecting and managing a network of 185 permanent Forest Reservations in New Hampshire totaling 56,000 acres.
Part of that management includes sustainable timber harvesting — each year, on approximately 1.5 percent of the land we own.
This winter, we are hosting tours of two active logging operations. Forestry experts will detail the roles of landowner, consulting forester and logging contractor. We will visit the timber sales to see the trees being cut and learn why. We'll share information on wood markets, log volume, timber value and share how non-timber features including water quality are protected and how wildlife habitats and recreational trails can be enhanced.
We share our timber harvest philosophy on harvest signs that read, in part: "We are conducting a timber harvest on this property. The goal of the harvest is to improve the overall health and quality of the forest, increase vigor of the remaining stand, and enhance wildlife habitat. Wood from this harvest will provide lumber, paper, renewable energy and firewood. Revenues generated help to support our conservation work. We appreciate your patience during this temporary interruption."
We recognize it is not always pretty. Timber harvests are disruptive and create temporary visual chaos of limbs, branches and twigs called "slash." Skidding logs, even on frozen ground, exposes bare mineral soil and can create mud. Long-term, our goal is to grow more, higher quality trees.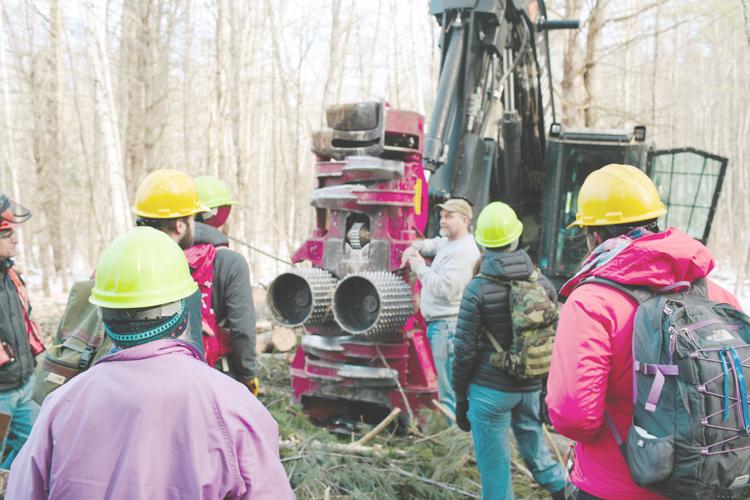 New Hampshire is a vast tree-covered realm: 84 percent of NH is forest making us the second-most forested state in the nation. Another important statistic to understand is who owns that forest: 76 percent of New Hampshire's forestland is owned by private individuals and families. Decisions that these private landowners make — including periodic cutting of trees – help to sustain forests in the face of economic pressure to subdivide and sell.
We also enjoy a wealth of public forestland including the nearly 800,000-acre White Mountain National Forest, 201,000 acres of state forests and state parks, and Fish and Game Wildlife Management Areas totaling 53,000 acres.
Overall, forests statewide grow more wood than is harvested each year. Growth exceeds rate of harvest by 49 percent. The U.S. Forest Service projects New Hampshire forest growth to continue to exceed rate of harvest through 2023, the extent of the projections.
Timber harvest income is an important tool to help sustain the economics of owning private forestland. It is OK to cut trees when the land regenerates as young forests of seedlings and saplings after logging. Forest is preferable to asphalt. Periodic timber revenue is exactly how cutting trees can save forests.
New Hampshire is blessed with a resilient forest. Our forests grow back. If you stop mowing your lawn for a few years, it will become a young forest. That resilience, coupled with a prevailing ethic of land stewardship, allows landowners to harvest trees, provide wood for the manufacture of wood products and continue to grow healthy, young forests.
It is fortunate that New Hampshire forestland has economic value greater than its potential value for development. The more significant and insidious threat to our state's forests is not logging, but permanent hard conversion. Careful, sustainable timber harvesting is preferable to bulldozers and excavators followed by signs reading "Lots For Sale."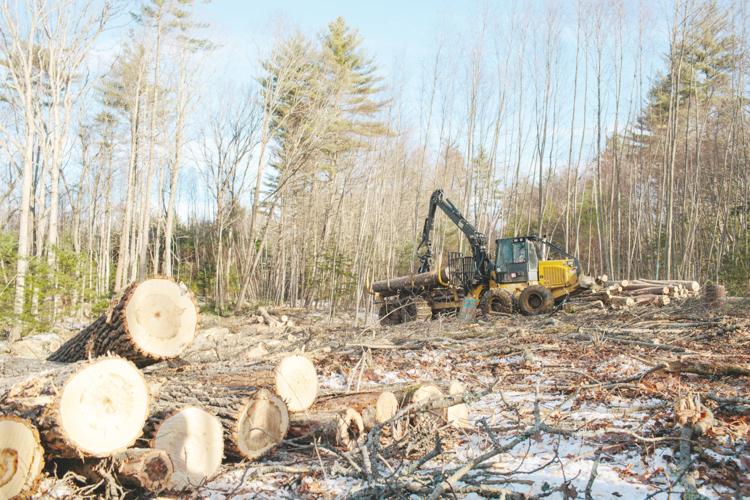 Yet in some of the fastest-growing communities southern New England, forestland has become too valuable for its own good. When surrounded by communities who assess "open space" more as "empty space," remaining forests seem doomed. Like others originally from New Jersey, I experienced loss of farms and forests I had remembered from childhood. That disappearance was due to hard conversion, a permanent change to pavement, roofs, roads, curbing and lawns or parking lots with catchment basins that do not provide wildlife habitat or clean drinking water.
Yes, New Hampshire needs homes, neighborhoods, communities with good schools and good roads on which to commute to good jobs. We also need healthy, working forestland for wood products, clean drinking water supplies, wildlife habitats and recreation and scenic tourism. The balance of land conservation and land available for growth and development will continue to be determined by individual landowners and communities – values informed and influenced by our collective New Hampshire sense of place.