W e're pushing 40 mph along a snow highway somewhere near Pittsburg. The fresh air is tinged with the aroma of two-stroke fuel and the distinct braap-braap sound of snowmobile engines. I could feel the wild wind in my hair — if not for the giant snowmobiling helmet I'm wearing.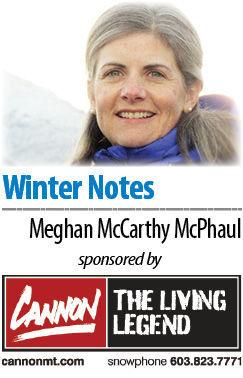 As someone who prefers human-powered recreational outings, I wasn't sure about the whole idea of snowmobiling. But now, as I try to keep up with Corrine Rober of Bear Rock Adventures, going as fast as we've gone all day, I can see the allure.
By the time we get back to Bear Rock's shop on Main Street, our little band of snowmobilers will have covered some 60 miles through the Great North Woods. We've looped through Pittsburg, into Stewartstown, and across Coleman State Park. We've traversed open fields, mixed forests, and even sledded over a frozen lake.
Had we wanted to, we could have stopped for lunch at one of a handful of eateries tucked into the woods. In this narrow northern realm of New Hampshire — much closer to Canada than to Concord — we could have driven our machines over the border to Sherbrooke, Quebec, or into Maine or Vermont.
"There are over 7,000 miles of trails in the state," Rober tells me later. "In our area, there are over 700 miles, but these connect outward to (trail networks in) Vermont, Maine and Canada. So, you could ultimately ride for thousands of miles."
So prevalent are snowmobile trails here that, as I tried to find my way to a dinner meeting the previous evening, my GPS app suggested more than once that I turn down snowmobile lanes unfit for the minivan. When I arrived (late) — having garnered on-road directions from a couple of locals in a pickup truck idling in the lot of a snowmobile shop — there were more snow machines parked outside the restaurant than cars or trucks.
The trails here are like mini highways, wide enough along most stretches for two Volkswagen Beetles to pass, and with a speed limit of 45 mph. They're groomed regularly by a cadre of snowmobile clubs. Twisting around towns and turning through forests, the network seems like a snowy labyrinth, and I was glad to have Rober leading the way for our speed-seeking posse.
Before we'd left the headquarters of Bear Rock Adventures, Rober and crew had fitted each of us into insulated gear and snowmobile helmets, then briefed us on safety measures for our ride. Outside, we received instructions on how to operate the snowmobiles — all brand-new Polaris machines.
Then we climbed on board and rode out of town and into the wild. Along the way we ran into a few other small groups of snowmobilers, spotted a beaver gnawing on a tree near the trail, and passed three deer noshing on winter buds as we made our way back to town.
Rober said the trails are typically ridable through March and sometimes into mid-April. That means there's plenty of winter — and snow — left to get out and braap through the North Country.
For more information on snowmobile trails, conditions, and clubs throughout the state, visit www.nhsa.com. To learn more about Bear Rock Adventures' tours and rentals, go to www.bearrockadventures.com.