EDITOR'S NOTE: Joe McQuaid succeeded Nackey Loeb as president and publisher of the Union Leader Corp.
"POLITICAL GODMOTHER: Nackey Scripps Loeb and the Newspaper That Shook the Republican Party."
Potomac Books, 180 pp. $29.95. Available at local book stores, through www.IndieBound.org and Amazon.
When author Meg Heckman told me she was writing a book on Nackey Loeb, my first thought was dismissive. Not that Heckman, a former newspaper reporter and now a journalism professor, couldn't write. She most definitely can. A first-person piece that she wrote for the Concord Monitor (where she worked for 10 years) was so compelling I reprinted it in the Union Leader.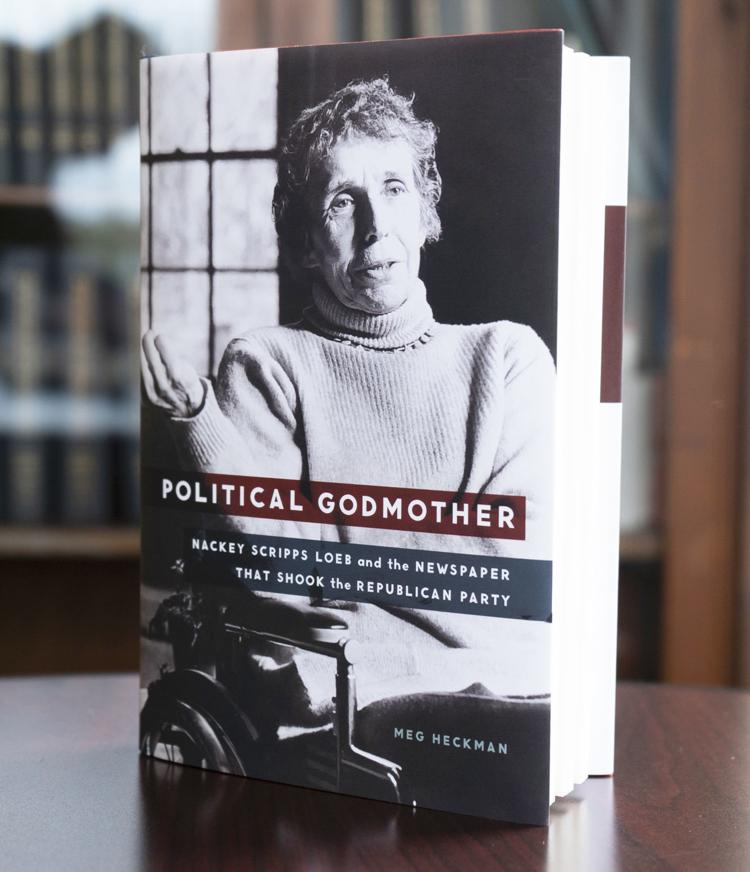 But a whole book on Mrs. Loeb? (Her many personal and political friends knew her as Nackey. Her employees, including me, would no more address her by her unusual first name than we would call her husband, William Loeb, anything but Mr. Loeb.)
That was my problem. Mr. Loeb — now THAT guy was a story worthy of books and documentaries and more. Mrs. Loeb? Really?
Which shows you what I know. I'm reminded here of my dad, who did know the Loebs as Bill and Nackey, once telling an editor that he wouldn't know a good news story if it "bit you in the behind."
The more I thought on it, the more I looked through my files, the more I realized that the quiet lady who went everywhere and did pretty much everything with William Loeb — from skiing to shooting to dining with governors and presidents — deserved book-sized attention.
And that isn't the half of it. This same woman, daughter and granddaughter of powerful newspaper owners, became a pretty powerful and successful publisher herself when William Loeb died in 1981. She did so in spite of or perhaps because of the terrible auto crash that left her a paraplegic and dependent upon a wheelchair from 1977 until her death in January of 2000.
She never complained to her employees about her disability. After her husband died, she never missed a beat. In some respects, she increased the tempo, championing the Union Leader's entry onto the internet, ending a costly afternoon edition of the daily paper, and personally overseeing a physical relocation of the company from downtown Manchester to a new building on the east side where new presses were installed.
She ordered periodic open houses at the paper and around town and attended them all, despite their tiring effects on her. She moved her own house too, from a mansion on the North Shore of Massachusetts to a modest Goffstown ranch home she helped design.
The move also allowed her to change the Loebs' monthly visits to their paper to weekly meetings where she would conduct inter-department meetings as well as one-on-one sessions. And she held monthly birthday cake gatherings, inviting anyone celebrating a birthday that month.
A newspaper legacy
She knew newspapers — and not only because she had worked with William Loeb for 35 years. Her grandfather, E.W. Scripps, founded a newspaper chain, along with the United Press International wire service.
Her father, Robert, assumed control of that chain after E.W. died. But Robert died at the age of 42, when Nackey was just 14. Her older brothers would run the business with partner Roy Howard. She studied art, left college in her native California, and headed east where she met her first husband and had her first daughter.
Husband George Gallowhur was 20 years her senior. He had invented a sunscreen, solo sailed across the Atlantic, and attended prep school with William Loeb. Gallowhur had also been active in the gay underground in New York City in the 1920s. Heckman doesn't know if Nackey knew this when they married.
Nackey met William Loeb, also married at the time, at a party in Vermont. After contentious divorces, the two were married in Reno, Nev., and were inseparable thereafter. They raised Nackey's daughter and then had their only child, daughter Edith.
Loeb would eventually employ several secretaries to help him with the mail but initially Nackey handled it and would add her two cents to correspondence and business decisions. After Loeb's death, she would maintain these communications, both personal and political.
Despite the discomfort of long journeys, she flew to Washington for a huge dinner in her late husband's honor. She sat next to the guest speaker, Vice President George H.W. Bush, whom her husband had labeled a "wimp."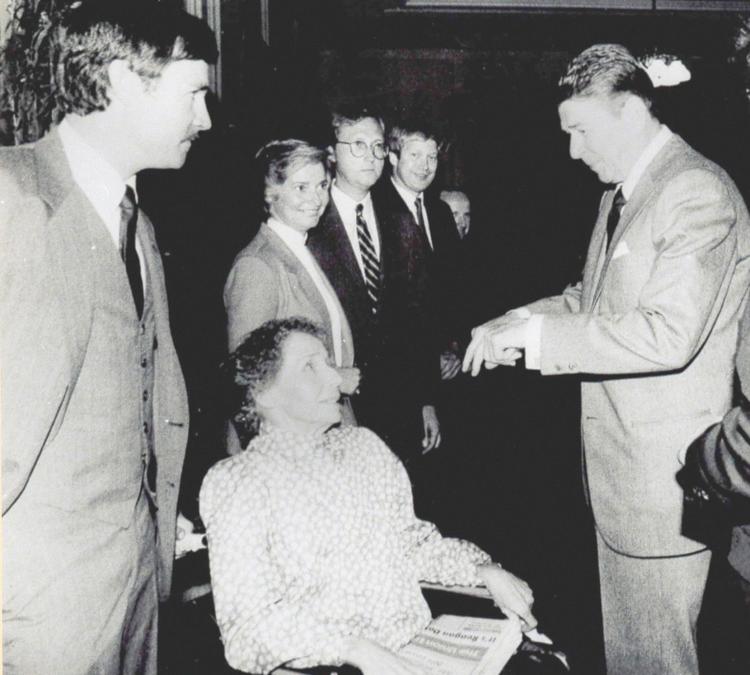 It was the beginning of Nackey Loeb's own years of political influence, which would be on the same ideological page as her husband's. Ronald Reagan was her personal friend and her conservative hero. Bush was not.
Post-Reagan, she was deeply concerned about the conservative cause, trying hard to convince former UN Ambassador Jeanne Kirkpatrick to compete in the New Hampshire Presidential Primary. That failed, but her urging and support helped Patrick Buchanan decide to run, giving Bush a stiff challenge in 1992 and then upsetting eventual GOP nominee Bob Dole here in 1996.
On primary election night, Buchanan called Nackey Loeb his "political godmother," hence the book's title.
The author chronicles Nackey's efforts both in editorials and in personal correspondence to advance a kind of conservatism, especially on social issues, of which Heckman is clearly no fan. But she argues that Nackey Scripps Loeb was integral to maintaining and even growing a "right-wing populism" that continues today.
Nackey Scripps Loeb also shared with her husband a concern for locally-owned and operated newspapers that were disappearing even in their era. She established the non-profit Nackey S. Loeb School of Communications Inc., and donated to it her majority stock ownership of the Union Leader. The school is a fierce advocate for the First Amendment.
Author Heckman, like many other New Hampshire journalists, has taught there. Her story on its founder makes for compelling reading.