Before we even reached our campsite, we'd spotted a trio of bald eagles, three loons and a deer grazing along the shoreline of Umbagog Lake. As our boat pulled into the remote site we'd be calling home for the next two nights, the boys, who'd arrived just ahead of us, shouted excitedly that they'd found some garter snakes sunning themselves on the large boulder at the edge of the water.
During the next few days, we would add ribbiting frogs, campsite toads, great blue herons, a large family of mergansers, a few soaring ospreys, a gaggle of Canada geese, a hawk, an otter, legions of hovering dragonflies, a multitude of fish literally jumping from the water and about 3 million mosquitoes to our list of wildlife sightings.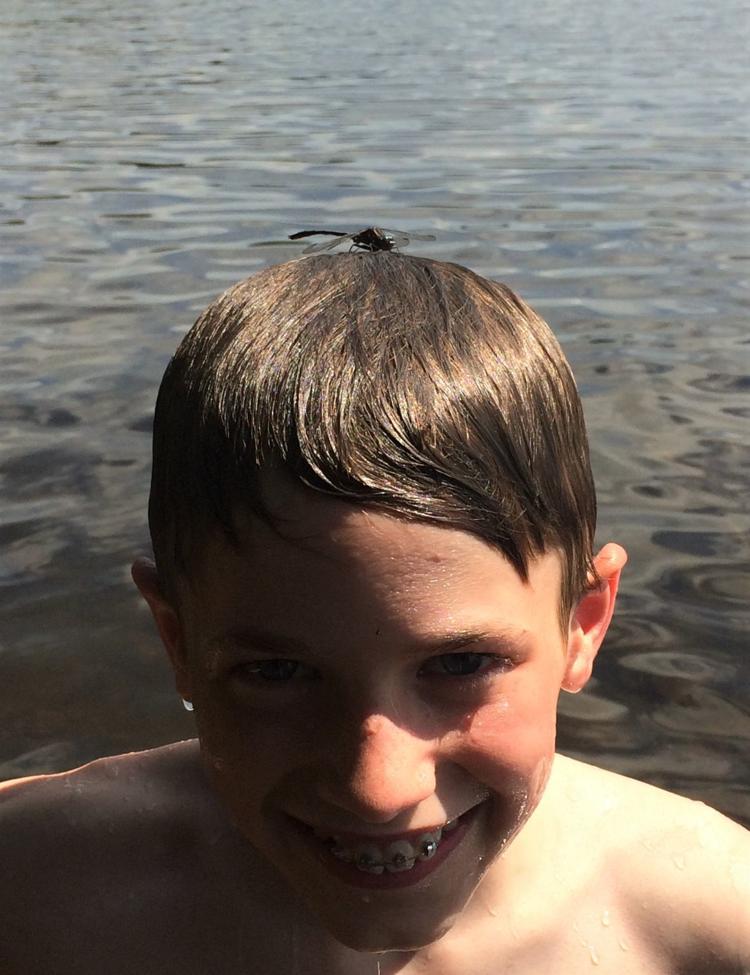 While we never saw a moose, the clipped lake grasses and tracks pressed into the mud below the shallow water indicated they are regular grazers here.
Stretching some 11 miles south to north, Umbagog Lake straddles the New Hampshire-Maine border. Even from north of Franconia Notch, getting there was a long haul. With the truck loaded with kayaks and camping gear, we skirted the edge of the White Mountain National Forest, then headed north through Berlin, Milan and Dummer, following the Androscoggin River along Route 16.
In Errol, we banked southeast to arrive at New Hampshire's Umbagog Lake State Park, comprising 27 campsites and a handful of cabins, along with a small campground store, showers and electrical hookups at the lake's south shore.
While tents and RVs filled the sites clustered there, we were after a more tranquil camping experience. Not to worry; the state park also manages four remote cabins and 33 remote campsites, spread along the length of the lake and on some its islands.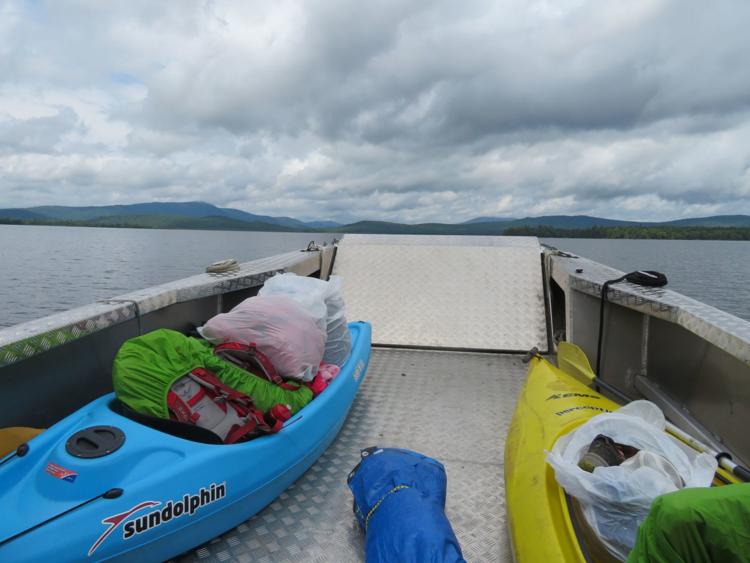 Campers at remote sites may paddle themselves out across the water, but since our reservation was for a site 10½ miles away from park headquarters, we'd booked transport on one of the motorized boats the park uses to carry campers — and their gear — to the remote sites, which range from 1 to 12 miles from the dock.
Onto two boats we loaded kayaks, tents, sleeping bags, camp chairs and coolers of food — enough to sustain our group of three grownups and five growing "tweens" for the better part of three days.
Our boat driver, Al, also served as a tour guide on the half-hour trip out to our remote site, answering questions and slowing as we passed a point of land jutting into the lake on its eastern edge to point out an eagle nest occupying the middle section of a tall pine tree. Two dark heads — juvenile bald eagles — peered out toward the water from the mass of large sticks. Several trees to the north, the white head of a parent eagle gleamed against the gray sky.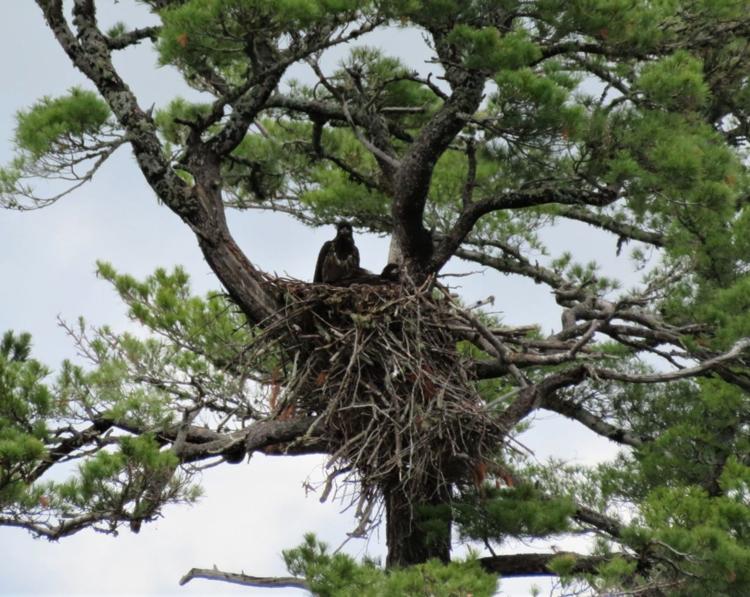 This would not be our last sighting of the Umbagog eagles. Later that afternoon, my adventuring friends Amanda and Jason Guilbert watched from their kayaks as an adult eagle was harassed by jays, finally swooping from its perch to pass right above them. Both mornings of our stay — well before any of us was ready to be awake — an adult alit above our campsite and screeched for several moments. On the second morning, I peered out, bleary-eyed, to spy one of the young eagles resting on a branch just outside my tent.
From our kayaks throughout the trip we also watched loons bobbing on the water or diving below to reappear in some other place. And we heard their beautiful-but-eerie yodeling calls at night, of course — lake music, accompanied by the steady, deep thrum of bullfrogs and, in the mornings, the refrains of various songbirds.
Of all the wildlife sightings, my youngest daughter's favorite was the otter. Jason had seen it the first night, swimming in a little cove by our campsite. The next evening my daughter crept onto the large boulder at the water's edge and watched quietly at dusk. She was awarded by an extended otter viewing session, as the creature swam and dove after fish, passing the rock several times.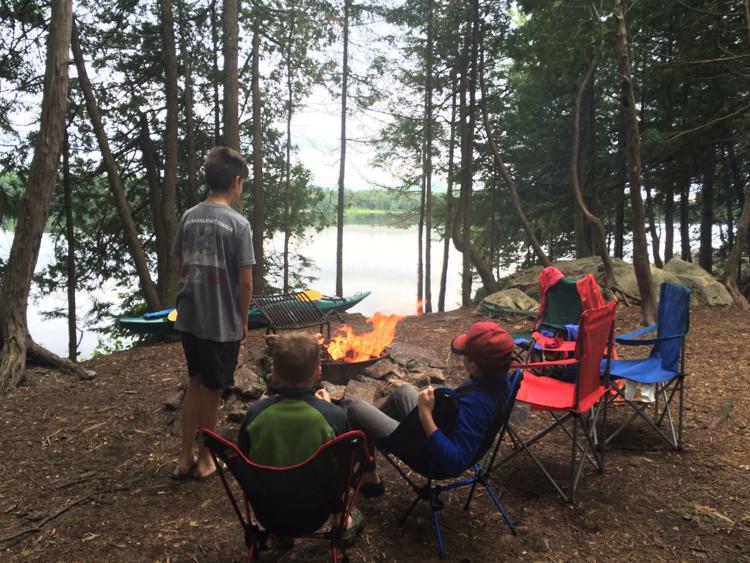 Camping so close to the water made for easy access to paddling. Our site was near the Rapid River, which at the Umbagog end is anything but rapid (although we could hear the water crashing through the rapids upstream) and made for pleasant short outings.
We made a longer group excursion on our one full day on Umbagog, paddling about 2 miles into and around Sunday Cove. While the wind can sometime whip up choppy water on Umbagog — the average depth is only about 12 feet — we were protected in the large cove and enjoyed exploring along the edges.
We'd planned to find a place to land the kayaks for lunch, but the distant end of the cove was closed to protect loon nesting sites, so we ended up having a floating lunch, passing berries and sandwiches from boat to boat, water below us and blue sky above.
By that point, we'd already agreed we'd come back to Umbagog next summer. We have other coves to explore, a few fish to catch, and more stories to learn about the lake and to share around the fire.