T he past year has been tough on everyone, but for those on the front lines of the COVID-19 crisis, it's been especially exhausting, both physically and emotionally.
Now the gentle horses and ponies at UpReach Therapeutic Equestrian Center in Goffstown are doing their best to care for those who have been taking care of the rest of us.
The folks at UpReach have long seen how interactions between horse and human can benefit adults and youngsters with disabilities, at-risk teens, trauma survivors and veterans. So earlier this year, they launched Caring Connections, a program offered free of charge to first responders and health care workers.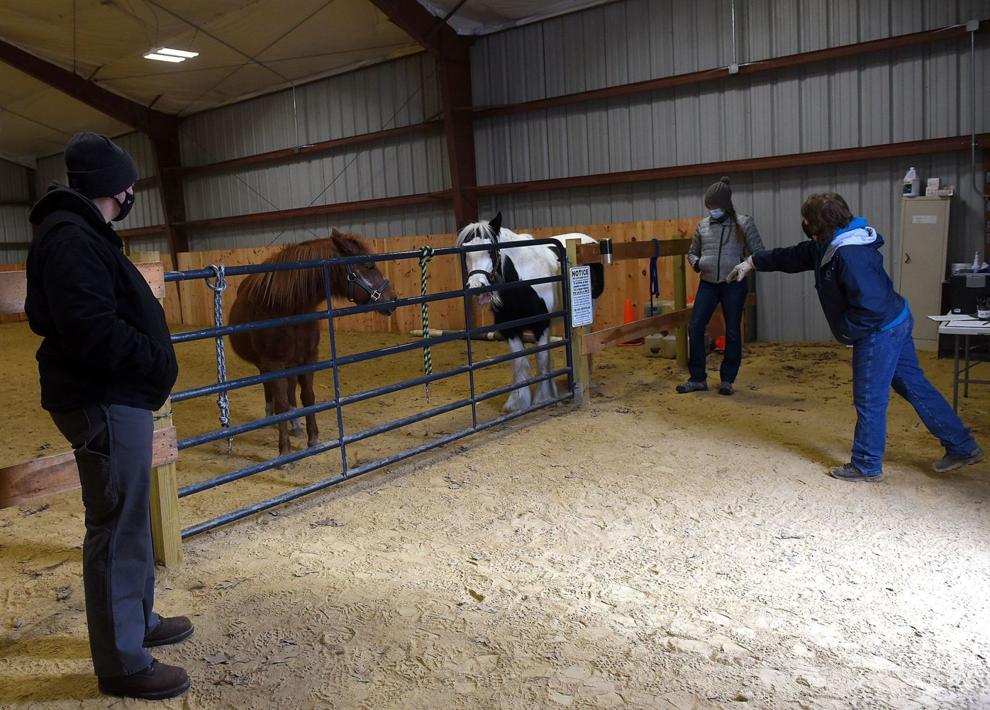 "The intention of it is to give folks on the front lines … a chance to come to the barn, to our nice, tranquil, peaceful environment, and take care of themselves for an hour," explained Kristen McGraw, who manages the unmounted programs at the Goffstown facility.
"They're giving so much to our families and our communities right now," McGraw said. "They can come here and just be, with nobody expecting anything from them."
There's no set agenda for the hour-long sessions, she said. "Everybody has such a different need right now," she said. "Some folks come and just spend the hour brushing the horses and loving on them. Other folks need to move."
This is not horseback riding. The magic comes from the one-on-one interactions with the animals.
"They are super sweet and kind and compassionate," McGraw said.
Robyn Cushing of New Boston is an advanced EMT at American Medical Response, which provides ambulance services in Manchester and Nashua. The past year, she said, "has been very stressful, very busy."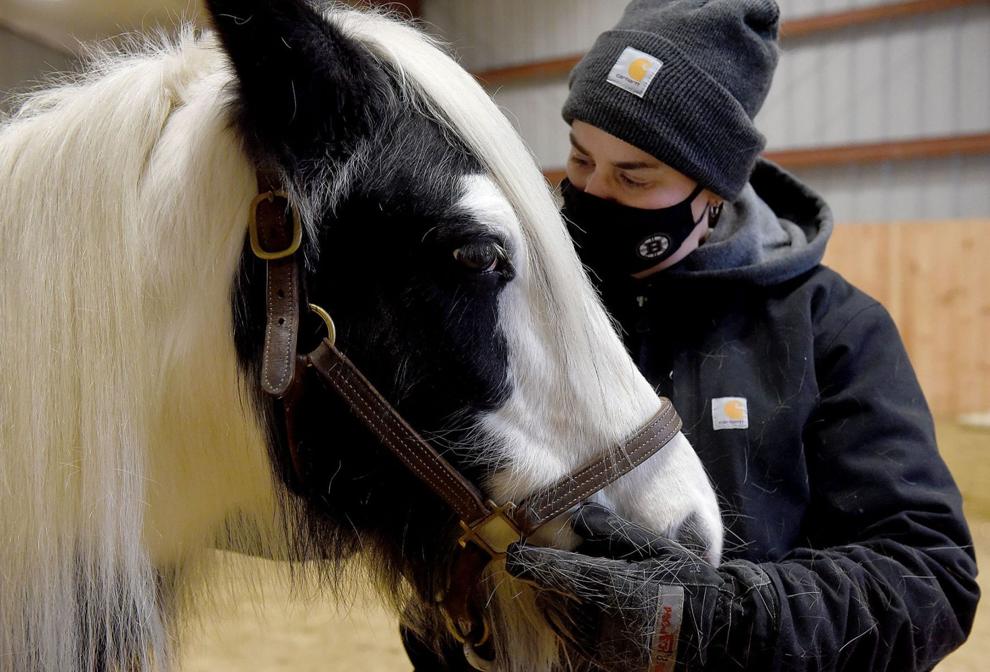 The biggest challenge is not knowing what you're walking into when you respond to a 911 call, Cushing said. And all too often, what EMTs find when they arrive is COVID.
But it's not just the virus, Cushing said; other emergencies have not ceased during the pandemic. "You've got the overdoses, the pediatric calls, the elderly calls …"
Cushing heard about Caring Connections from a counseling service that provides support to first responders. Her daughter has a horse, so she's familiar with the animals.
The horses at UpReach are special, she said.
"I enjoy just being around them, seeing the different personalities," she said.
And the horses are just as interested in the humans.
"You talk to them and they react to you," she said. "They look at you, they put their head against you. It's like talking to another human being. They give you so much companionship, it's unbelievable," she said.
Lyndsey Reimer of Concord is a labor and delivery nurse at Memorial Hospital in North Conway. It's been a challenging year, dealing with COVID restrictions, changing guidelines and "nervous parents," she said.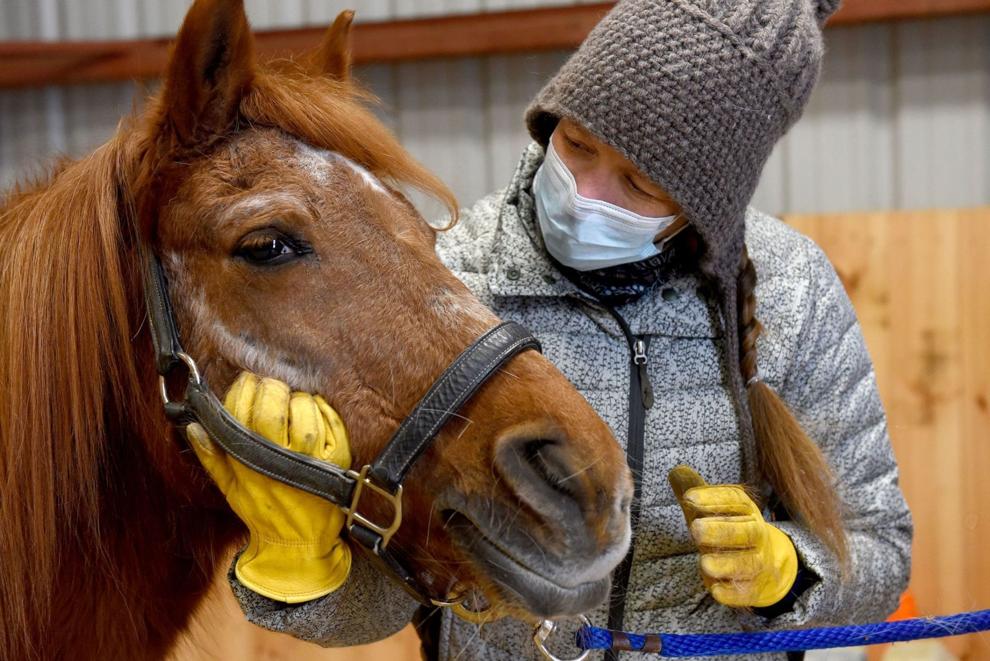 For Reimer, spending time outdoors and being around animals are her greatest sources of stress relief and relaxation. The chance to connect with an animal "is always just a really powerful thing," she said.
Reimer grew up with horses in her native Michigan.
"I'm always looking for a chance to be around them," she said. "They're such amazing animals."
And the UpReach horses are especially sweet-natured, she said.
"They just kind of accept whatever you bring to them," Reimer said. "If you're having a happy day or a sad day, they're just there to be present with you.
"That's just a nice gift that they can give."
You don't have to have experience with horses to participate in Caring Connections, McGraw said.
"Horses have no expectations, and they offer the opportunity for you to come and spend an hour with them filling whatever needs you have," she said. "Horses are all about connection, and the connection is very striking."
"This is a time for you to come and take care of what your needs are, whether that's brushing or moving and walking, or just connecting with a sentient being," she said. "Horses don't care about yesterday, they don't care about tomorrow, they only care about right now."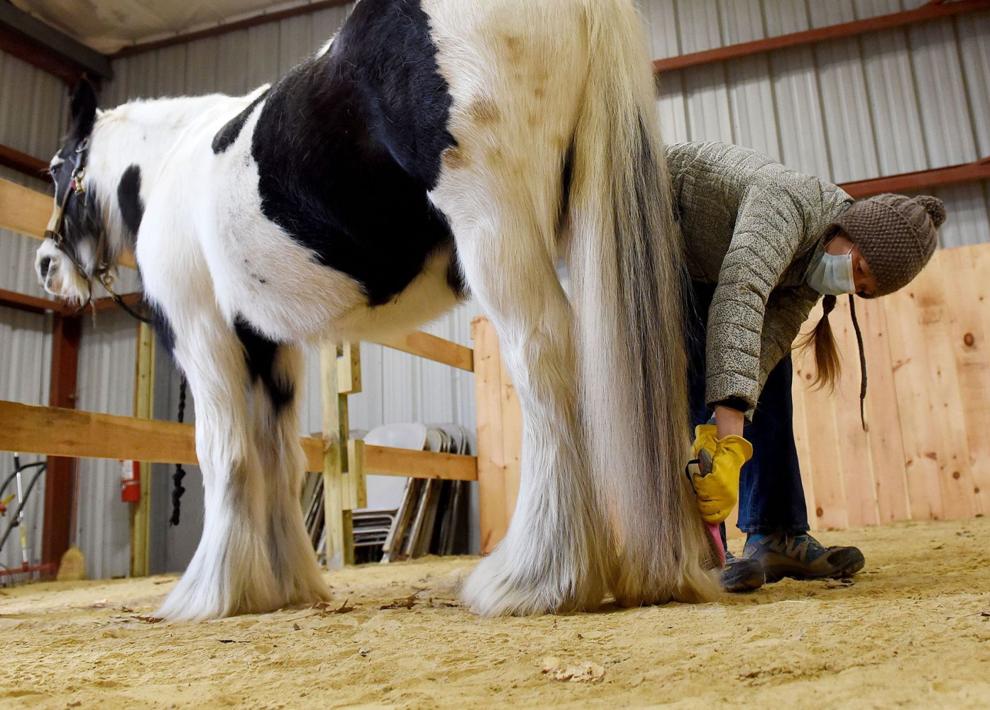 And that's the real gift that Caring Connections offers these frontline workers.
"For the hour that you're here, you only have to think about that moment," McGraw said.
Cushing, the EMT, said after the first session, she walked out of the barn completely relaxed. "I couldn't wait for the next time I go," she said.
"You don't want to leave — or you want to take them with you," she said. "It's incredible."
The next Caring Connections begins March 15, with sessions on Mondays at 11 a.m. and Fridays at 3 p.m. Sponsorship opportunities to support the program are available. For information, visit www.upreachtec.org.