WHEN A TOPIC is particularly appropriate for a holiday or seasonal reminder, I always wonder if I've written about it enough. Such was my thought about this week's column. But last week I had a conversation with a brand new dog owner — a friend who never understood what we "dog people" were all about, until her family recently adopted a puppy. Now she totally gets it! I know she hasn't thought about the changes that are about to occur with the coming of autumn. So even if you've read it before, here is my advice on the topic.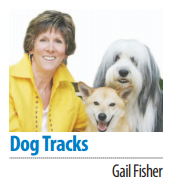 When I was in school — way back in the last century — the school session didn't start until after Labor Day. For many schools, this is no longer true. In any case, we know that autumn is coming. Daylight is changing. Pretty soon, so will the trees. While I love autumn and all the changes to come, summer in New Hampshire always seems to go by way too fast.
For dogs, too, autumn brings a lot of changes. It's helpful to be aware of how these changes affect your dog and have a plan to help it adjust.
First, consider the weather. Dogs are subject to summer doldrums just like the rest of us. In extreme heat, most dogs would prefer to find a shady spot, scratch the dirt down to the cool ground and lie in the hole. But the minute the weather becomes cooler and dry, dogs become a lot more active. At our Doggie Day Care, the first cool day brings a measurable increase in the dogs' activity levels — they play together as though they just discovered each other.
Fall also marks a change in the households of many dog owners. Back-to-school season often means fewer people are home during the day. Other changes in the family's behavior, such as rushing around to get kids ready for school and after-school activities, also affect the dog.
Dogs are creatures of habit. They get used to set schedules for things like waking, eating and exercising. Most dogs are able to make schedule adjustments with few ill effects, but some dogs will have problems.
For families that adopted a pet over the summer, the return to school marks a huge change in the dog's environment, especially if vacationing adults and kids spent a lot of time playing with the dog. While that time was well-spent acclimating your dog to your family, your pet will suddenly find itself left alone more, getting less attention and exercise in the fall.
Changes in schedule, less attention and less exercise might translate to changes in the dog's behavior — rarely for the better. Typical behavior problems include destructive chewing, continuous barking and a reversal of house-training. The current trend is to categorize these problems under the broad umbrella of "separation anxiety" and to ask a veterinarian for drugs to combat it. Please don't be seduced by this approach. Dogs have real needs that must be met, without just drugging them. Just as important, meeting your dog's needs can be simple.
Dogs need regular attention — easily done with a few minutes of grooming, playing, loving, petting, walking and/or training. Dogs need regular exercise and the opportunity to be normal dogs by running, playing, walking and exploring (sniffing) the environment. Dogs need social interaction — time spent with their human family as well as with other dogs, when it's appropriate and beneficial for the individual dog. And finally, dogs need training, which not only makes the dog a better companion, it provides attention, social interaction as well as mental and physical exercise.
If your time is stretched to the limits and your dog is social with other dogs, consider a reputable day care in your area as a helpful solution to provide for your dog's needs. We have many day care clients who don't use us during school vacations, but come back when school is in session.
Owning a dog requires us to meet its needs — or to find a way to have them met — all year-round.