KOCHI, OUR 16-year-old Shiba Inu mix is starting to show his age. His energy level is still good. He's still active and agile, but his hearing has diminished. He can hear, but he can't tell where the sound is coming from. He'll often look or walk away from where I'm calling. But his diminished hearing is less of a problem than his eyesight. He is going blind.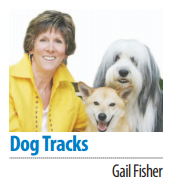 Last week, we had an appointment with a veterinary ophthalmologist, and the news was not good. I was hoping that Kochi's vision problem was cataracts, which can be surgically corrected. Unfortunately, his retinas have deteriorated, and he has a lens issue that requires him to get daily drops that constrict his pupils, thereby increasing his blindness.
He seems to be dealing with the changes just fine. But one can't have an elderly dog and not recognize that at some time in the future, hopefully not soon, we're going to be faced with the worst decision that faces all dog owners — euthanizing a beloved pet.
As much as we don't want to think about it, it can be useful to have some criteria to help with this most difficult decision. For me, it is quality of life. If our dog still enjoys much of his life — meals, attention and sometimes even playing with a sibling — if he's not in pain and there are moments of mutual enjoyment and affection, there's no reason to euthanize.
In addition to quality of life, my primary criterion, here are some other things to consider in working through this incredibly tough process:
• A medical diagnosis that may cause suffering. Have a candid discussion with your veterinarian to learn as much as you can about the disease, potential side effects of treatment and other relevant information.
• If medical treatment is possible, how old is your dog, and how much additional time will you gain by putting your dog through it?
• Can you afford the treatment? We can't put a price tag on our relationship with our dogs, but the stress of going into financial difficulty is not good for either you or your pet.
Finally, I think it's important to prevent suffering. I would rather be a few days or a week too early than a few hours too late.
When my husband and I knew the time had come to euthanize our 14-year-old mastiff, Juno, we based our decision on several things. She was physically weak, had difficulty standing and there didn't seem to be any enjoyment or joy in her life. Recognizing that it was time, we made an appointment with our veterinarian to come to our house the next day. But in the morning, she rallied. She was stronger and was even able to go for a short walk with us. We were ready to cancel the appointment when we looked at each other and knew — how much better to have her last moments with us be happy, for her to enjoy a good day, than to put it off knowing that the previous day when we made the decision, was her new normal.
We had all received a gift on this day. So we put quilts and blankets down to make her comfortable where she loved to lie outside in the sun. We gave her treats, shared our love with her and said goodbye. We both felt that she, too, knew this was right.