David McQuillan pulled three ticks off his dog Brady during a walk in his Plaistow neighborhood last week.
The ticks are easy to spot because Brady is a white Rat Terrier with short hair, but they're still worrisome and have become a constant battle.
"Every day we're taking one off, at least," he said.
McQuillan has noticed what appears to be an uptick in the tick population lurking in the grass this spring.
It's something Kaitlyn Morse is watching closely.
Morse is an infectious disease scientist from Salisbury who has worked with ticks for 20 years and is the executive director and founder of BeBop Labs, a volunteer nonprofit that tracks data on ticks and tick-borne diseases in New Hampshire.
She said she's noticed that the American dog ticks, which usually peak in June, have arrived earlier than ever this year.
"If it keeps trending in that way we're going to have a huge abundance of the American dog tick this year," she said.
The dog tick wasn't as prevalent in 2020, but the state did see high numbers in 2019, she said.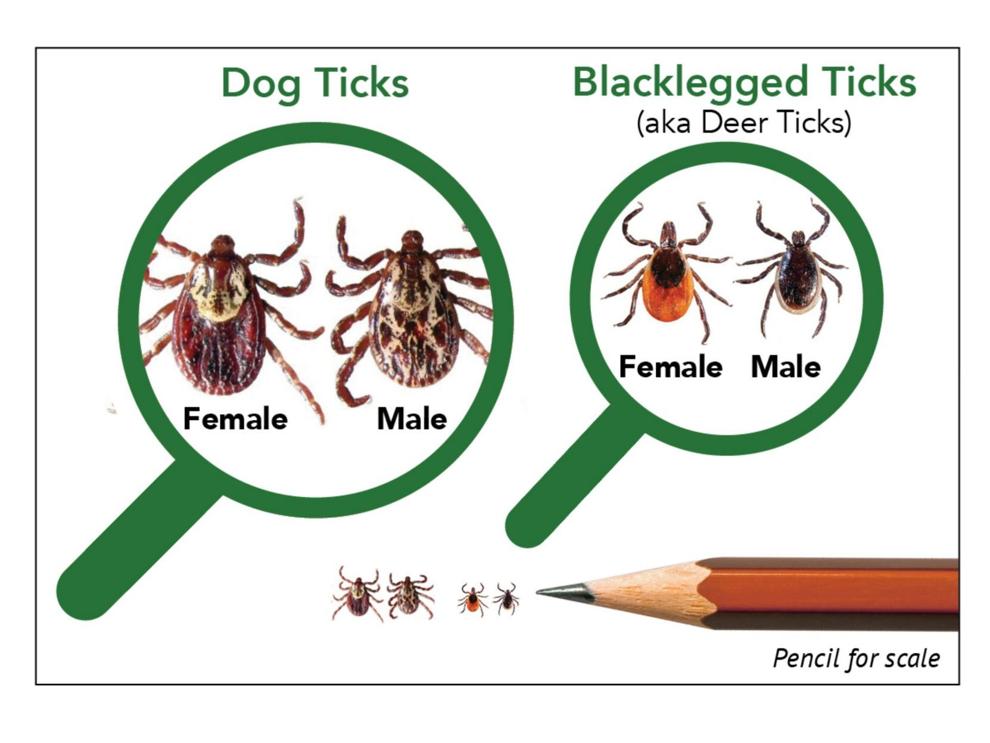 Another tick that is common in New Hampshire in the spring and fall is the blacklegged tick, also known as a deer tick. Those ticks typically peak in May, but she said they also began showing up in March and April — earlier than usual.
"The season for them is not quite over so I don't know where the peak is yet," she said.
Morse said dog ticks aren't known to carry a lot of disease in New Hampshire. The blacklegged ticks are more concerning because about 40% carry Lyme disease, she said.
According to the U.S. Centers for Disease Control and Prevention, Lyme disease is the most common vector-borne disease in the country. Symptoms include fever, headache, fatigue, and a skin rash. The infection can spread to joints, the heart, and the nervous system if it's not treated.
McQuillan knows the threat of Lyme disease is real. He said he has two friends who have struggled with it for years.
"They're still messed up 10 years later," he said.
Morse advises people to perform daily tick checks on themselves and their pets after being outside and to take other precautions.
The Live Free & Run Dog Park in Kingston will soon spray for fleas and ticks.
"We've all noticed they're bad this year. It's everywhere," said Karen Gorr, a member of the park's board who visits with her chihuahua named Bae Bae.
Mathilda Derek of Kingston just returned home from the University of New Hampshire and has been taking her dog, Kucha, out as much as possible.
She said she hasn't noticed that the ticks are worse this year, but she knows they're out there and she needs to keep an eye on Kucha.
"The other day, before I even left the house, we were going to get in the car and there was already one on him and I had to pull it off," she said.
Derek said she checks Kucha every time she takes him outside.