MY HUSBAND and companion of 30 years died suddenly last month at the far-too-young age of 68.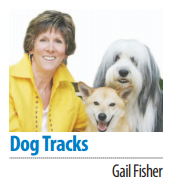 I've written in the past about the loss of a beloved pet, and how much more devastating that can be than the loss of a distant, elderly loved one. When my elderly parents, who lived in Florida, passed away, I was saddened and grief-stricken, but because of the physical distance between us, they hadn't been a presence in my everyday life for many years. While I missed the occasional phone calls and visits, I could go for days and then weeks without thinking about them.
But when a pet dies, its absence is felt constantly. There's no wagging tail to greet you when you come home. There's no cold nose to nudge your arm for attention and cuddling. There's a profound absence every moment of the day. This doesn't mean I love my dogs more than I loved my parents. Rather it is about a pet's connection to the everyday activities of life.
So it is with a beloved spouse. My husband's passing was and still is incomprehensible. He was healthy and vital, and we never imagined that we did not have years ahead of us to share — to love, to laugh, to rail against injustice and delight in successes.
Skip's chair is empty, yet I am comforted by our dogs — 16-year-old Kochi, who is mostly blind and deaf, and especially Larry, our 6-year-old Chinook. I am grateful for and take comfort in their connection with me. Larry curls up next to me on the couch, resting his paw on my leg or his head in my lap. His touch gives me comfort and tells me I am not alone. He rises from sleep at the sound of my weeping and tries to lick away my tears. He simply helps.
No pet can replace a beloved person, yet I am beyond profoundly grateful for having them in my life, for the love they give without qualification and for the emotional connection that helps ease my pain. I am grateful for so much — for the 30 years I shared with Skip, for the dogs that brought us together and for the dogs whose lives we shared. And I am grateful for the dogs he left behind to comfort me in his absence till we meet again.