EVERY ONCE in a while I need to remind myself to stop and smell the roses — to do what I enjoy almost more than anything else in the world: free my mind of human concerns and simply watch and enjoy my dogs. It is this love of dogs, after all, that has been the center point of my career.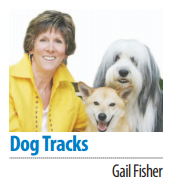 It feels even more important to reconnect with this love as I start the new year. That makes this a great time to consider some New Year's resolutions. If you're of a mind to do this, too, here are a few ideas to consider:
• Do something fun with your dog that you've never done before. Has your dog ever been to the beach? Despite the cold, this is a great time of year for a walk on the sand because many public beaches allow dogs during the winter. Remember to bring a baggie and clean up after your dog. And of course, don't take your dog off-leash unless you're sure it's safe — that is, your dog is well-trained to come when called and is either neutral or friendly with other dogs.
• Resolve to teach your dog a new trick every month. Tricks are a fun way to increase your dog's responsiveness and a great outlet for your dog's mental energy. From your dog's point of view, any learned behavior is a trick, so teach useful new behaviors, thinking of them as "tricks" and have fun! Think of how much your dog will have learned by the end of the year.
• You know that resolution you made about getting more exercise? Take your dog for a walk. Dogs need exercise, too. The result is a healthier, calmer dog.
• After the holidays, most of us think we could lose a pound or two. The same is likely true for your dog. We rarely see dogs that couldn't stand to lose weight. In fact, our visual standards have changed. Most dog owners view overweight dogs as fit. They're not. They're overweight (a gentle way of saying "fat").
So resolve to cut back on your dog's fattening treats or increase your dog's activity level. Excess weight shortens lives, and our dogs' lives are too short already. Don't throw away even one precious month by letting him carry extra pounds.
• Resolve to give your dog an outlet for the instincts of his breed (or combination of breeds). Does he enjoy a good chase, pulling a sled or cart or searching for hidden things? Does he love to race, wrestle or retrieve?
Giving your dog creative outlets for his natural drives doesn't mean you have to provide mice for your terrier or sheep for your herding dog, but rather give him a job that uses his instincts and energies. For instance, hide some toys and treats and introduce the "find it" command. Not only will this keep his mind busy, it will make him a happier and healthier dog. And this is useful training. Lots of our students have used this "trick" for finding lost objects such as car keys. Also consider Scent Work — a fun outlet for your dog to exercise his sense of smell and for you to enjoy watching your dog do what comes naturally.