KEENE — The man convicted of animal abuse for the way he kept 52 Labrador retrievers at his Marlborough house will have to come up with a $100,000 bond if he wants to get his dogs back some day.
John Riggieri, 58, lost the dogs after he was charged last summer with abuse and neglect of the dozens of dogs, including puppies. The charges came as he was fighting off an eviction from his Shaker Farm Road home in Marlborough, according to court records. He was convicted of three counts of animal abuse in February.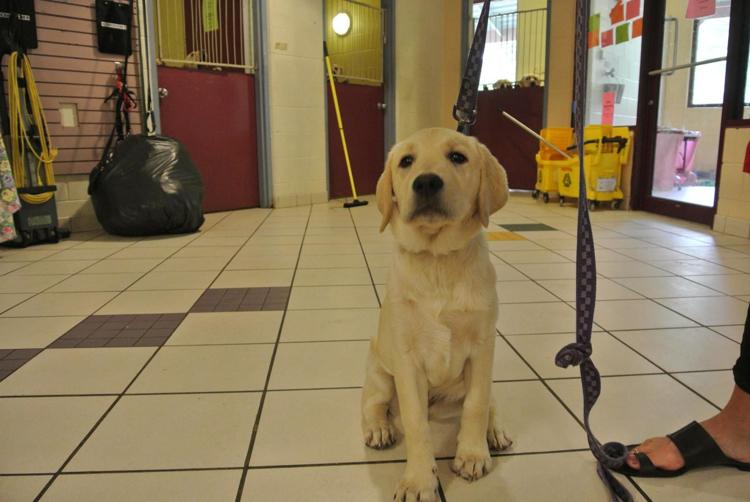 With a sentencing hearing based on the convictions looming, and the possibility that Riggieri might appeal the convictions, Deputy County Attorney Kathleen O'Reilly wants the court to impose a bond in order for him to keep a legal interest in the dogs.
The Monadnock Humane Society has had the dogs since they were removed in July, and the organization has been caring for the animals at a great expense, according to the court records.
"It is anticipated that during the sentencing hearing that there will be testimony that the costs of care for the dogs and puppies removed on 10 July 2018 is well in excess of $100,000," O'Reilly states in her motion filed in the 8th District Court in Keene.
Kathy Collinsworth, the executive director of the Monadnock Humane Society, claimed shortly after Riggieri was convicted following the February trial that her organization has spent around $240,000 caring for the animals.
The dogs are all in foster care now, but cannot be adopted out to new homes until the case and any potential appeal is concluded, and Riggieri's ownership claims are settled.
The law allows the state to seek a bond of up to $2,000 per animal in abuse cases where the owner wants to keep an interest in the animals, according to O'Reilly's motion. Though 52 dogs were taken from the home, one dog was lost, and another had to be euthanized, according to O'Reilly's motion. That leaves 50 dogs that the Monadnock Humane Society has been caring for, and that Riggieri could seek to keep if his appeal is successful.
Riggieri was allegedly running a dog breeding operation out his home. There were reportedly numerous reports of loose dogs wandering Route 124 in the months before the animals were removed.
Cheshire County Sheriff's Deputy Caleb Dodson testified during the February trial that he saw all three floors of Riggieri's home covered in filth. He said a layer of dirt, urine, and dog feces covered all the floors in the home. The foul odor was strong even outside, Dodson testified.
"It smelled like urine and feces all over the place," he told the court.