PLYMOUTH — Fans of "North Woods Law" got a sneak peek of the 8th season Sunday and packed the Flying Monkey Movie House to meet their favorite New Hampshire Fish and Game conservation officers.
Audience members watched a segment that included a young black bear that climbed through a window in a house undergoing renovations and got stuck inside. The animal had torn open the freezer and helped himself to some ice cream.
Col. Kevin Jordan recounted before the show that fans will be moved to tears when they witness a family being reunited with a hiker missing for four days. Jordan said the premiere was scheduled to air on the Animal Planet channel Sunday night, but a schedule shuffle will keep fans waiting until later this winter.
"We're big fans of the show and wanted to come, hear them talk and learn a little bit more about it," said Kimberly Smith of Groton, Vt., who came with with her husband, Rohson, and their daughter Kahlen, 13.
Stella Schad of Concord attended the event with her husband, who is a die-hard fan of the show.
"It's entertaining and gives you a perspective of what their jobs are and what they have to do," she said. "It's not just catching perpetrators and enforcing laws. I like being able to learn about animals. Last year they rescued a seal."
During the event, Jordan recognized the professional volunteer search-and-rescue teams that offer assistance to the department.
"To me they are more heroes at times than we are because what they are doing is for free," said Jordan, explaining the department has 40 conservation officers with 15 on duty on any given day.
"We couldn't do search-and-rescue without them," he said of the volunteers, who train extensively.
The audience also had the chance to meet the department's four-footed members.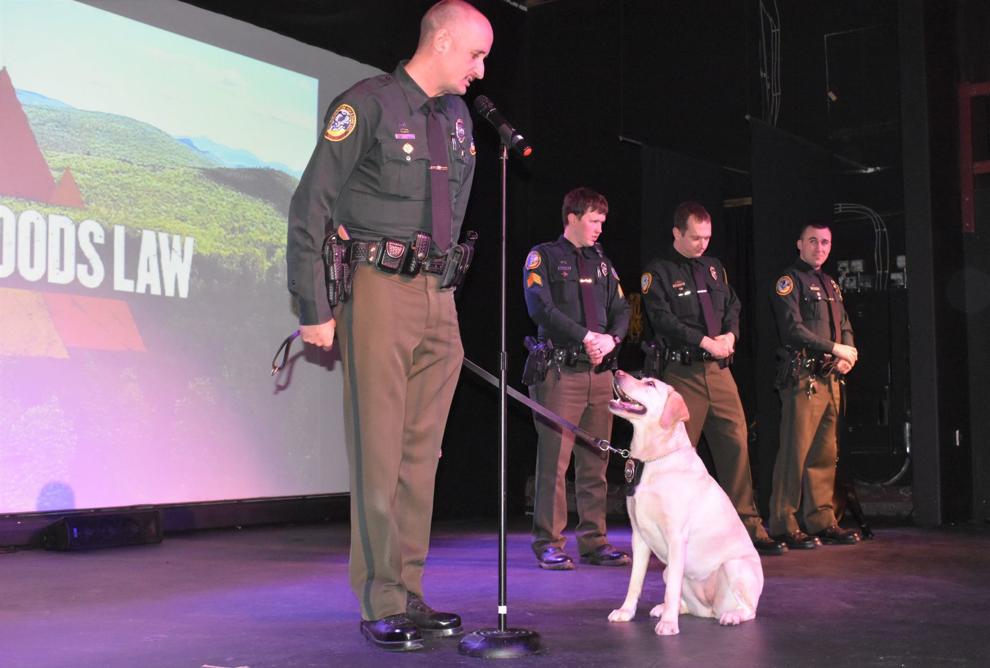 Taking the stage were Conservation Officer Eric Fluette and K-9 Moxie, a yellow Labrador retriever, and Conservation Officer Jim Benvenuti and K-9 Cora, a black Labrador retriever.
The dogs assist in investigations, help apprehend violators and conduct search-and-rescue missions, Jordan said. Both dogs were donated to the department by Wes and Bel Reed of Rise and Shine Retrievers in Barnstead.
Jordan said the department continues to receive letters and e-mails from fans of the show around the world.
"We've got fans watching in New Zealand," he said.
The original hope when the filming began was that the show would serve as a recruiting tool for Fish and Game, Jordan said.
"It promotes what we do and how we do it. The state of Maine just hired a warden who is 22 years old and said his interest was piqued by watching the show," Jordan said. "We're hoping that it will plant the seed in the 10- and 11-year-olds so that after I'm gone they'll be ready to go."
The sold-out event benefited the Wildlife Heritage Foundation of New Hampshire; it accepts donations from the public that are awarded as grants to Fish and Game to purchase needed equipment.