That's how Carol Holmes of Derry greeted news of a proposed federal rule that would restrict animals that can fly on commercial airplanes to authentic service dogs.
"It's about time," said Holmes, president of Guide Dog Users of New Hampshire. She and other disabilities advocates said the increasing presence of pets in public places, including stores, restaurants and airplanes, has created problems for people with disabilities who depend on trained service dogs to help them navigate the world.
Under the proposed U.S. Department of Transportation rule, only service dogs — defined under the Americans with Disabilities Act as dogs that are individually trained to do work or perform tasks for the benefit of an individual with a disability — will be allowed to travel uncrated on airplanes. That includes psychiatric service animals.
But it would no longer include "emotional support animals" or ESAs, a term that has been increasingly used by airline passengers to justify bringing on board a variety of exotic animals — monkeys, pigs, even a peacock. Such animals would be treated as pets, meaning they would have to travel in a pet carrier that fits under the seat or in the cargo compartment and pay the airline's pet fee.
The DOT said in a statement it wants to "ensure that individuals with disabilities can continue using their service animals while also reducing the likelihood that passengers wishing to travel with their pets on aircraft will be able to falsely claim their pets are service animals."
DOT last week announced a 60-day public comment period on the proposed rules, which ends March 22.
After losing her sight at age 13, Holmes got her first seeing-eye dog at 19. Lyric, her sixth dog, is about to retire and Holmes, who's about to turn 70, will be training a new dog come March.
"I would not be me without my dogs," she said.
Holmes said she doesn't doubt that animals of all kinds bring comfort to their owners. But she said emotional support animals don't have the training and behavior skills that service dogs have. "The bottom line is the dog has to be trained and behaved," she said.
Laura Barker of Stratham is founder of Hero Pups. She trains and provides service dogs to disabled veterans.
She, too, applauds what the DOT is trying to do with its proposed amendments to the Air Carrier Access Act. "People have taken advantage of the ESA part for so long, and it's very distracting for the dogs that are trained, tasked and protected under the ADA" (Americans with Disabilities Act), she said.
"An ESA makes you feel better, but that doesn't mean that it has any rights," Barker said. "A service dog has rights."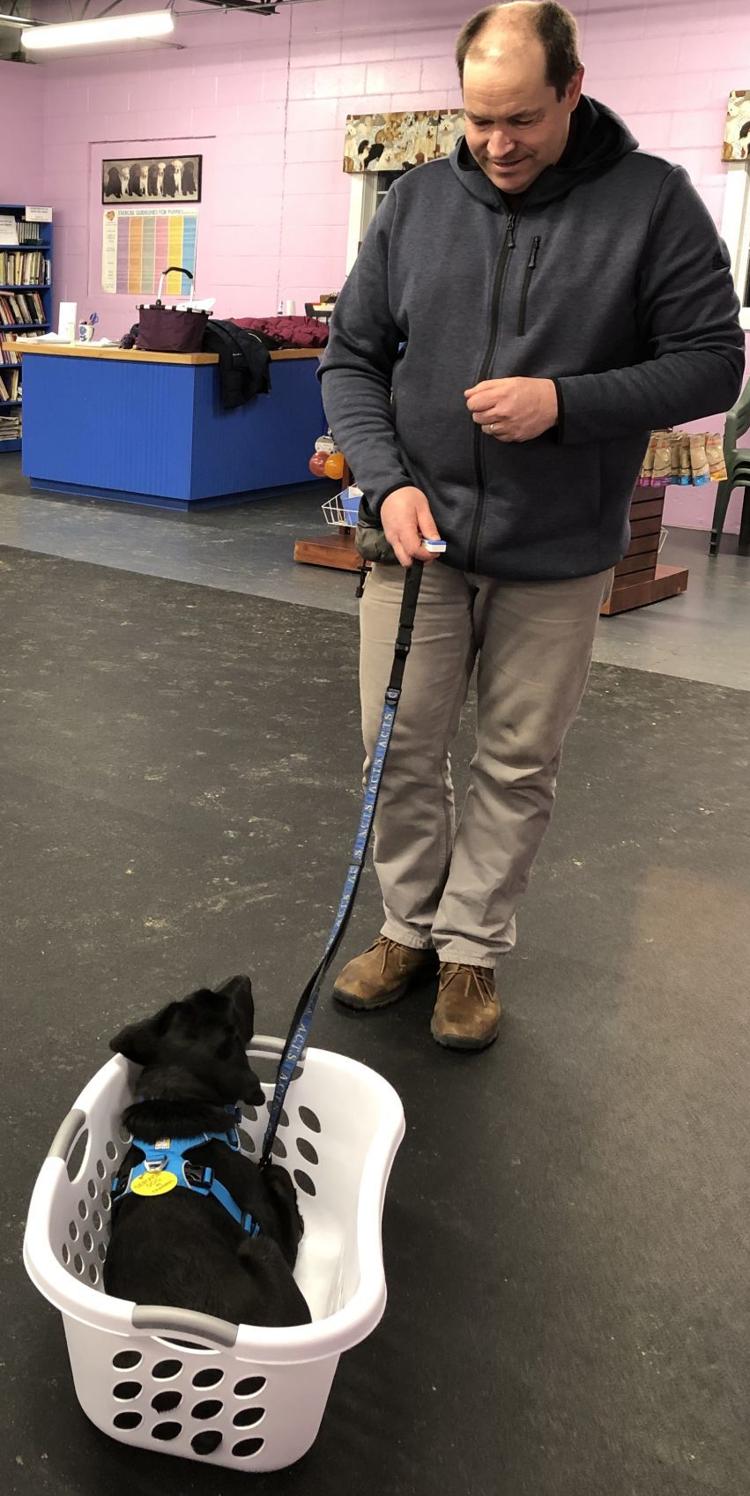 Robin Crocker is the head trainer for Assistance Canine Training Services in North Conway, a nonprofit organization that relies on volunteer "puppy raisers" to train service dogs for disabled individuals.
ACTS is a member of Assistance Dogs International, which worked with the airlines on the proposed rules, Crocker said. She called the move "a step in the right direction."
"Something has to be done," she said.
Crocker said the proliferation of ESAs in public places has become a problem for people with service dogs. "We have had dogs that have been ruined because of encounters with other dogs," she said.
Airplanes are a special concern, Crocker said. "When you put an untrained dog on an airplane, airplanes are really scary," she said. "You can't explain to a dog what's going to happen, which is why they're having problems."
"It's just kind of a recipe for disaster."
Crocker agrees with the proposal to treat ESAs as pets on board airplanes.
"To me it's a fair solution," she said. "There are people that really do benefit in a very real way from the emotional support offered by a dog. It just unfortunately seems to have gotten out of control."
Besides, Crocker said, "There's a legitimate argument from almost everyone I know that has a dog that that dog provides emotional support for them. So that could pretty much make all dogs emotional support dogs."
Barker said the problem of people bringing their pets on airplanes has escalated in the past few years. Her advice: "Pay for your animals to be transported if you want to take them on vacation. Otherwise, leave them at home."
Jennifer Crowell of Antrim brings her service dog Journey, a 3-year-old Australian shepherd, to work with her at Granite State Independent Living in Concord, where Crowell is the peer mentor coordinator.
Crowell suffered a spinal cord injury in a diving accident 11 years ago; she uses a wheelchair for mobility and depends on Journey to perform certain tasks, such as picking up something she drops. He also provides emotional support on difficult days and motivates her to get outside and do activities with him, she said. "He warms my heart," she said.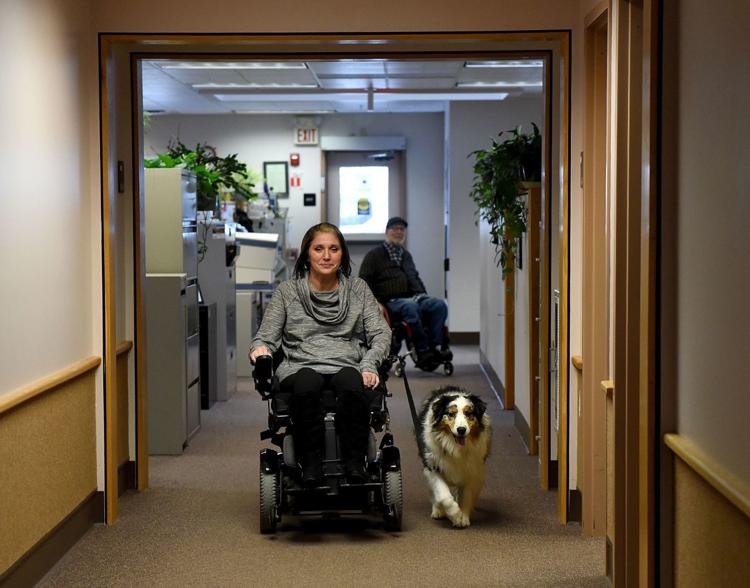 Journey, her second service dog, also has become a sort of mascot for her fellow employees and visiting clients, Crowell said.
She's aware that some people are allergic to dogs, or are afraid of them, so she doesn't bring Journey to restaurants or grocery stores. But Journey does fly with her when she goes to Florida each year; he has to go through pat-downs in security right alongside her, she said.
While she's never had a bad experience with other animals on an airplane, Crowell backs the DOT's effort to crack down on people who are trying to cheat the system. "When that happens, it ruins it for others that are following the rules," she said. "There is a line that does need to be drawn."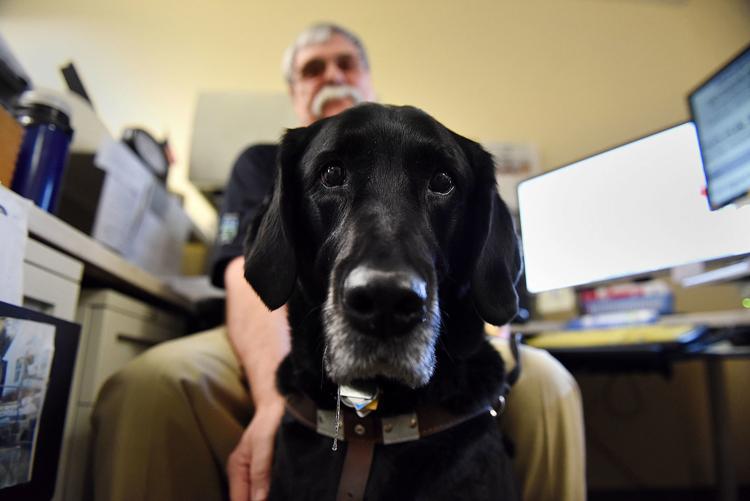 Larry Ashford of Concord is legally blind and relies on his seeing-eye dog, Quentin, a lab/golden retriever mix, to make his way around. He said he agrees with the proposed DOT rules "100 percent."
A former police officer who now works at the state Division of Motor Vehicles, Ashford avoids going into stores where Quentin has had negative encounters with other dogs that were not under control. "He's leery around other dogs now," he said. "That's not right. He shouldn't have to worry about that."
A woman he knows had a service dog that was attacked by another dog. "And he never would work afterward," Ashford said.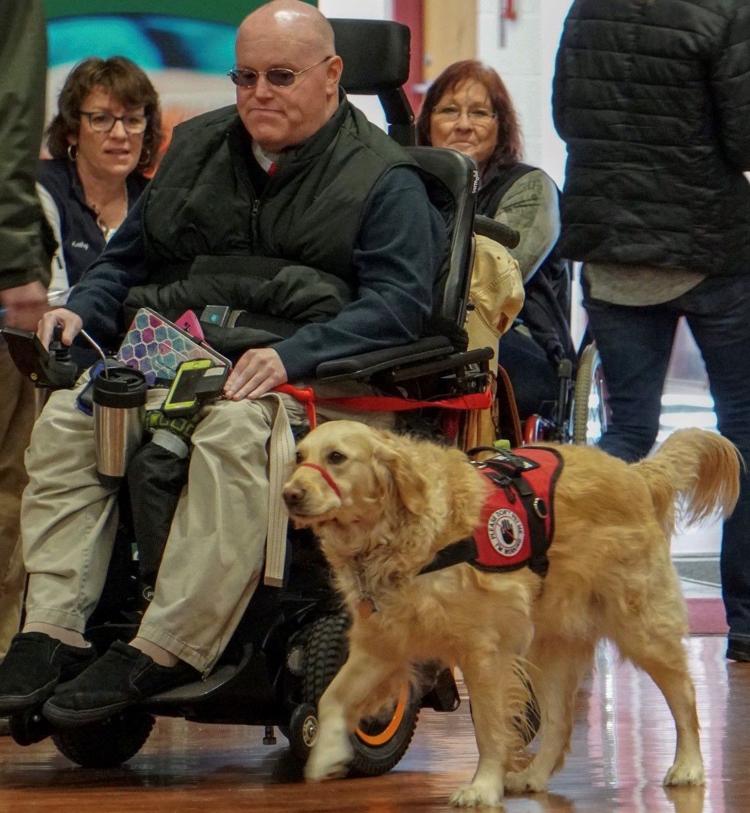 Jeff Dickinson, advocacy director at GSIL, has a form of muscular dystrophy and uses a wheelchair for mobility. He depends on his service dog, Aspen, for tasks such as picking up items, opening and closing doors and turning on light switches.
One problem, Dickinson said, is the proliferation of online sites that sell fake credentials and "service dog" vests and ID tags. "And unfortunately, when an animal is presented as a service animal and then it completely misbehaves, the hard part is it kind of casts doubt on folks who really do have a legitimately trained service animal," he said.
It's not only service dog owners who have had to deal with the issue.
Paul Robitaille of Gorham has severe allergies to cats, dogs and other animals. The proliferation of animals in public places, he said in an email, "has been detrimental to my health and life-threatening at times."
He has no issue with true service dogs, Robitaille said. "I am willing to put up with the inconvenience around legitimate service animals because of the good they do to a disabled human being," he wrote.