NASHUA — A two-year battle at the State House over reforming the state's animal cruelty laws, following several high-profile abuse cases, ended Tuesday in Nashua as Gov. Chris Sununu signed two bills strengthening protections for animals and increasing penalties for animal cruelty.
Sununu, joined by lawmakers and advocates, signed the bills at The Humane Society for Greater Nashua.
"I would like to thank the advocates at the Humane Society and Senator Jeb Bradley for their hard work, advocacy, and leadership in getting these two bills done," said Sununu in a statement.
"Together, these two bills build upon the progress made last term in strengthening animal cruelty laws in New Hampshire by reducing costs associated with animal cruelty cases, preventing animal suffering, and protecting them from animal cruelty."
Sen. Jeb Bradley, R-Wolfeboro, crafted legislation in 2018 to bring more breeders under state purview and to crack down on animal abusers in a variety of ways, following the nationally publicized case of Christina Fay, convicted on animal cruelty charges and ordered to pay nearly $2 million in restitution after more than 80 Great Danes were removed from her Wolfeboro home in 2017.
But Bradley's 2018 proposal died in the House of Representatives after breeders turned out in force claiming it gave state regulators too much power and that it subjected small breeding operations to onerous oversight.
Bradley returned this year with a more measured approach with the goal of speeding up animal abuse cases in court while offering more specific legal protections for the accused.
The Senate attached the plan to a House-passed bill, HB 459, which directs lawmakers to come up with guidelines for harvesting hemp without overstepping a federal ban on growing marijuana.
HB 459 further achieves the following:
requires a court hearing within 14 days of animals being confiscated for alleged cruelty
prevents animal owners convicted of felony cruelty from ownership of animals for at least five years
permits a co-owner to seek temporary custody of animals during court proceedings if there's no evidence that that individual was involved in the abuse
sets a deadline for payment of court-ordered, post-conviction bond, helping to mitigate the expense of caring for animals rescued from cruelty so taxpayers and nonprofit animal organizations are not left with hundreds of thousands of dollars in costs
The second new law, HB 605, increases penalties to possess or manufacture animal fighting paraphernalia.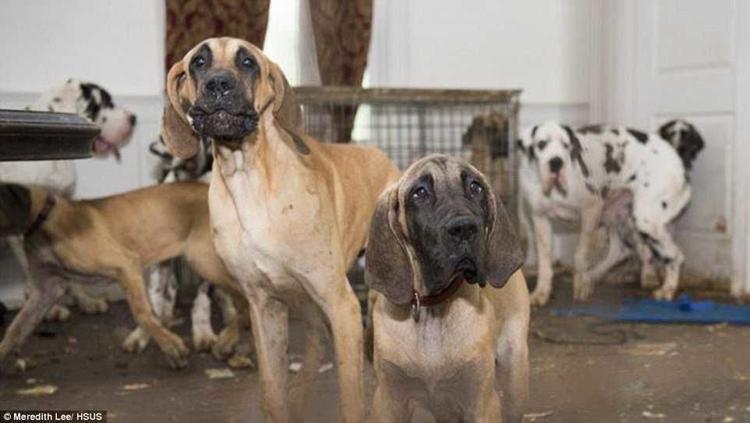 Sometimes Buttercup the Great Dane wiggles onto an already-occupied recliner, seemingly unaware at least half her 140-pound frame is draped over her new owner.
"I am glad that we have strengthened our cost of care laws to better protect taxpayers from runaway costs of unscrupulous breeders, while protecting animals from abuse," Bradley said. "I would like to thank Governor Sununu, the bipartisan group of legislators, The Humane Society and other advocates for everything they have done to get this law passed."
"Gov. Sununu has signed into law two crucial policies to address animal cruelty," said Julia Seeley, New Hampshire state director for The Humane Society of the United States. "Championed by Senator Jeb Bradley and Representative Katherine Rogers (D-Concord), collectively these laws help address the enormous costs to care for animals who are rescued from neglect, prevent someone convicted of felony cruelty from owning or living with an animal for a minimum of five years, and ban the paraphernalia used in animal fighting. We are grateful to Governor Sununu, these legislative leaders, animal shelters, law enforcement, and countless advocates for their commitment to preventing the suffering of animals in the Granite State."
"The House Environmental & Agriculture Committee has been working on versions of HB 459 for several years and we are thrilled to have passed it this year," said state Rep. Amanda Gourgue, D-Lee, chair of the House Environment and Agriculture Committee, in a statement. "This bill is very important for the people and animals of New Hampshire because it helps protect animals from cruelty. This bill requires the courts to quickly deal with cases in which animals have been seized and prohibits any person convicted of a felony cruelty or bestiality from owning or living with an animal for at least five years."
"In addition to the necessary protections to animals, House Bill 459 also legalizes the growing of hemp in New Hampshire, consistent with recent changes in the 2018 Farm Bill," said state Rep. Peter Bixby, D-Dover. "The ability to grow hemp legally expands agricultural opportunities for farmers across the state. HB 459 is a well balanced bill and something we should all be proud of."