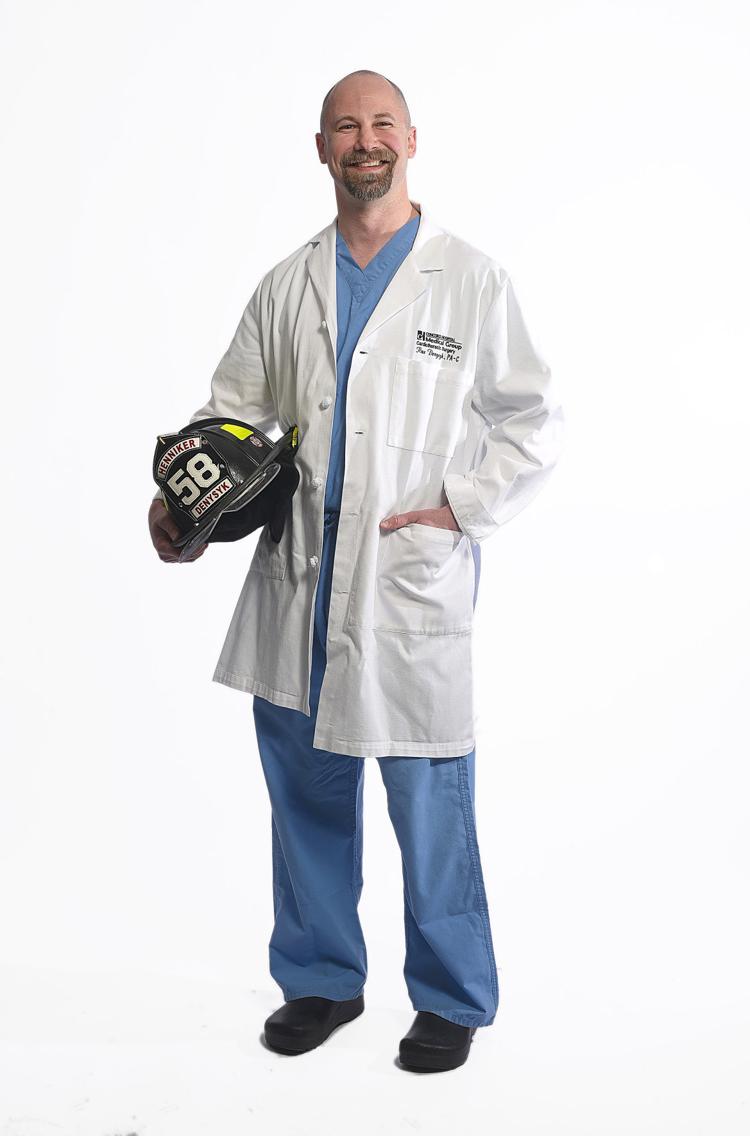 Age 37, Henniker resident
Physician Assistant, Cardiothoracic Surgery, Concord Hospital; Firefighter, Henniker Fire Department
Birthplace: Denville, N.J.
High school: Morristown High School in Morristown, N.J.
College/post grad degrees: B.S. Psychology from the University of Scranton, Scranton, Pa.; M.S. in Physician Assistant Studies from Seton Hall University, South Orange, N.J.; Board Certified Physician Assistant (PA-C) and NH-licensed.
What is the best career advice you ever received?
Always remember your fundamentals. Although on its face this seems rather trite and over-simplified, I've come to appreciate its wisdom and utility. Whether caring for a very sick and complicated patient, dealing with personal stress, or addressing the daily needs of my family, I've found that sticking to the basics before getting fancy has helped me achieve good outcomes.
What motivates you to give back to your community?
It is a privilege to be a small part of several excellent teams that provide specialized skills to the community.
What advice would you give your 22-year-old self?
Endeavor to take on necessary responsibilities that are less-desired by your colleagues. You not only build your fund of knowledge and experience but also gain the respect of your colleagues and superiors. Eventually you may find yourself expert in a niche subject and a valuable member of the team, regardless of your position or credentials.
What would make New Hampshire more attractive to young professionals?
New Hampshire is already an attractive state for a variety of reasons. An important aspect to attracting young professionals is to keep New Hampshire a fiscally worthwhile state to live and work in. If New Hampshire is able to keep taxes and the cost of living lower than our neighboring states we will not only attract productive young professionals but also keep them here for the long-term.
Volunteer activities: I am a firefighter with the Henniker Fire Department. Along with serving the Henniker community we are part of the Capital Area Mutual Aid Compact and work closely with other towns/cities in the Capital area to help share local resources in emergencies. I was previously a volunteer EMT and firefighter for over a decade in my home town in New Jersey and would like to give a proverbial shout out to the Morris Minute Men First Aid Squad and the Morris Plains Fire Dept.
I am also on the Board of Directors of the Azimuth Check Foundation of New England. We are a NH-certified 501©(3) comprised of Veterans and First Responders who recognize the significant impact of physical and psychological injuries obtained by our veterans and first responders in the commencement of their duties. Our mission is to provide injured warriors and first responders challenging year-round athletic activities that help in healing and create an atmosphere of camaraderie. Please visit www.azimuthcheckfoundation.org if you'd like to learn more.
Last major achievement: My last "major" achievement would be having my third beautiful daughter with my wonderful wife. Professionally, I've recently been able to become certified in Advanced Trauma Life Support (ATLS) which is an elusive class I had been looking to take since becoming a physician assistant.