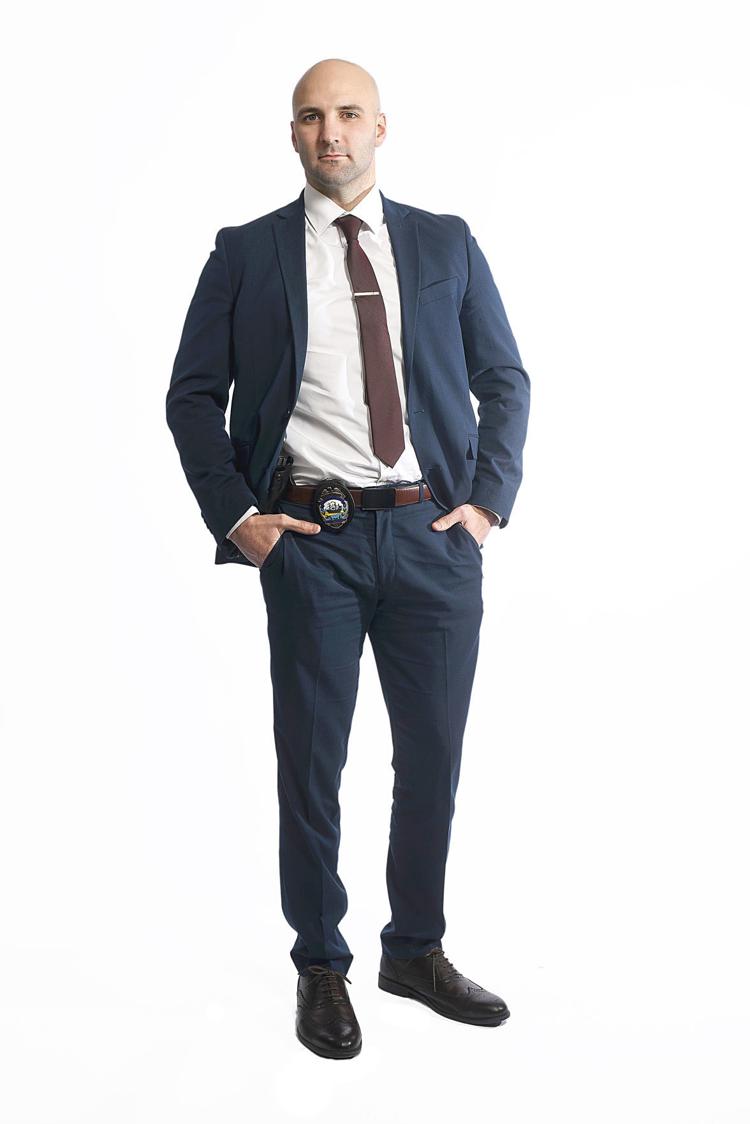 Age 30, Charlestown resident
Detective, New Hampshire State Police; SWAT Team Member; State and Local Clandestine Lab Team
Family: Parents: Jim and Anita Neilsen (Claremont)
Brothers: Jimmie and wife Kate (Walpole)
Richard and wife Melissa (Manchester)
Children: Amity (5 years old), Theodore (2 years old)
Dogs: Chester (Chocolate Lab), Molly (Golden Retriever)
High school: Stevens High School, Claremont, Class of 2007
College/post grad degrees: River Valley Community College, Associates Degree in Criminal Justice, Graduated 2009
What is the best career advice you ever received?
Treat everyone like you would want your own family to be treated, because everyone is someone's son, daughter, mother, father, brother, or sister. They deserve as much respect as your own family members and in turn, they will respect you for it.
What motivates you to give back to your community?
I was born and raised in Claremont. I grew up in the schools, playing sports, and started my law enforcement career in Claremont. In my law enforcement career, I have had the opportunity to interact with people when they are at their lowest time in hopes of offering them grace and compassion and encourage them to make a change in their lives. This same desire translates to my goals at REMIX where we offer a substance free environment where people can come as they are and just be part of something, no matter what they have going on. Claremont has always received a "bad rap," but having been a part of the community my entire life, I'd say Claremont has more going for it than people give it credit for.What advice would you give your 22-year-old self?
Good ideas have to come from someone, and that someone can be you. Don't discredit your ideas because you assume someone else has a better way or that your way is wrong … Your observations, your ideas, your plans, could be the answer to a problem somewhere, someday, so speak up.
What would make New Hampshire more attractive to young professionals?
New Hampshire is a beautiful state, and young professionals enjoy their leisure time. Growing up, my family always vacationed in "our own backyard": The White Mountains. I wouldn't trade those trips for anything, and now that I have my own growing family, I love being able to bring my own kids to Story Land, the Mount Washington Auto Road, camping at Moose Hillock Campground, and all the other places that make New Hampshire a unique and amazing place to visit. I think promoting and revitalizing our own self-image in New Hampshire would draw more of the young-family population.Volunteer activities: Volunteer Area Coordinator with Operation Christmas Child, a project of Samaritan's purse. As an Area Coordinator, along with my wife, we oversee a team of volunteers that coordinates the collection, shipping, and distribution of nearly 10 million individual shoeboxes, annually, filled with hygiene items, school supplies, toys, and other gifts for impoverished children around the world.
Co-Founder and Vice President of REMIX Coffee Bar & Social Club, Claremont. A bar and club alternative that is 100 percent volunteer-run and 100 percent donation-based that seeks to build community across the various separations of socio-economic status. We have also partnered with several addiction recovery networks and initiatives to make an impact on drug addiction in our community.
Safety Team Leader at Life Fellowship Foursquare Church.
Last major achievement: I started my law enforcement career when I graduated High School in 2007 as a dispatcher at the Claremont Police Department. I was hired as a Claremont Patrolman in February 2010 and moved to the N.H. State Police in November 2012. After 12 years of these various assignments, in August 2019, I was promoted to the position of Troop Detective with the State Police.