A renovated Balsams resort would revive some of its past style, including requiring men to wear jackets in at least one restaurant, should its owner get the needed financing.
"The resort will combine the stated elegance of the past with an eye to a relaxed casual atmosphere that provides its guests with a choice of dining experiences that range from a formal dining room to in-room food service to casual dining," said Scott Tranchemontagne, spokesman for the developer, Dixville Capital LLC.
But resurrecting a grand hotel comes at a cost.
The move designed to spark tourism in the North Country requires the state passing legislation, Coos County approving a tax assessment district and a private lender buying a $28 million bond to help finance the project.
House Bill 540 would allow county commissioners and the county delegation to provide the mechanism to issue the bond.
The developer's plan would be for Coos County to issue the bond without any guarantee for taxpayers to step in and make payments should the project fail.
Tax revenues in the tax assessment district — also known as tax incremental financing (TIF) — would only come from the assets improved or built within that district, and those revenues would pay the principal and interest on the bond.
The Balsams redevelopment would produce about 400 jobs at the resort, according to Tranchemontagne.
"Without the TIF plan, all you're going to have is nothing at the Balsams," said Coos County Commissioner Paul Grenier.
Developers of the $172 million project tried to get the state Business Finance Authority to guarantee a $28 million loan but pulled the request before it came up for a vote.
The protracted process with the Business Finance Authority gives some people pause. "I'm very concerned this project may get started and it may end up going belly up," said Coos County Commissioner Rick Samson, who noted that taxpayers in some Coos towns pay more in county taxes than for town or schools.
Tranchemontagne said the county would assume no liability.
The bond "would be sold to a third-party lender who would assume all the risk," Tranchemontagne said. "Of course, they would make sure all the rest of the financing is locked down before they finalized the purchase – including the $20 million from Les (Otten, the developer) and his investors. And the lender would be in first position on all the assets, of course."
The bond would not be tax-free, Tranchemontagne said. "Yes, it makes it more challenging for us to sell the bond, but we know from all the work we've done to date that there is a market for it," he said.
Bonds funded by tax-incremental financing and backed by taxpayers often carry an "enormously low risk ... and it's tax-free if it's for infrastructure," said Michael Hicks, professor of economics at Ball State University in Muncie, Ind. who has studied TIFs.
With all the TIF money going to the Balsams, "For all intents and purposes, it's a fancy tax abatement," Hicks said.
Typically, when a new development comes to town, that generates added taxes that help cover extra teachers or police, Hicks said. But in TIF, "you have a huge neighbor opening its doors and what you're saying is you're going to ignore what are clearly obligations on public services that should be covered by taxes," Hicks said.
Grenier said that will be addressed.
"In a tax assessment district, all the payments for the loans, the maintenance of all the properties within the tax assessment district is all self-contained," he said. "Fire, police emergency services, those are expenses that would be administered within the tax assessment district."
Grenier said a tax assessment district would be created for the Balsams property that falls within Dixville, potentially more than 9,000 acres.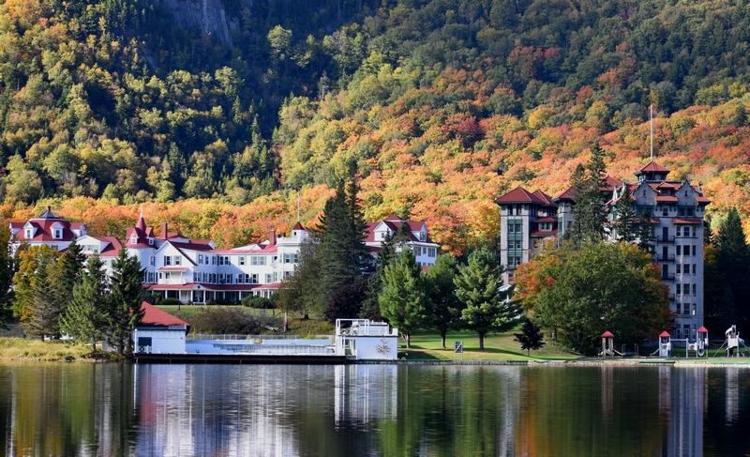 He said the county's legislative delegation would need to approve any agreement.
Tranchemontagne said expenses the county incurs from the Balsams project would be covered by a payment-in-lieu-of-taxes agreement.
The project's first phase includes renovation of the Hampshire and Hale houses; reconstruction of Dix House; and construction of a 400-room Lake Gloriette House Hotel and Conference Center, Nordic baths and spa as well as a marketplace and expansion of the former Wilderness ski area.
No timetable is available until the fate of House Bill 540 is known.
Besides the $28 million TIF bond, the project would be financed with an $85 million construction loan, $20 million from the developer and $40 million in investment through a federal opportunity zone, a federal program that gives tax breaks to investors, according to Tranchemontagne.
Barbara Reid, former assistant commissioner of the state Department of Revenue Administration, wrote about such tax districts in 2016.
"Tax incremental financing (TIF) is a public financing tool used to help spur economic development in areas that may otherwise be left to fallow in the wind," she wrote for New Hampshire Town and City.
"The primary benefit of TIF is its use to promote economic development by providing a financial option to fund infrastructure improvements for which it might otherwise be challenging to garner legislative body approval."
Reid last week said she wasn't familiar enough with the Balsams case to comment.
In a guest editorial, Samson compared the Balsams project to the proposed Northern Pass transmission project that state regulators rejected a year ago, which garnered much opposition in the North Country.
"Like Northern Pass, it seems as if the region is being held hostage and forced to accept something that may not be that beneficial for our county or our taxpayers," he wrote.