CONCORD — When Tim Pipp opened Beeze Tees Screen Printing on Main Street in Keene in 2010, he knew he'd open other showrooms and shops.
Nine years later, he's set to open a new store in the former Runner's Alley spot at 36 Hanover St. in Manchester after the running shoe store moved to a new space on Elm Street. The Beeze Tees shops serve as sales locations for the company's commercial screen printing.
"It will be very similar to our Keene store," he said. "It is a place for customers to go and talk to somebody and test and feel and try on the product and deal with someone in person instead of online. A lot of my competition is online."
On Thursday, Pipp was among 63 business owners to graduate from Goldman Sachs 10,000 Small Businesses program at NHTI – Concord's Community College. The program helps entrepreneurs create jobs and economic opportunity by providing access to education, capital and business support services, according to the Goldman Sachs website.
The 12-week program, which launched 10 years ago, came to the state last year in partnership with Community College System of New Hampshire. So far, Goldman Sachs has assisted more than 8,800 businesses.
"This program really advanced my knowledge and skill sets," Pipp said, who opened the business going into his senior year at Keene State College.
During the graduation ceremony, U.S. Sen. Jeanne Shaheen, D-NH, said starting a business is no small feat — and she knows from experience in having run a small seasonal shop for eight years.
"Small business and entrepreneurship are critical not just to the New Hampshire economy, but to America's economy," said Shaheen, who serves on the Senate Small Business Committee. "Nationwide about half of all workers are employed by small business owners."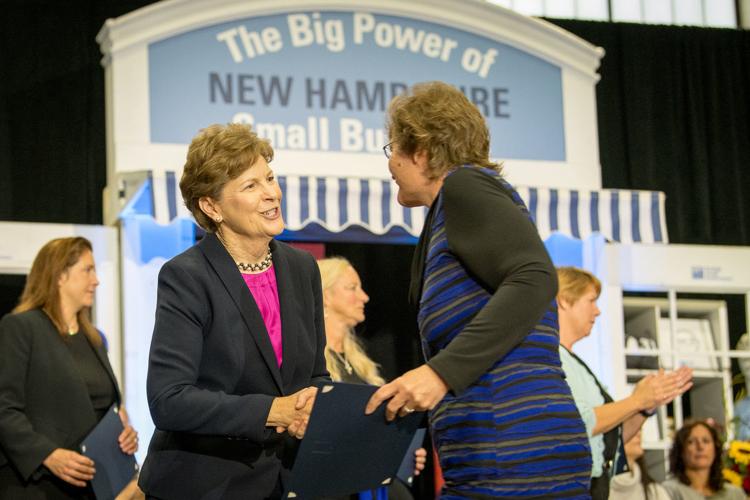 Asahi Pompey, president of the Goldman Sachs Foundation, said the program works with businesses on everything from financials, growth plans and marketing.
"We realized that small business is really the engine of economies," she said. "Helping the ecosystem across the country, and in particular New Hampshire, of small business that is where we were going to be able to help grow jobs, help expand the economy and ultimately help make the lives of individuals better."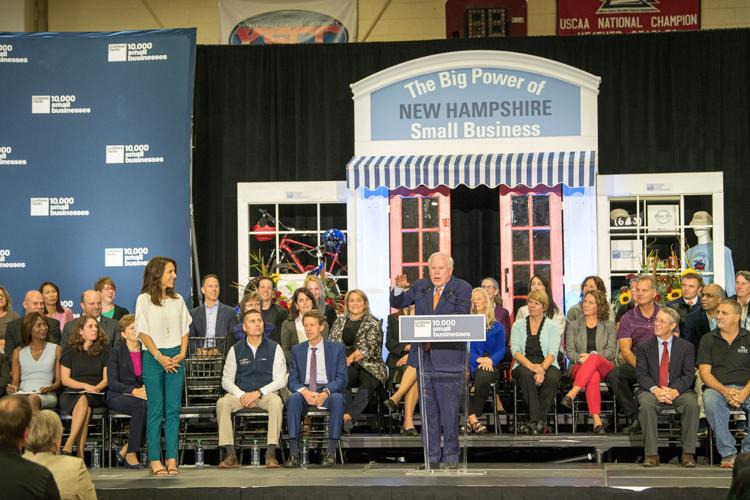 Veno's Specialty Foods & Meats in Conway planned to hire four people when it opened in May 2018 in a former KFC, but now has 10 employees.
"I started the program as a chef and when I completed the program I was an owner," said owner Kendra Veno. "My team now has the best version of me as an owner instead of just the doer."
The program helped the business open a drive-thru, the only butcher shop to do so in the state, Veno said.
"I was validated that I can be a mom, I can be a business owner, I can be a community leader and I can do it to my standard and in keeping to what is important to me," Veno said. "That was groundbreaking for me."
Manchester Mayor Joyce Craig sat next to Pipp during a roundtable discussion before the ceremony and asked questions about his new store.
"I thought it was great to hear first hand from these entrepreneurs and business owners the value this program has given them and how they are now able to think differently about their businesses," she said.
Beeze Tees also operates a warehouse in Marlborough and has customers from across the country.
"When I went to go open the store in Keene, I knew that I'd want to open other stores at some point," Pipp said. "The model that I've chosen is a store model where we open stores as sales locations."
The Community College System of New Hampshire, Goldman Sachs 10,000 Small Businesses and the New Hampshire Union Leader will host a new event in its series of presidential candidate forums on the health and growth of the U.S. economy.
The next forum will feature Sen. Michael Bennet and will be held on Wednesday, Oct. 16, at Great Bay Community College, 320 Corporate Drive, Portsmouth. The event will begin at 1 p.m. and doors will open at noon.