Jeffrey Bemowski and Justice Amoh met in much the same way some of the best bonds are formed: They were roommates at Dartmouth.
Bemowski was enrolled as an MBA candidate at the Tuck School of Business, and Amoh was working on his Ph.D. in machine learning and medical devices, with special funding in the Ph.D. Innovation Program to commercialize any technology he wished.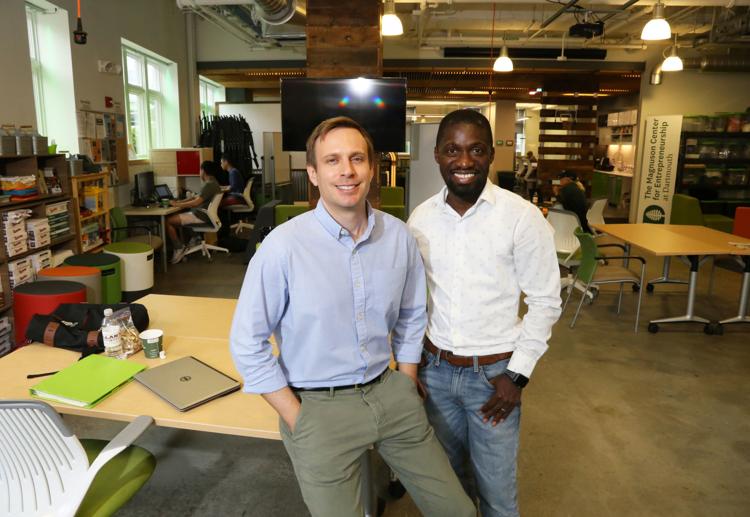 Innovation was something they connected on. Bemowski's background was in municipal finance and management consulting, but he had caught the entrepreneurial bug along the way. When Bemowski got to Tuck, he hadn't realized that his first entrepreneurial venture was going to be with his roommate. But soon enough, their business and technology expertise merged, and they began working on what would become Clairways, a medical device company currently focused on providing smart lung monitoring for pharmaceutical clinical trials.
"As I got to know Justice and his work, I saw that he was really passionate," Bemowski says. "And the work he was doing was important: helping people manage their respiratory diseases."
Amoh invited his roommate to conduct market research to understand commercialization opportunities for his technology, a discrete respiratory monitor worn by patients to monitor respiratory metrics including lung function, respiratory rate, coughs, wheezing, inhaler use and heart rate.
Bemowski used entrepreneurship courses and an independent study at Tuck to test the market — that's how they determined that pharmaceutical companies running clinical trials would be the perfect entry market. Pharmaceutical companies need to capture loads of data to determine the efficacy of new drugs — a wearable device is a perfect solution that patients can easily wear in the hospital and at home, for better monitoring.
Amoh says Clairways' application of machine learning not only helps with data processing, but also helps the company determine which data it collects in the first place.
"We collect custom data, not everything the sensor is picking up," Amoh says. "Real-time machine learning on the device means we can save energy and processing time, because we're only receiving the data we know is useful. Only then do we process the data for patterns and inferences."
The best teams are made of teammates with complementary skills, and those who know Bemowski and Amoh say they're a perfect match.
"Jeff and Justice are an outstanding team," says Daniella Reichstetter, Tuck adjunct professor and executive director at the Tuck Center for Entrepreneurship.
She should know. She had front-row seats to the team's early development. She worked closely with Bemowski in the project-based course where he and a team evaluated market potential and explored various applications for Amoh's technology. She got to know Amoh as she continued to work with him and Bemowski after that initial entrepreneurship course.
"Jeff brings a strong business background with very relevant prior experience around medical devices and sensor technology, as well as more general business experience in finance and consulting," Reichstetter says. "Justice's engineering expertise complements Jeff remarkably well, offering deep technical expertise in machine learning and medical devices. This combination of technical, industry and business expertise is a winning recipe for innovation."
Clairways has now been operating full time for more than a year now and has its office in the Dartmouth Regional Technology Center in Lebanon. The company also has a co-founder in Kofi Odame, who advised Amoh during his Ph.D. and acts as Clairways' Scientific Adviser now.
"Their startup journey serves as an inspirational example of entrepreneurial determination born in the lab and brought to life by tirelessly exploring the right product-market fit," Reichstetter says. "Their broader impact on the world is yet to be seen, but I think they're onto great things."