Chris Schleyer had to speak above the roar of passing cars and music piping from the pub across the road while he hosted a ribbon cutting Friday for Pearson's Place Apartments.
While the noise was not enough to drown him out, Schleyer could have easily ordered up some silence just by taking the party inside.
Only moments earlier, the president of Elm Grove Companies was showing off soundproofing features installed in the 30 one-bedroom units during a tour of the project, named for Pearson's Jewelers, which has occupied its shop in the building next door to City Hall since 1920.
The "smart" apartments were created with millennials in mind. They come equipped with an Amazon Echo, smart switching and smart outlets that integrate the control of heating, lighting, music and the 55-inch Amazon Fire TVs installed on the living room walls. Monthly rent, which runs $1,500 to $1,700, also includes high-speed Wi-Fi.
"We are taking cool ideas that are happening in big cities all over the country and trying to be the first followers in our market," Schleyer said. He then prompted Alexa to say "Welcome to Pearson Place" in a unit that offered skyline views of Manchester's West Side.
Pearson's Place is the latest downtown redevelopment project for the Manchester company, which completed the conversion of the former Farnum Center building at Union and Hanover streets into 32 micro-apartments christened as the Flats in 2016. Elm Grove expects to attract young professionals to the new apartments, which range from 470 to 586 square feet.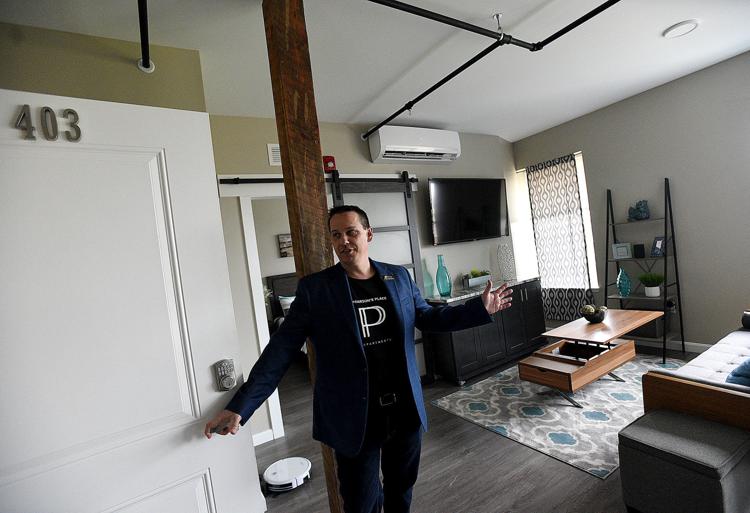 "It's so hard to find space downtown to put housing. We've been looking since the Flats to try to do something like this," Schleyer said. "I think we know adding residents to downtown is going to drive retail.
For the Flats, Elm Grove spent $2.5 million to retrofit an old four-story building into 350-square-foot living spaces that rent out for $1,000 a month. That seemed like a risky venture to some at the time, but now residents of that project are prospects to move into larger quarters a couple of blocks down the street.
"This is more traditional luxury living. Our prices are quite a bit less than 875 Elm and some of the other luxury offerings in Manchester," Schleyer said. "We're expecting the same demographic (as the Flats), just those willing to spend $400 or $500 more a month."
Restaurateur Joel Soucy, who owns The Birch on Elm and recently opened Noodz, also on Elm Street, will be among residents from the Flats to make the move to Pearson Place. He has lived at the Flats since it opened.
"I'm looking for a bigger place, and I like being downtown," Soucy said by phone later Friday. "It's worked out nice for me."
Schleyer along with his brother, Dave, and Newton Kershaw, who are both CEOs and principals in the real estate development company, declined to reveal how much they spent on Pearson's Place, which involved converting three floors of office space into the 30 apartments. The project also includes a 6,000-square-foot restaurant, which will soon be occupied by Dixie Blues.
"It was a complete gut and renovation," Chris Schleyer said.
The end result is an Energy Star rated building that includes LED lighting, spray foam insulation and triple-pane windows, which keeps energy costs low. The windows also block out most outside noise, as a couple of visitors witnessed for themselves Friday.
"I don't know if you noticed, but you can't hear the city," said Dave Schleyer, who oversaw the nine-month construction project. "As long as the windows are locked. If you unlock them, sounds seep through."
Pearson's Place was financed through Bangor Savings Bank, the Capital Regional Development Council and a group of equity investors. To make the project feasible, Elm Grove also needed some tax relief from the city, which made use of a state law that allows municipalities to freeze the pre-development assessed value of a project for five years to encourage the rehab of urban buildings.
The city worked with Eversource Energy to locate a transformer on nearby city land to bring additional electric capacity needed for the apartments and future downtown development.
Kershaw, who handles financing for Elm Grove, said the project also had "community minded equity investors who are willing to accept a lower return potentially than other things to get a building like this off the ground."