John Hickenlooper's path to the presidency has proven to be a much slower ride than his rise to mayor of Denver and governor of Colorado. When I first met him during my tenure as the editor of a business magazine there, he was a popular mayor about to handily win his first term as governor.
Fast forward several years, and the co-founder of Colorado's first brewpub finds himself trying to stand out in a field of more than 20 Democrats working the 2020 campaign trail — like a fledgling IPA fighting for a tap in the neighborhood bar.
Former Vice President Joe Biden was identified as the clear front-runner in a poll released last week by the Wall Street Journal and NBC News, which asked Democratic primary voters how they felt about 10 presidential candidates. Hickenlooper, who has positioned himself as a moderate from a purple state, was not even on the list.
The former governor notched a spot on the front page of the New Hampshire Sunday News on April 28 when reporter Kevin Landrigan reviewed the $144,173 in campaign donations received by the candidates from New Hampshire residents from January through March. Hickenlooper's $11,400 slice of the pie was one of the smallest.
One of his four donations came from Stonyfield Farm founder Gary Hirshberg, who gave him $2,800. During Hickenlooper's most recent trip to New Hampshire, he visited the organic yogurt company in Londonderry to talk to workers. We caught up with him after his May 3 presentation for an interview that touched on such issues as immigration, marijuana legalization and health care.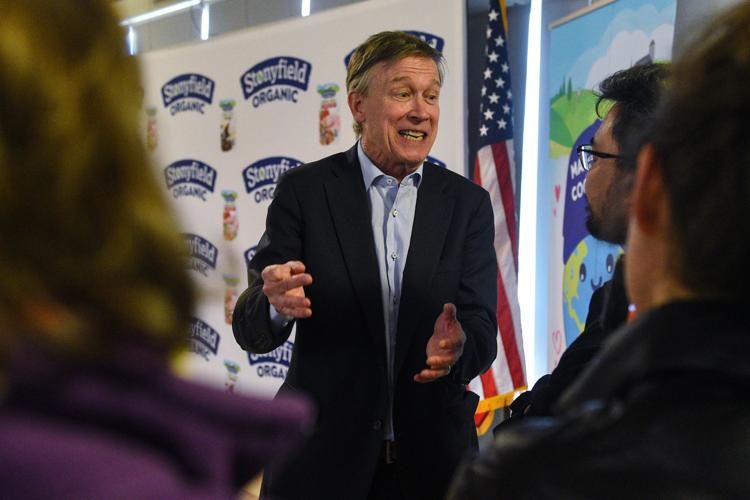 In recent years, popular Colorado brands like Chipotle and Fat Tire beer have made their way to New Hampshire. Hickenlooper arrived long before they did. His family owns property on Squam Lake that dates back to his great-great uncle.
"He was on the board of a church in Philadelphia," said Hickenlooper, a Pennsylvania native. "Someone died, and left him that whole property. It was 500 acres and a huge amount of lakefront."
The uncle donated most of the land for preservation, but a summer home remains, where Hickenlooper usually spends a week or two each year.
Hickenlooper is making more frequent trips to the Granite State as his campaign continues to work on gathering enough donors to reach the threshold for his inclusion in the upcoming debates.
In 1988, about a year after he was laid off as a geologist in the oil and gas industry, Hickenlooper co-founded a Denver brewpub, the first one in Colorado. He and his partners built the business into a chain of restaurants in western states.
"My job is to demonstrate on a daily basis why I'm different," said Hickenlooper, 67. "I started a business from scratch, and it ended up being a $25 million-a-year business."
He also points to his first elected post in Denver's "strong mayor" system, where that office holder serves as chief executive, as well as his work as governor getting environmentalists and the oil and gas industry to reach agreement on methane regulations that were adopted four years ago.
"I look at most of the other candidates; how many people have they hired and figured out how to motivate them and hold them accountable? How successful have they been to bring together the environmentalists and the oil and gas people and actually compromise and get stuff done?"
To deal with the nation's 12 million illegal immigrants, Hickenlooper proposes instituting an ID system "that is counterfeit-proof" and 10-year visas that would include a possible path to citizenship. He also proposes a shift on how immigrants are granted legal access into the country.
"Right now, 80 percent of the people who become legal immigrants to the United States, it's reunification of family, like cousins, aunts and uncles, whoever. That's not a good enough reason to drive our entire immigration system," he said. "Do we need more tech workers? Do we need more agricultural workers? Do we need more workers who can do construction? What are the places where we can't fill our jobs?"
As New Hampshire wrestles with whether to legalize marijuana for recreational use, Hickenlooper can empathize with those who oppose it.
Recreational marijuana debuted in Colorado in 2014, following approval by voters in 2012 of an amendment to the state's constitution. Hickenlooper campaigned against its passage, but he says the changes opponents feared have yet to come to pass.
"Obviously, I was against it in the beginning. You don't want to be in conflict with federal law," he said. "We were worried about spikes in teenage consumption and driving while high — all that stuff I said out there — and it hasn't happened."
Now he believes the federal government should let the states decide for themselves and clear the way for the industry to have access to banking services.
"We (now) have to do everything in cash," he said. "If you want to guarantee corruption, racketeering, you require everything to be done in cash. It's the worst thing you could ever do. The federal government needs to decriminalize it and remove it from the list of Schedule 1 narcotics."
Cannabis stores were already becoming ubiquitous in Denver when Colorado allowed marijuana only for medicinal use. Now a visitor to Denver can find a shop at the first highway exit near the airport, nestled in with the commuter hotels. While the industry is poised to become a megabillion business nationwide, Hickenlooper insists it's a relatively marginal one in his state, despite its rapid growth.
"It's a $1.5 billion business. That's amazing. But we're a $320 billion GDP in Colorado so it's less than half a percent," he said.
Hickenlooper continues to pledge that he won't engage in bashing his fellow candidates, but he's stretched his boundary by speaking out against their platforms, including Bernie Sanders' proposal for a single-payer health care system. Instead, Hickenlooper would allow people who like their employer-provided benefits to keep them and create a public option based on Medicare and Medicare Advantage.
"If it's that attractive, as it grows larger it achieves an economy of scale, then the price will go down and the quality will go up and more people will join it," he said. "It'll be a feedback loop that eventually gets us to a single-payer system, but that's by evolution not revolution."