Got health problems? Blame the couch potato gene.
While I was reviewing a conversation we had with health care executives at the Union Leader to prepare for a Sept. 17 symposium, news from the University of Missouri conveniently arrived in my inbox.
Bingo. The quick-fix health care solution.
"Regular physical activity is a crucial part of living a healthy lifestyle. However, a majority of American adults spend their waking hours sitting, which leads to a variety of health issues such as obesity, cardiovascular disease and cancer," read the pitch from the news bureau at the University of Missouri.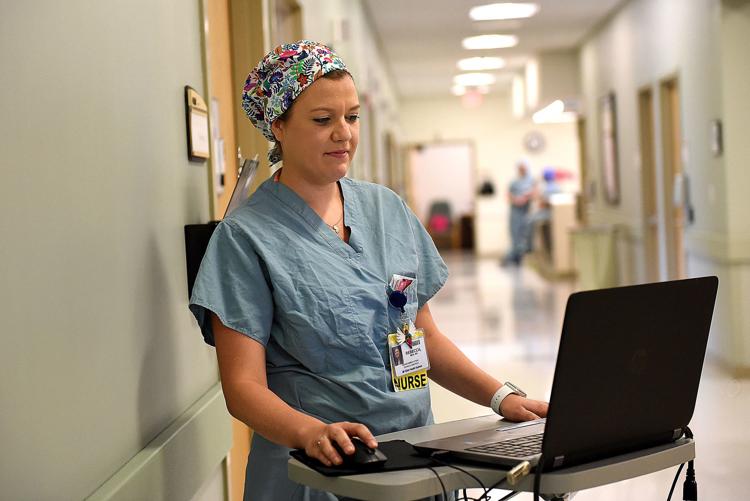 A researcher there has identified a specific gene related to physical inactivity in rats that could potentially play a role in sedentary behavior in humans as well, the school says. Frank Booth, a professor in the MU College of Veterinary Medicine, has spent the last decade logging how much time rats spend running in those wheels inside their cages.
Booth found that the protein kinase inhibitor alpha gene was significantly less present in the "lazy" rats.
Don't get too comfy on the couch just yet, though. Most chronic diseases are caused by more than one gene, Booth notes.
"For example, there are more than 150 gene variations involved in type 2 diabetes," he says in the news release. "However, this study is paving the way for future research to identify other genes that might be involved in physical inactivity in humans as well."
Most of us don't have time to wait that long. Costs associated with physical inactivity total $138 billion and account for more than 11% of total health care expenditures, MU says, citing government data. We need to get ourselves off the couch and do what we can to stay healthy — especially with those high-deductible health insurance plans.
The price sure does sting, but having a financial incentive to keep fit is bound to help us in the long run and represents the personal stake consumers have in curbing the cost of health care. And it's the only one they can control.
Wellness over policy
A couple of weeks ago, we gathered representatives from some major health care providers and insurers to review potential questions for a symposium focusing on health care costs and solutions scheduled for 8 to 10 a.m. Sept. 17 at the Derryfield Restaurant.
We learned pretty quickly that these medical executives loved to talk about health care policy as much as we do.
In other words, not much. They expressed the same kind of frustration about the complexity of our health care system as consumers do. These medical officers and business executives would much rather talk about what they can do to improve wellness in their communities.
"A total joint replacement is interesting. Not needing one is more interesting," said Greg Baxter, M.D., president of Elliot Health System.
Baxter talked about the challenges health care providers are facing in securing the talent they need and responding to higher and higher patient volume while trying to contain the cost of care.
He also noted how much health care depends on human behavior.
"The real cost and driver of health care is a partnership," he said. "You cannot hope that your health care system, your physician, your nurse, your physical therapist, can fix what you spend every single day of your life going in a different direction."
Joanne M. Conroy, M.D., CEO and president of Dartmouth-Hitchcock Health and Dartmouth-Hitchcock, said she's been paying close attention to the behavior economics around health care for a long time.
"The consequence of our benefit design makes people react to cost differently," she said. "For example, if you have cancer and you know you can hit your deductible every year, people have a very different attitude about where they spend their health care dollars because they know they're going to hit their deductible because of medications and ongoing treatments."
Alex Walker Jr., executive vice president and chief operating officer at Catholic Medical Center, says hospitals and health systems have a significant role in addressing issues that impact the wellness of the community and, as a result, the overall costs of health care — including homelessness, the opioid crisis, chronic illness, food insecurity and childhood trauma.
"Health and wellness isn't only a matter of the right prescription or an exercise routine. The social determinants of health play a huge role in the overall health of a community," Walker said. "Hospitals should be conveners of community efforts to address the factors that impact good health like good schools, workforce development, and early childhood development. We know that investing in and supporting these efforts helps empower people to make good, healthy decisions about their lives."
While the symposium will include a 15-minute Q&A with the audience, low on the list of potential topics for the group was the proposed "Medicare for All" championed by some Democratic presidential candidates. They said it's a plan that would ultimately bankrupt hospital systems.
"I would much rather talk about quality and cost issues and steer it towards data, workforce, wellness, population health and ultimately end on value. I think that's a much richer discussion," said Adam Scott, senior vice president, Health Care Services, Tufts Health Plan.
Nick Vailas, CEO of Bedford Ambulatory Surgical Center and Patriot Health Partners, prefers to focus on solutions. Personal responsibility is a big part of his mantra, but he acknowledged it's generally not rewarded under our health care system.
"We call health insurance 'compensation,' when it really isn't because patients or employees who take care of themselves don't see any remuneration for it," he said. "And so therefore there's an entitlement mentality to use your insurance because you pay for it. If you had a financial incentive to take care of yourself, it would make a great difference."
In the meantime, you can blame the couch potato gene because when it comes to the high cost of health care, we all want something to blame.