The Unity Cafe is tranquil at 10 a.m., the midway point between the morning rush and the lunch crowd, such as it is these days.
Like office parks nationwide, this one at the Sundial Center off Queen City Avenue is occupied by businesses whose workers are spending a lot of time at home. While some people have returned, they're not around every day, making it difficult for owner Keri Laman to predict customer traffic.
"One week you'll see Tuesday is crazy around here, and then the next week it's Wednesday," Laman says, seated at a table in the cafe. "So there's really no rhythm. They're doing a lot of odd rotations. It's made any forecasting almost impossible."
Since the pandemic upended her company, Laman has weathered the loss of half her revenue and half her staff. All her business lines took a hit: her flagship Tidewater Catering, a trio of cafes that serve office workers, a food service business that works with colleges, and a function room that hosts weddings and business meetings.
While one of her two cafes in the Millyard and her operation at Manchester Community College remain closed, her other businesses continue to operate.
Instead of catering events for hundreds of patrons, she and her staff have been working smaller functions: employee appreciation days at manufacturing plants, parties at private homes, stripped-down weddings, including some at the Riverside Room in the Waumbec Mill, also home to the Riverwalk Cafe and her headquarters.
Laman is working harder and longer to make less money — a reset for someone who's used to seeing her company grow by double digits every year. She was just a couple of weeks from closing a deal to lease space for a fourth cafe when the pandemic hit. Now that project has been shelved until next year.
In the early days of COVID-19, Laman experienced the kind of grief rivaled only by what she felt when her mother died. Some sage advice from her father helped inspire her to move forward.
"He said to me one day, 'Keri, you had nothing when you started this, and look what you did ... Who's to say you can't do it again?'" Laman recalled. "I came back to the office, and I spent two weeks in the office probably rearranging every file I had because I had the time to do it."
Laman is among the fortunate. Nearly 1 in 6 restaurants nationwide — nearly 100,000 — have closed permanently or long term this year, according to a survey released in September by the National Restaurant Association. The industry expects to lose $240 billion in sales by the end of the year.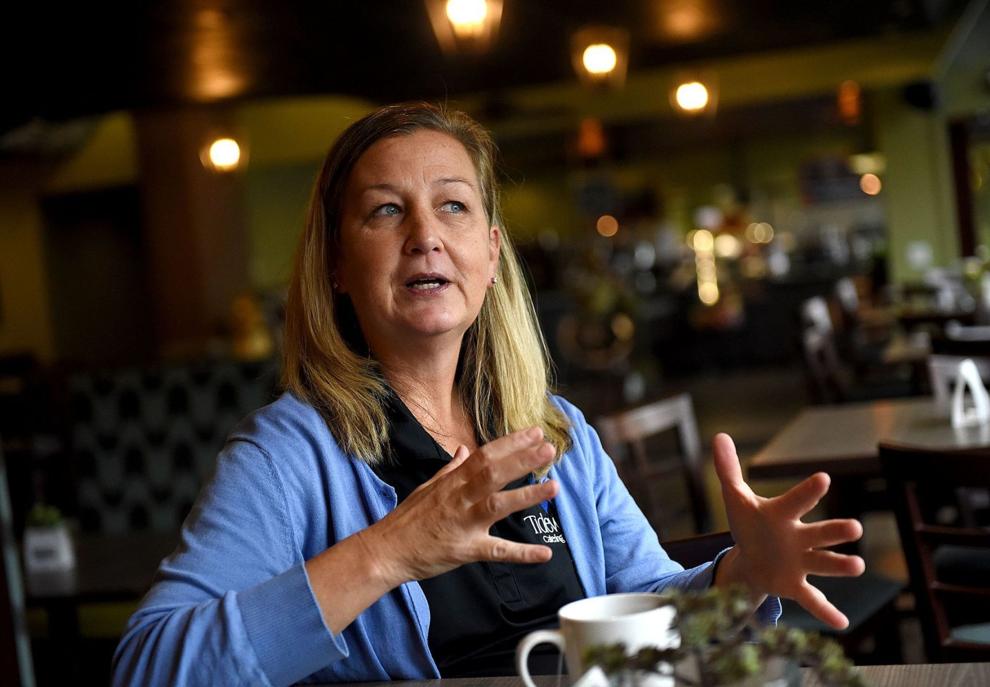 "What I'm grateful for is that we were tremendously and are tremendously financially sound, logistically sound," Laman said. "If this has been my second or third year in business I truly don't think I'd be sitting here having this conversation."
While business started to spike in June and July, it leveled off in October, Laman said. She and her staff have adjusted to a different way of operating, one that includes smaller gatherings, contact-free food drop-offs, out-of-town brides booking weddings sight unseen, and protocols that include lots of packaging and protective gear.
"I wear a mask 14 hours a day. You have to smile with your eyes," said Laman, who founded the catering company in 2003 before beginning to launch other business lines a few years later.
Caterer and counselor
What Laman has found most surprising about her work since March is the amount of time she spends fielding calls from clients who are considering an event but unsure of what might be possible.
"The adjustments we had to make really had so much to do with guiding the customers to a mentally and emotionally safe place," she said. "This virus and this pandemic isn't about food. Food didn't cause this. But the whole idea of gathering together, the whole idea of being in a group and around people, is causing people a lot of anxiety."
The company has catered indoor and outdoor events and over the past couple of months picked up five new clients, including small businesses that in the past might have found Tidewater beyond their reach, Laman said.
"In some cases you were but not now," she joked.
What Laman misses the most is the social aspect of her work. These days she does a lot of food drop-offs: "Hi! Here's your food. Thanks. Bye!"
There are no high-fives or hugs to congratulate award winners at large functions. All those fund-raisers have moved to virtual events on Zoom.
"I thrive on that kind of energy, and I selfishly feed off of other people. It's a give and take," she said.
Every Monday, Laman meets with her longtime leadership team — Culinary Director Johnny Wallace, Catering Chef James Burnham and Operations Manager Chris Gentes — to talk strategy. The company employs 20 full-time and five part-time workers.
When business started ratcheting up a bit this summer, Laman called back some of her idle employees. She had a hard time wooing some to come back.
"I was stunned at the lack of response for candidates," she said.
Laman faced the same frustration other small business owners have expressed: that it was more lucrative for many workers to stay home than go to work.
"When a certain job or position is going to pay $12 an hour, it's going to pay $12 an hour. If the market is going to bear $14, the person who is going to pay that price is the customer," Laman said. "The food price is going to go up. And I don't want to do that. I have deep feelings about value. And I feel that our company is a fantastic one to work for."
She alluded to the enhanced federal unemployment benefits that paid sidelined workers an extra $600 a week, a program that ended in July.
"If that individual has a choice to stay home and make that kind of money or come to work everyday, albeit in a very safe environment, it's going to take a very stoic soul to get up and come to work, and I'm troubled by that," she said.
Laman hopes workforce conditions change when the pandemic fades, and business starts ticking up again. She's still got that fourth cafe on her mind, tentatively scheduled for the second quarter of next year.
Several months into this, she no longer sounds like someone who is grieving: "We adapted, we adjusted, and then when the time is right we get back to it, and we knock it out of the park."