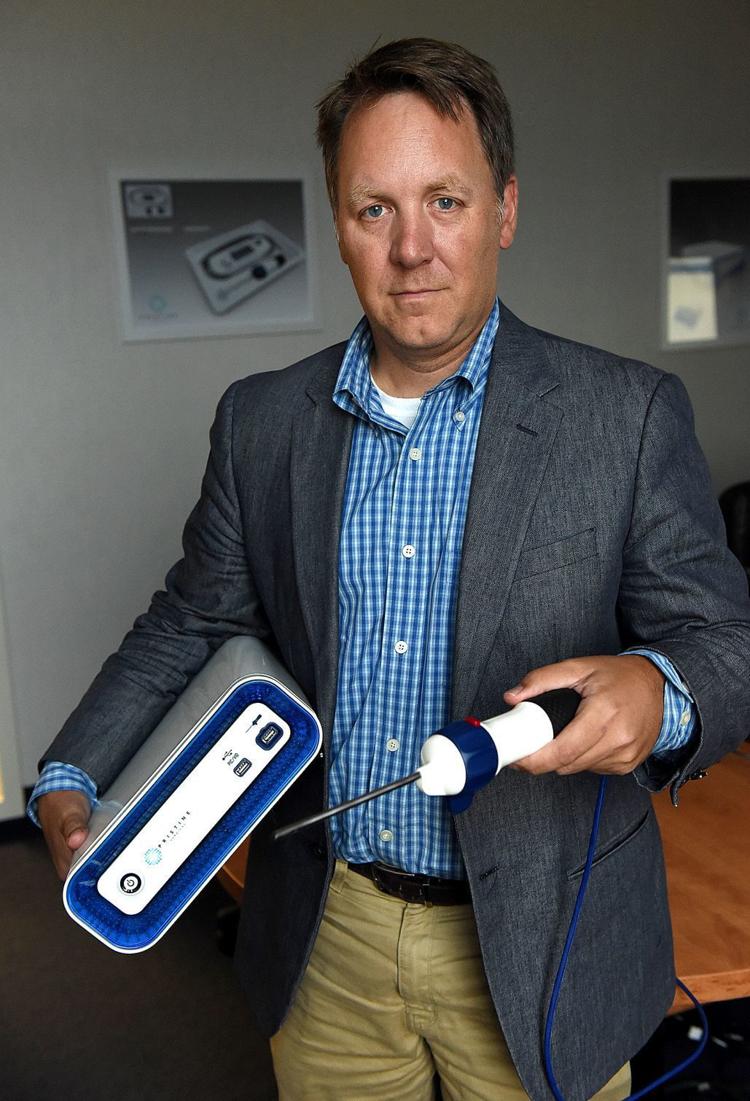 From his quiet sixth-floor office in the Brady Sullivan Tower, Bryan Lord is overseeing the development of a surgical device he and his fellow investors hope will prove disruptive in the medical industry.
While Pristine Surgical has operated out of these headquarters in Manchester for a couple of years, it hardly looks lived in. Only four people spend any time here, and sometimes Lord's commute is no farther than walking into his home office in Bedford.
That's because much of the work is happening elsewhere. The company's chief medical officer is based in California, and a regulatory expert whom Lord is working with lives in Florida.
"In today's day and age, it's really amazing to me how much capability there is for small and medium-sized startup companies to access world-class expertise throughout the country and throughout the world," Lord said last week as he offered a look at the latest iteration of the company's product.
Pristine Surgical has developed a single-use surgical imaging platform that combines digital imaging and lighting with software for enhanced visualization. The company says the platform has the potential to reduce cost, increase efficiency and increase reliability for invasive surgical procedures.
Part of that efficiency comes from its development of the arthroscope as a single-use device. That means orthopedic surgeons using it don't have to worry about whether it's been properly prepped for use. They use it once, and throw it away. (Though its base materials can be recovered through recycling, the product is not reused in any way.)
The company was founded in Chicago in 2011 by a couple of surgeons and a "self-taught engineer," who built the original prototype, Lord said. Since then, Pristine Surgical has worked with DEKA, the Manchester-based research and development company founded by inventor Dean Kamen, to refine the device.
"This is a product that requires an array of different areas of technical expertise to be able to achieve its objective. Engaging with (DEKA) was the launching-off point to develop what we see in front of us here," Lord said.
For the past decade, Lord has invested in emerging technology companies through his company, New Venture Advisors. He was an early investor in Pristine Surgical and took over as CEO four years ago.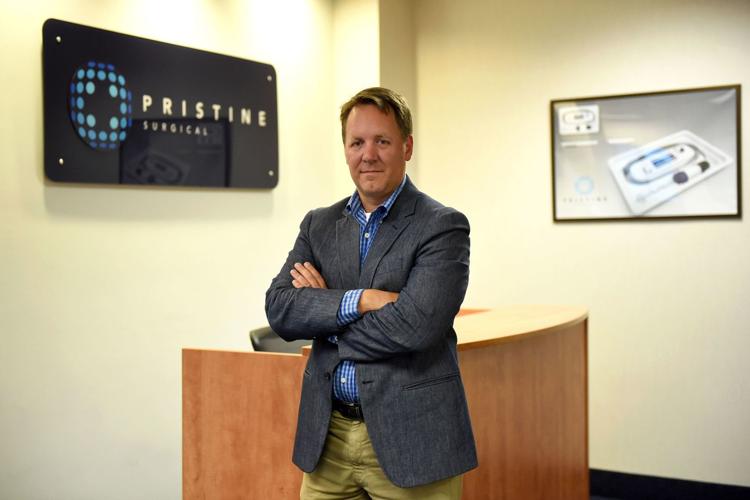 Lord was selected to talk about the development of Pristine Surgical last month at the MedTech Innovator Showcase in Boston, which featured 25 later-stage companies. Pristine Surgical currently is working on developing the manufacturing specifications for the device and recently received premarket clearance from the FDA.
"With a single-use device you're using your device simply once for each procedure, which means (Pristine Surgical) needs to be ready to be able to supply a reasonably high volume of product right from the outset," Lord said. "So getting that automation, that quality, that repeatability right is really necessary in this particular environment."
Dr. Gregory Soghikian has been performing orthopedic surgery for more than two decades in private practice, operating primarily at the Bedford Ambulatory Surgical Center. For about 18 months, he has served as a consultant for Pristine Surgical, advising engineers on the product's design.
"It's an exciting technology," said Soghikian, who also is an investor in the company. "Instead of having a camera head, it's attached to a lens, in this case the camera itself. The chip that actually runs it is in the tip of the scope, right where you're doing your visualization. One of the advantages of that is you can manipulate the image in terms of lighting and clarity and focal length much easier because there's self-focusing."
Part of the checklist for the current technology Pristine Surgical aims to replace is to make sure the lens is not fogged up, chipped or cracked or otherwise damaged in some way, Soghikian said.
"One of the interesting niches for this may be in hospital environments where they do a lot less of the arthroscopies than we do in the outpatient centers," he said. "Because they process so much equipment in the hospitals, this may be a place where it works very well for them to have a ready-to-go product every time."
More than anything else, technology has helped to improve surgery over the course of his career, Soghikian said.
"It's not like we've come out with much better techniques for the same system or the same way we used to do something; it's really the technology that drives our ability to change techniques to make the outcome better and the recoveries faster," he said.