You can't help but notice the Inc. 5000 plaques when you walk into Mainstay Technologies' offices at the Sundial Center off Queen City Avenue.
Landing on the list of the fastest-growing companies in the country for four years in a row earns pretty sweet bragging rights.
Until you have to hit the brakes.
In 2015, the information technology and cyber security company was ranked No. 3276 on the Inc. 5000, based on 2014 revenues of $5.3 million and a 103% three-year growth rate. Business was booming.
After that, it was time to take a breather and regroup, CEO and founder Ryan Barton says. The company he started with $500, a beat-up Ford Explorer and some borrowed office space had grown to 40 employees.
"I didn't realize how much work is involved in running a business and building it well. And we just had to sort of stop," Baron said last week at its newly expanded Manchester offices. "There was a couple of years where we just didn't grow. We really focused on the quality, the structures, the systems."
Now the company is growing again. Over the past year Mainstay has increased its workforce 30% and continues to add workers. It employs 30 people in Manchester — where it just increased its space to 10,000 square feet — and 26 at its flagship office in Belmont. The company moved its Manchester offices from the Waumbec Mill building in 2016 to Sundial and has expanded there twice since then.
At 35, Barton has operated Mainstay for 15 years. The Laconia native built the company from one guy fixing computers and setting up networks to a company that offers an IT department-for-hire to small businesses and cyber security services to larger enterprises.
"For organizations that are not large enough to have a really sophisticated IT department, we provide the entire service of an IT department," he said.
The IT services are targeted to companies with 200 or fewer employees. Mainstay developed the cyber security side of the business it offers to larger companies based on years of experience in the IT trenches.
"We come in and help them understand the compliance and the risk, and not only understand what the path is to become a secure organization today with acceptable levels of risk, we then help them sustain it for the long haul," Barton said.
Barton is trying to practice what he preaches. Mainstay added professional management to navigate growth for the long haul and keep the company on track as it continues to evolve. There is no exit plan. The company has no outside investors, and he has no desire for it to be acquired by a larger company.
"I've seen so many organizations in this space. They build, they hit some frustration, they sell. Private equity loves this space because of recurring revenue," he said.
Barton envisions Mainstay as a New Hampshire company that strives to be connected with the community. Mainstay committed all of its Trump tax cut savings to its charitable and environmental work, he said. In 2018, Mainstay landed on BusinessNH Magazine's "Best Companies to Work For" list, and last week it was named Business of the Year at the Greater Concord Chamber's Pinnacle Awards.
He fears that kind of community impact would suffer if Mainstay became part of a larger corporation.
"I have not seen in our space, in my limited view of it, companies be able to sell and do those things as well as maybe they did them before and did really well," he said. "Our commitment is to long-term employee ownership and closely held because this is what matters to us."
In a business known for long hours and a high burn-out rate, Mainstay wants to offer a workplace culture that nurtures long careers. That means encouraging workers to leave at 5 and spend time with their families, and a boss who sets the tone with his own schedule.
Barton, who lives in Moultonborough, splits his time between Belmont and Manchester, which has increasingly become the company's focal point. He and his wife have three children, ages 1, 2 and 4. And he is determined to spend a lot of time with them.
"I've got three little kids. I don't want to have to work 80 hours a week. I want to be at home with them," said Barton, who caps his hours to about 40. "That's what we want for the whole team. We try to design the benefits around that."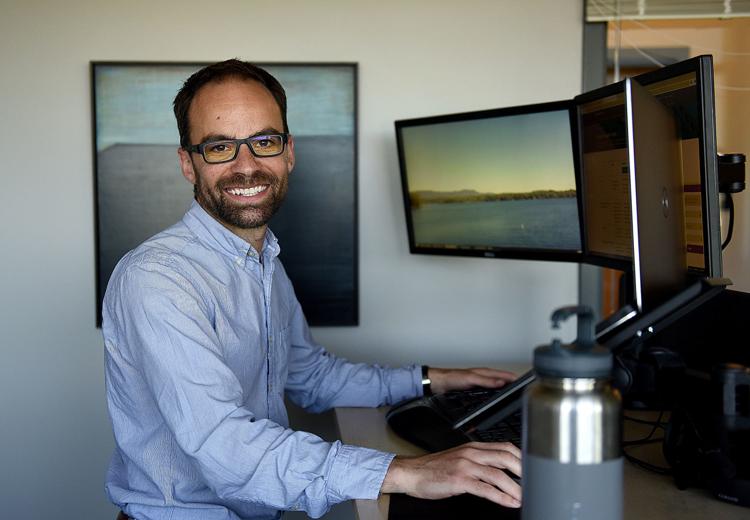 For some employees, the benefits include living in the Lakes Region. Some workers hired to work in Manchester opted later to relocate to Belmont, tempted by the natural amenities and lower cost of living.
"It's a great recruiting advantage because people who move to the state, they can move and take a job with Mainstay, and all of our roles can work out of either office. It gives a lot of flexibility," Barton said.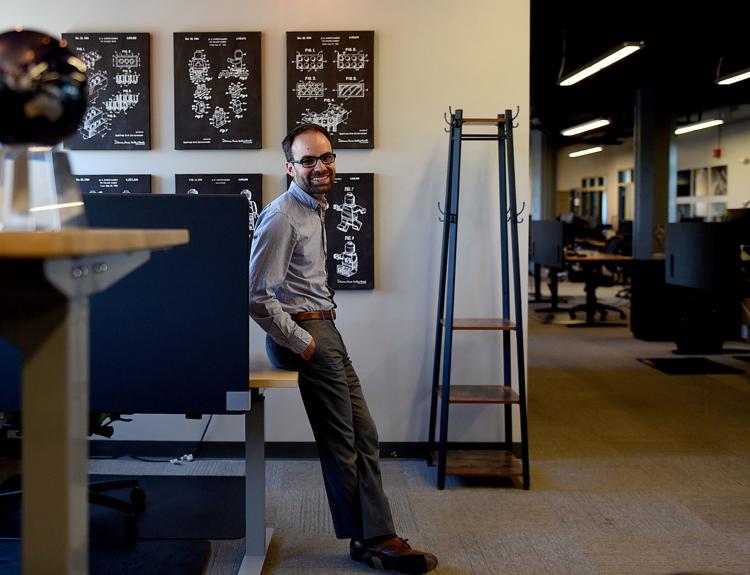 Barton, who was home-schooled, attended Bible and community colleges and completed certificate work to build his skill set. At Mainstay, the company is willing to take a chance on entry-level candidates and looks for talent at schools like NHTI in Concord.
"I think we've done a very conscious effort of creating career ladders down to the internship level where we can bring someone on as an intern and see them grow very far in their career," he said. "We have a huge focus on professional development, on certifications and technical training."
And once again, Mainstay also has a focus on getting bigger. But it won't sacrifice its "conscious capitalism," Barton says, the notion that creating shareholder value is only part of a company's mission, that how a business treats its employees and the value it creates for customers and the community is paramount.
"Growth, if it's done right, can fuel a mission, can fuel growth opportunities for the team, it can fuel growth for the company," he said. "We are able to do so many wonderful things for a mission as a larger organization. We believe that's going to continue. But growth is only good if it makes the world a better place."