CAMPTON -- How much would you pay to visit a world where no one has gone before?
Bill Sebastian has invested millions of dollars and more than four decades, creating companies and technologies along the way sought after by Silicon Valley giants.
While the crew of "Star Trek" traveled light years to explore the final frontier, Sebastian can take the trip any time he wants from the comfort of his mountain-view home a couple of miles north of Plymouth. All he needs to do is slip on goggles and headphones, and he can vanish for awhile in the latest iteration of his Outer Space Visual Communicator, an instrument he also has devised for public performances.
If he misses a phone call from a friend, Sebastian says he was "underwater," since the worlds he has created might resemble the bottom of the ocean floor, where creatures that seem as alien to us as life on another planet have been quietly evolving for millions of years.
That makes 1973, the year Sebastian began this journey, seem like a heartbeat ago. But much has changed since then, especially in the world of technology.
Sebastian can easily carry the moniker of serial entrepreneur, but his singular vision has been less about creating companies for profit than finding a way to continue bankrolling his lifelong art and music project.
To develop a three-dimensional version of his original technology, he founded Virtual Scene Systems in 1989 to develop hardware and software. When that company ran out of money seven years later, he formed Intelligent Compression Technologies to commercialize data compression algorithms that he and his team had developed. The led to deals with Microsoft Networks, Novell and other telecommunications companies interested in the network optimization systems.
In 2007, he and his partners sold Intelligent Compression Technologies to ViaSat, a California company that manufactures satellite data communications equipment and provides broadband network services through a multi-satellite system. The $55 million deal meant Sebastian could return to his real passion.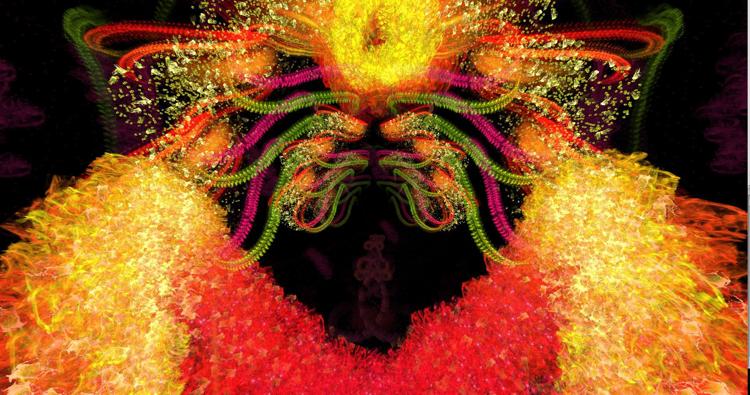 Visual Music
For some, creating a company acquired by a technology giant might seem like a life achievement. For Sebastian, it was a temporary side trip. After he sold his company to Viasat, he was contracted to continuing working for the company for four years as chief technical officer. He couldn't wait for it to end.
"The whole time I'm sitting there designing satellites, I'm not thinking about that, I'm thinking about, 'OK, How long do I have to keep doing this before I can get back to work?'" he said.
In 2011, he founded Visual Music Systems, the latest in a string of companies he created to work on visual technology. For six years, he oversaw a small team of software engineers in downtown Boston, funding the project with money he made from the ViaSat deal.
"We had like six or seven people working for six years, writing millions of lines of software to do this stuff," Sebastian said.
But in 2018, he shut down the company's Boston operations, deciding, for now, that the project was complete and that it was time to take a break.
"The final event was we finished a sort of working system that I was comfortable performing on right at the beginning of last year," Sebastian said. "Then I spent awhile just tuning and practicing on it. I gave a series of public performances in April and May."
Sebastian had been itching to try out the system he and his fellow engineers had spent so much time creating.
"I wanted to use it as an artist, and the problem is when you're developing it, it's always changing underneath you so that you can't really learn to play it because it's always changing. I just wanted to stop the development," he said.
It's a decision Sebastian realizes some people might find perplexing.
"It was kind of hard to explain because people always confuse the means and the end. This isn't like a means to some other end; this was what we wanted to achieve," he said.
The widespread growth of VR technology and more affordable equipment should help Sebastian find a way to commercialize his system.
When Sebastian first began exploring the use of headsets, he attended military trade shows but couldn't afford the units, which sold for $200,000. With consumer virtual reality units made by Oculus now selling for about 1,000 times less than that, Sebastian believes he has a foothold to expand the market for his work.
"Just a couple of weeks ago I fixed some technical issues that will allow us to convert our recordings to the sort of standard format that people are using today to distribute VR. That means I can post compositions on YouTube," Sebastian said. "The next general step will be to try to get some stuff out there one way or another through things like distributing the stuff in this VR format."
Sebastian says he would probably use any money he makes it to fund more development.
"Typically I get into this phase of wanting to do performances, and that generally lasts like a year or two. And then I start getting obsessed with the next evolution. That's quite likely to happen," he said. "I have a lot of other directions I'd like to move this into. That definitely could happen. Right now we're more at that part of the thing of where we can make some interesting worlds."