Employers in New Hampshire have been living with an unemployment rate of less than 3 percent for more than three years. While the state has made gains adding more workers to the rolls, businesses continue to be aggressive to find the employees they need — especially those with the right skills for the job.
On Thursday, the Union Leader hosted a symposium on workforce issues at the Derryfield Country Club, the second in our ongoing series. The panel featured alumni from our 40 Under Forty program: Andy Crews, president and CEO of Autofair Companies (2010), Nicole Barreira, director of marketing and menu development at Great New Hampshire Restaurants Inc. (2019), Will Stewart, executive director of Stay Work Play (2011), and Kathleen Reardon, CEO of the New Hampshire Center for Nonprofits (2004).
Barreira, whose company operates T-Bones, the Copper Door and Cactus Jack's/CJ's restaurants and a catering business, said the company's biggest challenge has been staying ahead of the curve, especially finding kitchen staff.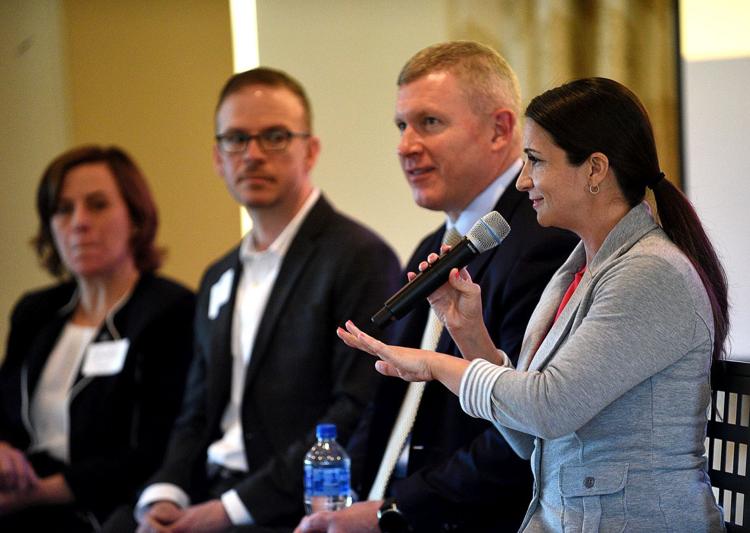 "Combined with that is really getting employees that come from a traditional on-the-job training atmosphere and merging them with the significant amount of technology that now is completely dialed through the restaurant industry," Barreira said. "If I had 10 people showing up for every job we posted, I would be more than happy, but sometimes it's just one person for 10 jobs that are being posted in our industry. Lucky enough for us, in our company we are a pretty premier place to work for in the state; we don't struggle that bad. But it is significantly more difficult getting applicants than it was even three or four years ago."
Barreira attributed Great New Hampshire Restaurants' success in retaining employees to finding out why they like working for the company so the company could emphasize its strengths and make improvements. The work led to the launch of an internal Facebook-style page for employees and managers to communicate and to employee perks like cash-reward benefits and gift cards.
"We really did a deep-dive survey of why our existing employees love to work for us (and) why have some employees decided to leave, so we could help really expand and bring light to what makes our company unique, what makes it special," she said.
Andy Crews said Autofair, which operates eight dealerships, spends a lot of time recruiting technicians. It's worked with the New Hampshire Automobile Dealers Association and the state's community college system to create manufacturing education programs. That also means getting high school guidance counselors and parents to rethink the value of a two-year technical training degree versus a four-year college degree.
"We had to start changing that conversation in the high school programs," said Crews. The industry has worked to bring in manufacturer-approved auto repair programs that are uniform in high schools throughout the state that work in tandem with similar programs in the community colleges, he said.
The auto industry has also struggled with a stigma around sales careers, which in car sales can lead to careers in finance and management. AutoFair now employs a full-time salesperson recruiter.
"Sales has changed, but there's still a stigma of what a salesperson is," Crews said.
Kathleen Reardon, the CEO of the New Hampshire Center for Nonprofits, noted that 15 percent of the workforce in New Hampshire is employed by nonprofits.
"Nationally, since the recession, nonprofit employers have added jobs at a rate that is three times that of for-profit companies. So demand for service and programs has been increasing," she said.
The No. 1 issue for nonprofits is the same as it is for their for-profit counterparts: workforce.
"Seventy-five percent of New Hampshire nonprofits responding to a national survey said that offering competitive pay was a major challenge," said Reardon, noting that in the nonprofit world, increased demand does not necessarily lead to increased revenue. "The challenge of offering competitive pay is particularly acute for nonprofit businesses."
Nonprofits that are successful retaining employees create a welcoming workplace culture that celebrates staff success, are open to new ideas and offer a career path, she said.
Will Stewart, executive director of Stay Work Play New Hampshire, a nonprofit that aims to attract and retain young people in New Hampshire, noted the state's No. 2 ranking for having the oldest population in the country, second only to Maine and tied with Vermont. The state is also challenged by the high number of students — 59 percent — who leave New Hampshire to obtain a four-year college degree.
On Thursday, the group is hosting "NH Next: A Summit for Young Changemakers," a five-hour session at the New Hampshire Institute for Politics that will spotlight young people who are making their mark in social justice, art, education, business, politics and other fields.
"The ultimate goal is to get people connected to New Hampshire and connect them more with their communities," Stewart said. "Because when you're connected you're less likely to leave. You're less likely to leave the job. You're less likely to leave the state."