Fred Bates would love to find a way to gather his family online for periodic reunions. On Friday morning, the retired mental health counselor sat at a table in the Manchester City Library across from Joel Aranson, who demonstrated how to use Google Hangouts.
Only moments before, Bates was seated behind a laptop in a meeting room in the library's basement with a couple of dozen other people listening to trainer Alyssa Sibal present a primer on the free tools the Silicon Valley giant provides as part of its Grow with Google initiative.
Bates slipped out of that session early so he could get some one-on-one coaching. He was looking for tips on how to connect with people who share his passions.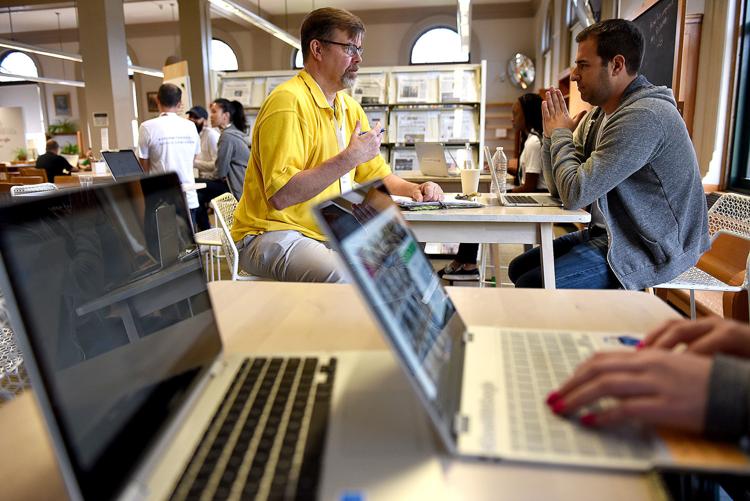 "Folks who are interested in visual arts, creative writing, including poetry and short stories," said Bates, 61. "I'd like to discuss with Joel doing live meetings with like-minded people. Also, I'm the youngest of six. We're scattered all over the country, and I'm trying to find a way to have a regularly scheduled meetup."
The daylong sessions, which included training for nonprofits and small businesses, were the eleventh stop in Google's two-year tour of local libraries in all 50 states. The Manchester workshop followed a similar program Wednesday in Berlin.
Google can afford to send a team of more than 20 workers around the country to market its products. Last year, its parent company, Alphabet, netted a profit of $30.7 billion on revenues of $136.8 billion.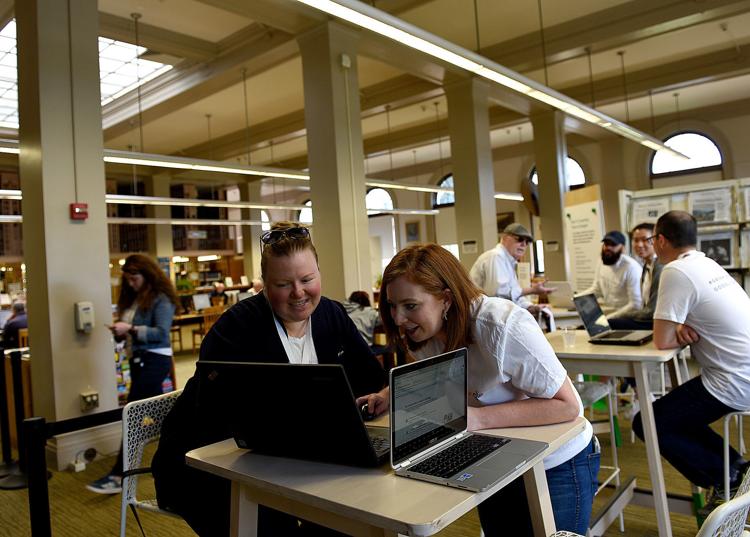 The goal of the tour is to generate greater use of Google's online tools, including a partner program designed for chambers of commerce, small business development centers, charitable groups and other nonprofits. Small business owners can learn such basics as listing their company on Google maps and how to use Google analytics to monitor their website traffic. And if that leads those users to advertise on Google, that's a good thing, too, said Liz Schwab, who oversees Google's external affairs for the Northeast.
"All of the resources live online, which is great, but we realize that's not always realistic, that people will be self-motivated to take a class online or have access to computers or the internet," said Schwab, a 35-year-old Nashua native. "The tour is really meant to bring those workshops into the States."
It's also bringing some of the Google employees closer to home. While Schwab only had to travel from her office in Cambridge, Mass., to work on the New Hampshire leg of the tour, some of the more than 20 employees Google recruited to participate were lured by the chance to visit friends and family.
Aranson, for example, is based in New York. The former Leominster, Mass., resident visited his parents in Portland, Maine, when the Google team flew there for the Berlin stop. He showed Bates how to use Family Hangouts, a video tool he employs himself.
"I'll schedule time with my entire family so we'll all be on-screen together," said Aranson, 37.
The Manchester stop allowed Memorial High School grad Eric Pilotte to meet up with his family in person. Pilotte, who manages a worldwide team for Google Cloud, is based in Sunnyvale, Calf., not far from the Googleplex corporate headquarters in Mountain View. Strangely enough, one of his fellow Memorial classmates also works out of the same office, he said.
"When I first started, at orientation they ask you where you are from. And I put a little pin on a map and said, 'I'm from Manchester,'" said Pilotte, 45. "They call you up for this (tour), and they're like, 'You're from New Hampshire. Do you want to go home?' And I said, 'Sure.'"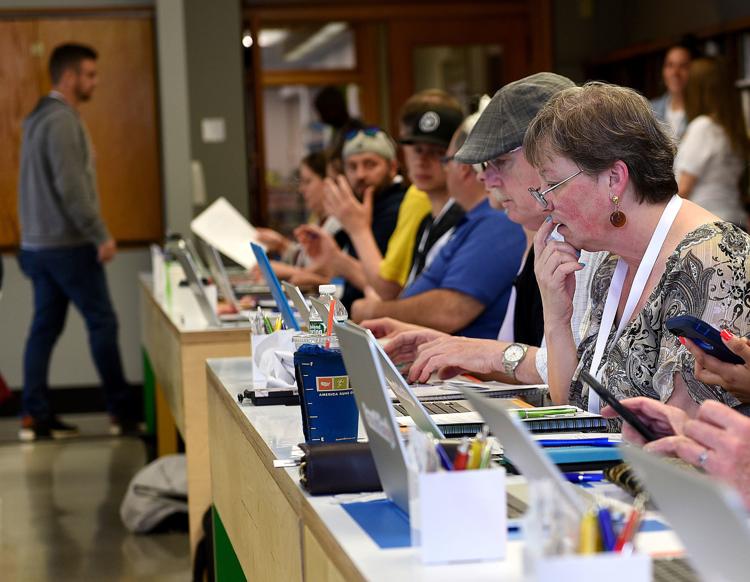 While in Berlin, Pilotte said he fielded a variety of questions based on different needs.
"I had a woman who was blind who had accessibility questions. Some of the products weren't working for her," he said. "A lot of questions (were) from small businesses, people wanting to better leverage some of the Google products. I think there's a lot of sophisticated products Google has for running a small business that people don't realize. They start on their own, and they maybe find their first 10 percent. There's a whole other side."
Mayor Joyce Craig visited the library to address the group during the introductory session. Her comments foreshadowed what Google trainer Sibal would be saying minutes later — that the pace of change is accelerating the need for workers to constantly update their skills.
"Over the years, Manchester has transitioned from an era of textile to one of technology, and as mayor it's really one of my goals to make sure our generations that continue to come through here are strong," Craig said. "And part of that is making sure and helping our residents attain the necessary skills to succeed in the digital economy."
For businesses, that means ensuring your online visibility to reach new customers. Sibal, who travels frequently for Google, said the first thing she does when arrives in a city is to find a place to work out and a place to get coffee, "lots of coffee."
"If I don't find that small business online, I'm probably not going to go there," she said.