Donald Bolduc has learned a few things about humility over the years. Just ask his wife.
When the now retired brigadier general first earned his one-star status, he was feeling a bit proud of his accomplishment, and rightly so. Then a jealous moment brought him back to earth.
Bolduc and his wife, Sharon, had stopped for iced coffee in Marblehead, Mass., during a trip to visit relatives. While he was rearranging their belongings outside in the car, he spotted his wife talking to a man inside the restaurant. Bolduc didn't like their body language.
"Who's hugging my wife in Dunkin' Donuts?" Bolduc recalled during a recent gathering at the 100 Club in Portsmouth.
Before parting with the man, Sharon put down the iced coffees she had just bought to hug him again. Bolduc soon learned the man was an old boyfriend of Sharon's from high school and that he worked at the Dunkin' Donuts.
Surely, Bolduc outranked this guy.
"Me being completely insensitive, not using my emotional quotient, I said, 'Oh, that's great. Imagine if you married him. He's working in a doughnut shop,'" said Bolduc, 56.
Now it was Sharon's turn to pull rank.
"She looks at me and she goes, 'You got it all wrong. You better listen to me right now. If I had married him, he'd be the brigadier general, and you'd be working in a doughnut shop.'"
It's a the kind of story that draws big laughs, as it did the night Bolduc spoke to business people gathered for the kickoff meeting of the Collaborative Advisory Network (C.A.N.) a group of consultants in management, finance, HR and other disciplines who recruited the Laconia native to speak at the March event. Bolduc's wife also was in the audience.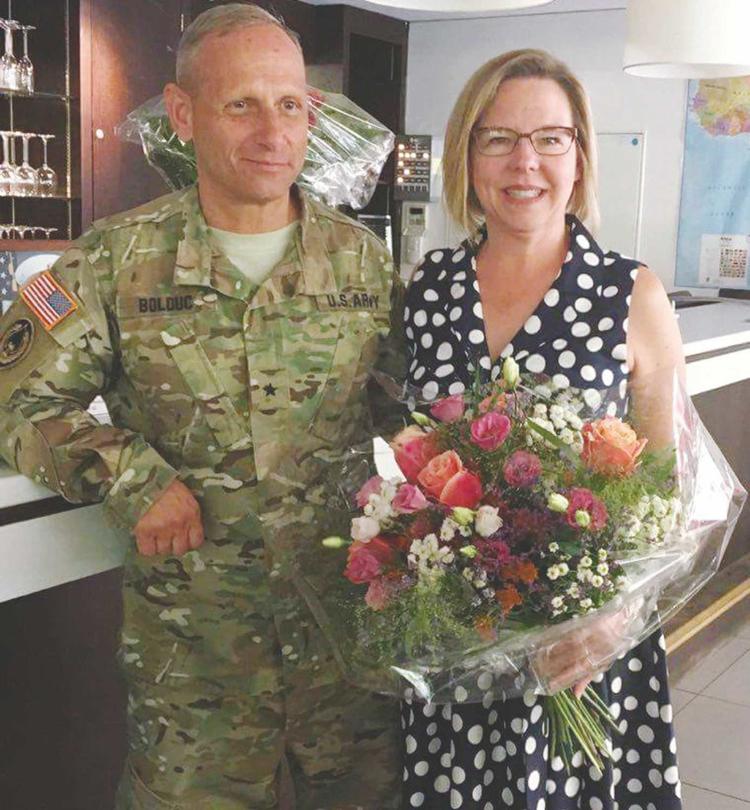 For Bolduc, the story is part of his leadership journey: "We all need a slice of humble pie sometimes, no matter who we are. We are imperfect."
These days, Bolduc spends a lot of time talking about his imperfections. He recently formed a limited liability company called Truth to Power to market his motivational speaking gigs. He began his talk in March by introducing the audience to Victory, the service dog who helps him cope with post-traumatic stress disorder and wakes him up at night when sleep apnea stalls his breathing.
Bolduc spent his last 17 years in the Army in either Afghanistan or Africa, both conflict zones. After his first tour of Afghanistan, he made a memorial for three soldiers he sent into battle who did not return. After 10 rotations in Afghanistan, that list grew by the dozens.
"As a leader there are now 72 identification tags in here, people I did not bring home, people that I sent on missions that did not come home," said Bolduc, who was a Green Beret in the Army's Special Forces. "And I dedicated myself to doing the right thing by them for the rest of my life. No matter what it cost me I was going to do the right thing because their sacrifices warrant it, and the sacrifices of their families warrant it."
Bolduc survived, but he has faced more than his share of trauma, including a 2,000-pound bomb that was inadvertently dropped near him by U.S. Special Forces in Afghanistan in 2001 that killed several of his comrades, and a 2005 helicopter crash that likely caused a brain injury.
He retired in 2017 after 32 years of active duty. Bolduc now serves on boards that advocate for veterans and is working on his Ph.D. His work to publicize PTSD was the subject of a New York Times story in 2016.
Bolduc prefaced his Truth to Power talk by addressing the mental health and transitional issues that veterans face upon returning home. He draws his leadership advice from the lessons he's learned over the years — mainly from mistakes he has made and the challenges he faced to correct them.
"In order for me to get any credibility when I talk about this is for people to recognize that I'm an imperfect leader and that I recognize that," said Bolduc, who lives in Stratham. "And that I am very self aware of my strengths, but more importantly I am more aware of my weaknesses. And I work on my weaknesses more than I work on my strengths."Bolduc alluded to a documentary he recently watched that talked about how sports icons like Tom Brady, Wayne Gretzky and Rocky Marciano overcame shortcomings to become the greatest in their fields.
Marciano, the undefeated heavyweight champion in the 1950s, had a short reach and was outweighed by his competitors.
"He got inside the fighter. He mitigated their strength by understanding his weaknesses," Bolduc said.
Bolduc had reached the rank of colonel by the time he started realizing that to be a great leader he needed to turn his attention inward.
"I was a really good platoon leader. I was a really good company commander. I was a really good battalion commander. But I recognized that I wasn't a very good leader because my focus was up," Bolduc said. "Because that's what people wanted. Focus up! Institutionally, focus on the person above you. Make them happy, and you'll be the best battalion commander in the brigade. Make them happy, and you'll be the best company commander in the battalion."
Not necessarily the best for the people in your charge.
"But all your guys, they don't think you're a very good leader. And so at some point you have to think about how you're going to try to do both. And that is wicked hard."
Over time, and with help from his wife, who recommended he seek treatment for mental health issues he was experiencing, which he did in 2013, Bolduc learned how to become more patient and how to be a better listener.
"I was the classic listen-to-respond guy. I was formulating what I was going to say to you. I wasn't really listening to you," Bolduc said. "And I didn't listen to understand. And everybody you know knows it. My wife knew. She's talking away, and I'm out in Pluto somewhere else."
Bolduc learned he could remain mission-focused and also empower the people he was leading to achieve better results.
"Adaptability and emotional intelligence become far more important the farther up you go on the leadership ladder," he said. "And if you cannot adjust yourself and learn and teach yourself how to adapt to situations, how to be flexible, and how to show empathy and sympathy for others, you're not going to be an effective leader."