Don't underestimate the power of gratitude, especially when it's delivered to one of us baby boomers via that endangered species known as the thank-you card. It serves you well in your personal and professional life and pays dividends that far exceed the cost of a card, a stamp and the time it takes to write a short message.
Giving thanks can help you land a job, close a sale, and most importantly, strengthen connections to people you care about and the ones you want to include in your career network. And you also should do it because your mother told you so. Your mother knows a lot more than you do, even if you're light years better at working an iPhone.
After I received a thank-you note early last week from a young professional I mentioned in a year-end column (that would be you again, Sara Bee!), I pondered the subject of gratitude and grace as I began my weekly scramble for a column topic. As I often do when contemplating writing an essay rather than an article based on interviews and reporting, I wasn't immediately committed to the idea. Then, two days later, another thank-you card arrived. Sold!
Email, texting and social media have supplanted stationery in the 21st century. That's a shame and a mistake. Over the past six years or so, I've been to 10 weddings, including my own. When the thank-you notes from the newlyweds don't arrive promptly, the elders start gossiping among themselves: "Hey, we drove three states away, shelled out a bunch of cash for two nights in a hotel and bought a set of stainless steel pots and pans from your registry. Where's that card?"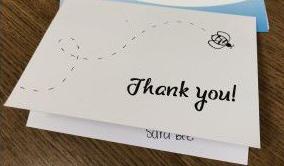 A few months ago I signed up for Informed Delivery Daily Digest, a program offered by the U.S. Postal Service that sends you an email alerting you to mail expected to arrive in your box that day, complete with scans of each piece so you can get anxious or excited in advance, depending on whether you're looking at pictures of bills or stationery. (You can also access all that info from a smartphone app.)
A couple of weeks ago, I spotted among the scans a card with a familiar address, and I could see some of the handwritten words bleeding through the enve lope — including the words "Thank you." The bride and groom in question were sending their cards out a little bit past the three-month window recommended by Emily Post but well within the one-year period considered acceptable as a general rule of thumb. (Whose thumb? I don't know.)
We'll give them a pass because we're quite fond of them. But if you want to impress someone, send the cards as soon as you can, as my daughter-in-law does within days of returning home after a visit with us. Ditto for the Leadership Greater Nashua Class of 2019 — whose thank-you card arrived three days after I participated on a panel about local media last week.
One of my favorite thank-you cards back in the snail-mail era came from Miami Herald humor columnist Dave Barry after I sent him a note praising one of his always hilarious columns. I don't remember what I wrote, but I think I asked Barry for money in jest. So he responded in kind. "Enclosed: A large sum of cash."
It was a postcard to remember.