Over the more than three decades Joan Goshgarian directed the entertainment for the New Hampshire Business Committee for the Arts' annual awards dinner, she selected different performers and artists to appear each year.
"It's a pretty large group of people in arts organizations that got to be involved," Goshgarian says. "It shows how much art we have in the state. And it's great to celebrate that."
This year, Goshgarian will be among those being celebrated as the nonprofit recognizes her tenure as its first executive director, a run that lasted 33 years until she retired last year.
The New Hampshire Business Committee for the Arts aims to bridge connections between the business and the arts communities. On Monday, the group will announce the winners of its Business in the Arts Awards from among 13 nominees. The 35th annual event begins with a cocktail hour at 5 p.m. at the DoubleTree Hilton Downtown Hotel.
As always, the event will feature visual and performing artists leading up to the award presentations. For Goshgarian, the challenge each year has been to create an evening that borrows the best of business and the arts.
"I think the thing that I always tried to keep in mind is we weren't putting on an arts show for businesses to come to. We were putting on a presentation for both business and the arts," she said.
Goshgarian recalls a year when the theme was celebrating amateur artists, a choice that initially had some detractors. But the event, which included a 70-member men's chorus, was a success.
"We ended up putting risers in the back of the room rather than onstage. Everybody turned around, because we couldn't put all those people on stage," she said.
Whether professional or amateur, art stokes passion.
"Whether it's a hobbyist or someone who makes their living at it, they're excited and they share it with you. It's contagious," Goshgarian said. "It's presenting stuff that people care about."
Goshgarian is proud of the work she did over the years to partner with other organizations — including the New Hampshire Center for Nonprofits, the Business and Industry Association and the Southern New Hampshire Planning Commission — to create greater awareness of the Granite State's creative economy.
Since she first began work with the then-fledgling organization in 1985, much has changed in the corporate and nonprofit worlds. Gone are the days when you could just pick up the phone and ask someone for money.
"It wasn't quite that easy, but if you had a relationship, and they knew what you're asking for was legit and all that — that's kind of different these days," she said.
Fundraising now usually involves completing grant requests online and working within more stringent guidelines.
"It's just different. And there's a different generation coming into focus or who have already come into focus," she said. "And their priorities are different, and certainly ways of doing things are different."
Next up: Tricia Soule
Navigating such changes will be among the challenges facing Tricia Soule. She began work Jan. 1 as the nonprofit's second executive director.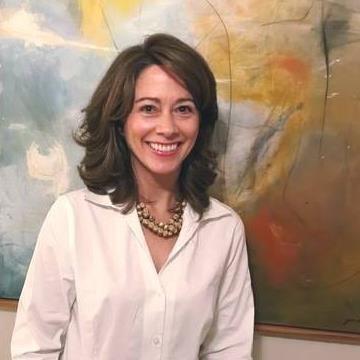 "Joan's a remarkable person and has done so much for this state for so long in terms of getting businesses to really understand how important it is for them to support the arts," Soule said. "Of course, there's the important financial aspect of things — everybody needs sponsorship dollars and grants funding — but also in-kind support and just sort of raising awareness about what a rich arts and cultural and heritage we have here."
Soule's work thus far has been dominated by planning her first gala event. But she's also spent some time networking.
"I really made an effort to get out and meet various business people in the community, arts leaders, government officials — pretty much anyone would chat with me about the state of the arts in New Hampshire and the creative economy," she said. "And it's been really exciting to hear from folks and be able to help formulate my own ideas and look to the future of the organization."
Soule first became familiar with the Business Committee for the Arts when she owned an art gallery and became a member. Perhaps that's why she recruited an art gallery — Kelley Stelling Contemporary in Manchester — to host the group's first Artful Networking event earlier this year.
"We will be doing more networking and learning opportunities," she said. "(Artful Networking) was to bring together our board of directors, our membership and arts leaders and other people from the community to really engage folks in a way that I hope builds more professional camaraderie between arts and business."
Soule is carrying on Goshgarian's tradition of presenting a theme for the gala, which will include a pop-up art gallery that will be on display during the cocktail reception.
"The whole notion for this year's event is looking at things through the lens of improvisation, collaboration and the entrepreneurial spirit," she said. "We are sort of taking that concept, and it will be infused throughout the event."
Tom Raffio, CEO of Northeast Delta Dental, has been associated with the Business Committee for the Arts for nearly 20 years — long enough to be making his second go-around as chairman. His company is one of 70 corporate members.
After Goshgarian decided to retire, a couple of his fellow board members questioned whether the nonprofit should continue. Part of that soul-searching was driven by how closely linked the group was with Goshgarian. Raffio compared it to a business that loses its entrepreneurial founder.
"Joan basically was the organization, and it was really important that we sustain it and institutionalize it," said Raffio, who headed up the committee to recruit Goshgarian's replacement. "We just made a commitment to making sure we find the right person, and we did."
When the group started three decades ago, a lot of companies weren't giving to the arts, Raffio said. While much progress has been made since then, the board of directors ultimately decided the group continues to perform an important function.
"We concluded it does because while certainly it's great that a lot of companies focus on one particular arts or music organization, we still need the public-policy advocacy — and also the gala, which is a great opportunity for all sorts of artists, poets and musicians to share their talent in front of the business community," he said.