KANSAS CITY, Kan. - From the window of the tiny dining room and kitchen at our Airbnb, we can see a couple of middle school kids setting up a portable basketball hoop in the parking lot of the Catholic parish across the street, the girl and boy dressed in matching gray and navy blue uniforms.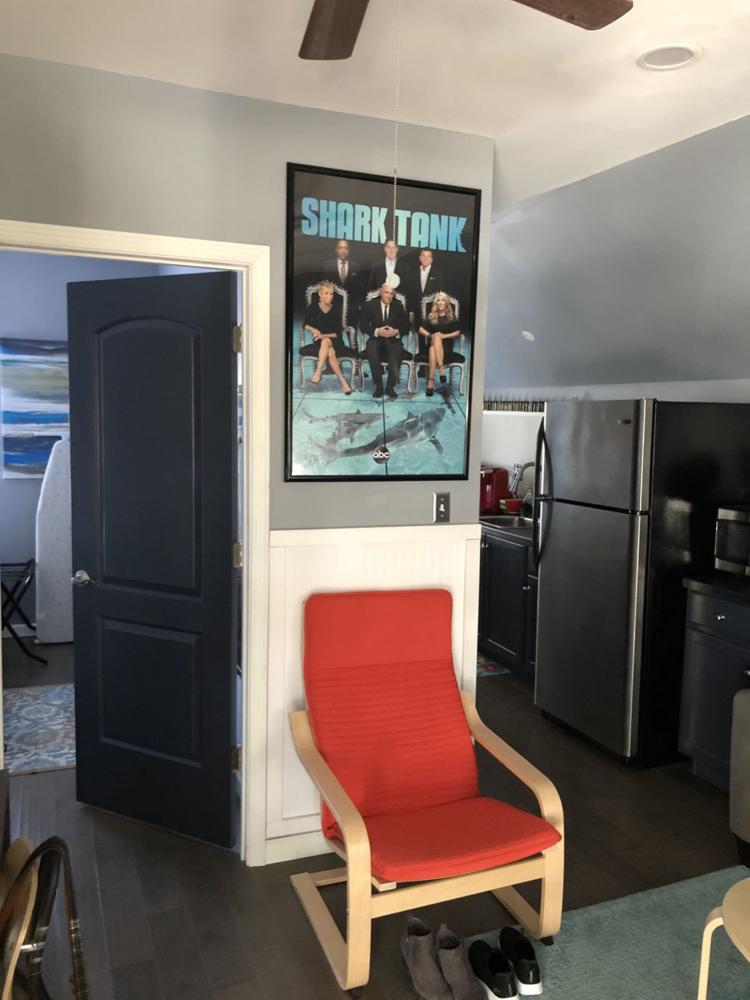 It's the neighborhood scene included when you choose to lodge in this residential part of Kansas City rather than in a hotel downtown. My wife and I are staying here because we're in town for several days visiting family, and it's an economical way to travel.
With taxes and fees added, we'll be paying about $100 a day for accommodations that include a king-size bed and a full-size stove and refrigerator — not that we plan on spending a lot of time in this three-room hideout.
Hideout is definitely the operative term for this place. When we arrived just after dark, we thought our smartphone GPS had failed us. We were parked in front of a two-car garage next door to a shuttered Mexican meat shop tagged with graffiti. Not an image we remembered from the listing. The owners had left that one out.
Inside, once we had retrieved the correct building code to enter after several failed tries, our home away from home told a different story. The Shark House was indeed the one we had seen online, and it was pretty much everything that was promised: a newly renovated space eyed toward corporate travelers. The decor is a wash of pinks and aqua, and the theme was inspired by "Shark Tank," the popular ABC show where business tycoons dish out some of their pocket change to invest in startup companies.
The first thing you see when you open the door is a giant "Shark Tank" poster featuring six of the principal stars of the show. In the bedroom, we had to relocate a couple of giant plush sharks to unmake the bed. It felt like we had booked a few nights in a business theme park.
I had fully intended to disengage from work while spending a long weekend visiting my son, daughter-in-law and 2-year-old grandson. But that's hard to do when you are hanging with the sharks.
Along with the marine color scheme are doodads from the show hanging on the walls, the oddest ones being little wooden chairs with snapshots of the stars attached. And then you have to contend with inspirational quotes from these multi-millionaires framed with their portraits.
Lucky for me, we will be looking for fun things to do around Kansas City, which means finding spots with cool playgrounds for a toddler. Otherwise, I will waste this downtime in a guilt spiral thinking I should be spending more time developing my career.
I blame Mark Cuban, the "Shark" star whose holdings include the Dallas Mavericks NBA team.
"Work like there is someone working 24 hours a day to take it all away from you," Cuban says from his portrait on the wall.
I get it, Mark. But right now, my job is being a grandpa. And we are running 10 minutes late for a date at a playground.