Drew Kane, owner of NH Float in Londonderry, has always been in the business of helping people. Once a social worker and then a probation officer, he's spent his life working with people who needed someone there for them as they navigated some tough times. Being that person fuels him.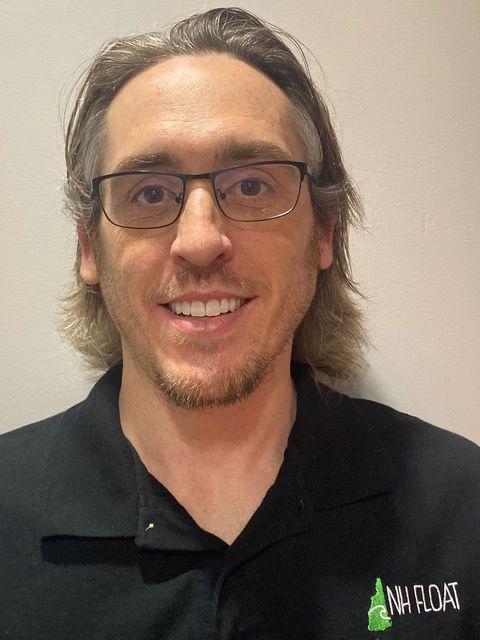 That drive to be there for people who are going through something hard mentally or physically is the basis for NH Float, a flotation therapy center. Customers lie in tanks 10 inches full of a solution of water and Epsom salt, which creates buoyancy, according to the company's website.
Starting a business has its challenges, and Kane has faced his fair share along the way.
Before starting NH Float, Kane had attempted to launch five other businesses, with no success. Each felt like a defeat. "I used to look at it like I was a failure," he said.
Despite it all, however, Kane held onto the idea of becoming an entrepreneur, continuing to circle back to the idea of opening a float center. Finding support was tricky. Even his friends and family members told him the idea would never work. "The negativity was draining," he said.
Yet Kane knew he had something worth fighting for and held onto his dream for this business.
Building success
The grand opening of NH Float came in November 2017. After frustrations with finding a workable location to rent, Kane bought his Londonderry premises and outfitted it by hand.
The flotation cabins? They were built by Kane, customized to create the experience he envisioned for his clients. He's cleaned every toilet, scrubbed the floors, rolls up his sleeves and gets down to business when the plumbing needs fixing.
Every inch, every unique touch has been carefully designed by the entrepreneur behind it, and all that hard work paid off.
Through strategic marketing efforts on social media, spreading the news through word-of-mouth, and setting up a pre-sale to bring clients in, Kane's business proved a financial success in its first month. Apprehensive, even pessimistic clients came through the doors for their first floats only to become loyal devotees.
Mission accomplished
Kane knew, though, that while his initial success was an achievement worth celebrating it wouldn't mean much if he couldn't sustain it. He hired a team to help him with day-to-day operations, found the right rhythm for marketing, and set to work on growth.
"What you do with your time directly correlates to your success," Kane said. It's a practice he lives and breathes. Whether it's tackling the books, hefting a bag of Epsom salts, talking to clients about how they're doing, or digging up every scrap of industry knowledge he can find, Kane is constantly working to improve and grow NH Float.
In 2018, that effort led him to reach out to SCORE. His business partner had left, and Kane knew that he needed a helping hand himself when it came to picking up the pieces that had been outside his wheelhouse until that moment. Teaming up with Gene Calvano and Wendy Schoneberger was just what he was looking for. Together, they helped Kane identify the gaps in his experience and came up with the tools he needed to soldier on.
Two years after its launch, NH Float is a thriving business. They now offer a variety of floating options, from traditional pods to hand-crafted cabins — the third of which opened to the public this year. Kane endured seemingly endless challenges to reach his goal and continues to persevere despite unforeseen bumps along the way.
"I am the hardest-working float person in New Hampshire," he said. "I will outwork anybody when it comes to this business."