Last week, I had a situation occur that was both embarrassing and disappointing. It was something I reflected on a lot over the course of the week. I spent a lot of time thinking about how it could have happened, and I also thought a lot about what changes I could make to ensure it never happened again.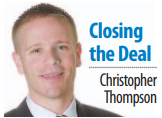 One of the nonprofits I am most passionate about is the Make a Wish Foundation of NH. I've been involved with the organization in several capacities over the years and currently serve on its board.
I received a text message from of one my favorite Make a Wish staff members, Nikki Lyons Lahey, with a picture of one of my lifelong friends sitting at a table. In her text, she said they were together, and I was trying to figure out how they could have possibly connected.
As it turns out, my friend and her 18-year-old daughter were with Nikki and other members of the Make a Wish team at a dinner getting ready for the wish her daughter was being granted the following day.
I had no idea my friend's daughter was diagnosed with a life-threatening medical condition. And I had no idea she was granted a wish and was now part of the Make a Wish family. Although I hadn't talked to my longtime friend in a while, you'd think I would have at least known what was going on in her life.
Unfortunately, I had no clue.
As a board member, I was embarrassed that I wasn't aware of her daughter's wish and didn't even know how she was introduced to Make a Wish. And she had no idea I was involved with Make a Wish. She learned about my involvement through the conversation she had during her dinner with the staff. That is pretty sad. Shame on me.
Although this doesn't sound like a big deal, it is to me. How could I be so disconnected and out of the loop, that I didn't even know what was going on in my friend's life? And why am I not paying closer attention to the names of the children and families who are involved in the wish granting process? I don't have good answers to these questions, aside from the lame excuse that I have been busy and consumed by work. There really is no good reason.
Imagine if you sold insurance and were having dinner with a friend you hadn't seen in a while. During dinner, your friend mentioned how he just switched insurance companies. And he didn't buy from you. And the reason he didn't buy from you is that he had no idea you sold insurance. Situations like this happen more than we realize.
Everyone in your network should know what you do. If you're in sales, they should know what you sell. It doesn't mean you're going to give everyone you know a hard sales pitch. But if people don't know what you do, you're doing yourself and the people around you a disservice.
In my situation, I didn't miss an opportunity to sell something. But I did miss an opportunity to be there for a friend going through a challenging time. Live and learn.