Tempers flared among hard-working students and parents over the past week when news broke about rich celebrities cheating the admissions process at some of our country's most prestigious universities.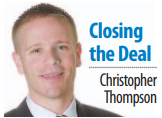 As you probably heard, they allegedly lied and cheated and paid large sums of money to get their children accepted into the schools. And now, everyone involved is facing some pretty serious criminal charges. It's a good reminder about doing the right thing and what can happen if you don't.
This recent news also provides an opportunity to discuss how businesses offer gifts and perks to their prospects and customers. And we all know this is a very common practice. Most companies I'm familiar with have some type of strategy related to additional incentives they offer customers. And while it's not bribing someone with millions of dollars, it absolutely influences someone's decision on where they will do business.
One company I worked for early in my career had a partnership with the Boston Red Sox. As part of the partnership, we had tickets available for every game, and the seats were amazing. It was a one of a kind experience that most people have never seen before. Oftentimes, we'd invite customers into the luxury box that overlooked the field, provide food and drinks and watch the game together. It was also a great environment for socializing and building relationships. Of course, we'd talk business, but we'd also have an opportunity to learn more about people whom we worked closely with. And there were definitely a lot of deals that were closed at those Red Sox games.
Unfortunately, some may argue that it's not fair and that it's bribery to offer customers these types of perks. Some companies even have policies prohibiting their employees from accepting gifts over a specific dollar value. And the dollar value is usually extremely low and designed to limit the influence a gift could have over a deal. It makes sense, but in my opinion, it's a bit over the top to not allow it at all.
Whenever you are involved in a business partnership with someone, there is a lot to consider. You are likely going to be working together for long periods of time, and the health and strength of the relationship is important for both sides. Getting to know all of the people involved in the relationship is helpful in building trust, and I'm personally a big fan of doing everything you can to make that partnership as healthy as possible.
I believe the key consideration with offering customers perks and gifts is the intent of the offer. If you're working with a potential customer on a large deal and offer to give them tickets to a Red Sox game if they choose to work with your company, that's crossing the line. But if you have extra tickets to a game and offer a loyal customer the tickets, I think that is totally reasonable and fair.
The bottom line is that companies should not be offering gifts to prospects and customers with the intent of influencing a major decision. These perks should be used sparingly and not as a quid pro quo. Offering something of value in exchange for someone doing business with you is when the line of ethics is crossed.