DERRY — A Derry restaurateur recently returned from a nine-day training program in Britain to learn about cask beer. Now, he hopes to lead the charge to expand the beer trend in New Hampshire and beyond.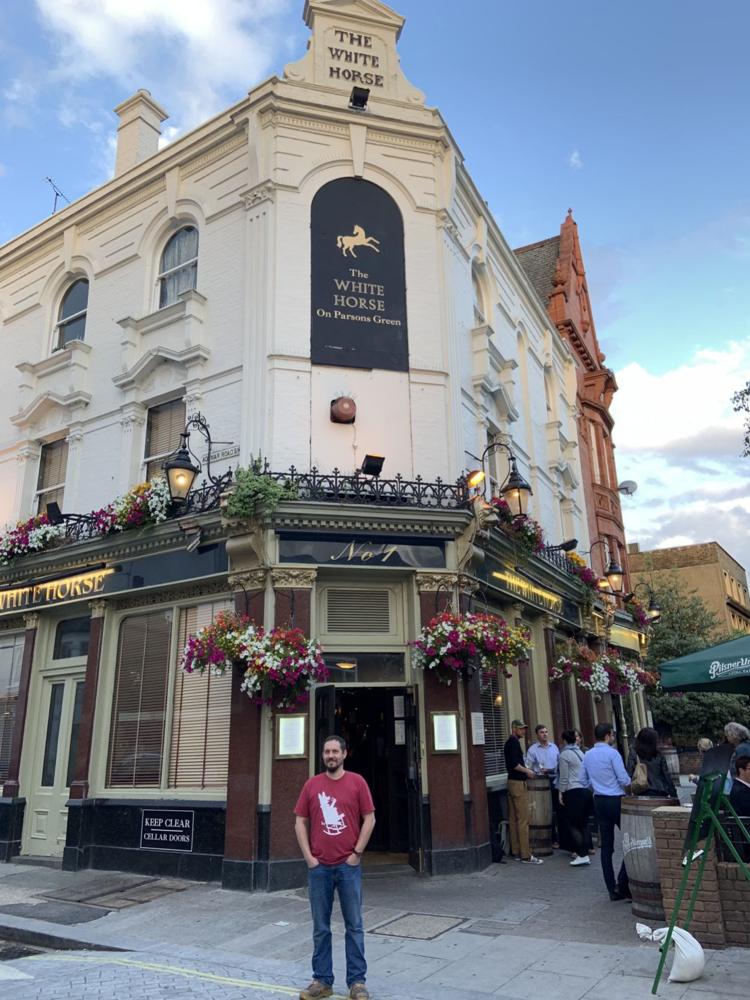 Cask beer is an old-school product that's a mainstay in British pubs, but one would be hard pressed to find a local establishment pouring it.
"Cask ale in New Hampshire is nearly nonexistent, with the exception of a couple breweries pouring a cask here and there," Cask & Vine owner Andy Day told the Union Leader.
Last month, Day was selected to participate in an apprenticeship of sorts to pick up the tricks of the trade, hosted jointly by the U.K.-based Campaign for Real Ale (CAMRA) and the U.S.-based Cask-conditioned Ale Support Campaign (CASC).
Only one U.S. citizen is selected for the scholarship each year.
As far as he is aware, Day said, only Great North Aleworks in Manchester and Martha's Exchange in Nashua regularly serve cask beer, aside from his own restaurant, which sports the tell-tale wooden cask pump handle at the bar.
Other breweries will make cask beers, but they don't sell them in their tasting rooms or beer halls, and they're often brewed as one-off experimental novelties or for annual cask beer festivals like the New England Real Ale Exhibition (NERAX) in Boston or Day's own Cask.On festival (formerly known as 300 Pints).
Day said Cask.On, which he started hosting four years ago, is the only cask ale festival in the state. This past May, the festival played host to 34 casks from 28 unique New England breweries.
A quick primer: Cask ale is an unfiltered beer that's "conditioned" with natural carbonation that occurs partly in the brewing process, and partly from secondary fermentation that's triggered by venting the cask a full day before it's served. Modern beers go through a forced carbonation process.
Casks are meant to be kept in crisp 55-degree temperatures, and the beer usually retains its ideal flavor character for only about three to four days after it's tapped.
"The romantic notion of cask beer, I guess, is it has that short shelf life," Day said.
The resulting beverage will have a softer carbonation and a wider array of nuanced flavors and aromas, Day says, which are often muted by the forced carbonation process.
Day said he spent part of his time in the classroom, and part of his time learning from experts out in the field, or at the pub, as it were.
It takes a person with intimate know-how to follow the intricate steps required to handle, serve and maintain cask beer, he explained. A traditional cellarman needs to know not only how to store and prepare the casks, but how to check the beer for clarity and address issues like replacing broken faucets (since casks are gravity-fed) without too much beer loss.
"There's a certain finesse required for being a cellarman," Day said. "Because it's a live beer, there's a lot more care that needs to be taken with it in order to properly serve it."
At the end of his training, he manned the U.S. bar counter in the international section of the five-day-long Great British Beer Festival in London. Day said there were a total of 1,300 casks available at the festival.
Day served over 100 different U.S. cask beers, including some from New Hampshire made by Schilling Beer Co. in Littleton, Stoneface Brewing Co. in Newington and Chapel + Main Brewery in Dover.
Day said he was honored to be selected for the scholarship, and to be awarded a Certificate of Cellarmanship before coming back to the U.S.
In England, Day said, cask beer is "a way of life," but in America he said the concept is lost on most people, and those few who get to experience it are often left with a bad taste in their mouth because the cask wasn't well cared for by the servers.
Day hopes to change all that. "There's never been a better time for brewers to go out on a limb and try these classic styles," he said.
One common style of cask beer in Britain that Day would like to see local brewers explore is a low-alcohol variety (some as low as 2.5 or 3.5% alcohol by volume) that costs less to make because of a limited grain bill and is priced lower for consumers.
Right now, the beer culture in the U.S. equates low-gravity beers with low quality, Day said. But that doesn't have to be the case, he said.
He said he hopes to integrate what he learned to expand his Cask.On festival to two days or more, and hopes to incorporate more imports using the connections he made abroad. He also wants to host a regular cask event at his restaurant that focuses less on the beer and more on the social aspects that British pub culture is known for.
Cask brewing gives the brewer a chance to experiment, he said. He noted that Rockingham Brewing Co. in Derry made a cask beer that was a variation on the business's popular Javelina IPA that incorporates habanero peppers. It was such a hit, the company now brews a regular draught version of it.
"A brewer that likes to brew is excited about a cask because they can do something funky with it," Day said.