FRANKLIN — While some people across the state continue to bask in the afterglow of the defeat of the Northern Pass Transmission project, not everyone is happy.
Eversource pulls plug on Northern Pass project
Some of the earliest opponents of the Northern Pass Transmission project gathered at the Poore Family Homestead Historic Farm Museum on Saturday to burn a model of a high-voltage tower.
Russ Thibeault, president and founder of Laconia-based Applied Economic Research, said there were winners and losers — the latter group including Eversource, the city of Franklin, and municipalities that would have hosted the project's infrastructure.
Franklin, he said, was going to be "probably the biggest winner."
Proposed by Eversource — the successor of Public Service of New Hampshire — the project would have brought hydroelectricity from Canada into the New England power grid via a 192-mile route that began in Pittsburg and culminated in Deerfield.
Franklin Mayor Tony Giunta said the city expected to receive up to $7 million a year, likely in the form of a payment-in-lieu-of-taxes, from Eversource, which planned to build a DC-AC converter station on a 100-acre parcel off Route 3.
Franklin, which operates under a municipal spending cap, raises about $14 million annually in taxes, said Giunta, meaning that the Eversource money would have been a huge blessing.
The city had been an early intervenor in favor of the project, said Giunta, and it reacted with "complete shock and amazement" when the Site Evaluation Committee (SEC) voted unanimously in 2018 to reject the NPT application. Last month, the New Hampshire Supreme Court rejected the project's appeal of the SEC decision.
Opponents said Northern Pass would have scarred the landscape and also had a detrimental effect on property values and tourism.
Eversource Media Relations Manager William Hinkle said NPT would have "helped reduce carbon emissions, lowered costs for our customers and directly provided New Hampshire with more than $3 billion in job, tax, and other economic and environmental benefits."
He said Eversource was poised to fully roll out both its $200 million Forward NH Fund and the $7.5 million North Country Job Creation Fund.
Forward NH, which was to have been funded by revenue from NPT, has already disbursed $5.5 million, including through a $5 million loan to The Balsams; a vehicle charging station at Roger's Campground in Lancaster; a public safety service antenna on a cell tower in Northumberand; and LED street lighting in several communities.
Hinkle said the unrealized benefits of the project include an estimated $62 million annually in lower energy costs for Eversource customers in New Hampshire; tax revenues of approximately $30 million per year to the host communities; annual carbon reduction of roughly 3 million tons; and approximately 2,600 jobs through construction.
Northern Pass would have permitted the potential "mixed-use" of 5,000 acres of land that Eversource acquired, said Hinkle; would have seen an estimated $2.2 billion increase in New Hampshire's GDP; and would have allowed Eversource to revisit the power-purchase agreement "that could have provided even more benefits to New Hampshire."
Scott Tranchemontagne is a spokesman for Les Otten, the lead developer behind the effort to revitalize and expand The Balsams in Dixville.
He said The Balsams are unaffected by the Supreme Court's rejection of the SEC appeal, saying it is presently seeking a buyer for a tax-assessment-district bond whose sale will hopefully allow Phase I — which includes a major expansion of the former Wilderness ski area — to proceed.
In Berlin, which is nowhere near the proposed route for the transmission project, Northern Pass had lots of backing because Eversource had pledged to spend upward of $50 million to update the so-called "Coos Loop."
The Coos transmission loop connects Eversource substations in Whitefield, Groveton and Berlin and has long been of concern because it doesn't have enough capacity to allow the expansion of energy generation in the area.
At present, Berlin is home to the Burgess biomass plant and the Jericho Wind facility and is working to bring solar to the city, too, but with the demise of Northern Pass, "We've lost the ability to expand/attract new generation projects here," said Mayor Paul Grenier.
Although disappointed by the SEC ruling and the upholding of it by the state Supreme Court, Franklin's Giunta said the actions weren't a complete setback for the city, which since Northern Pass came to town, has pursued a parallel development plan.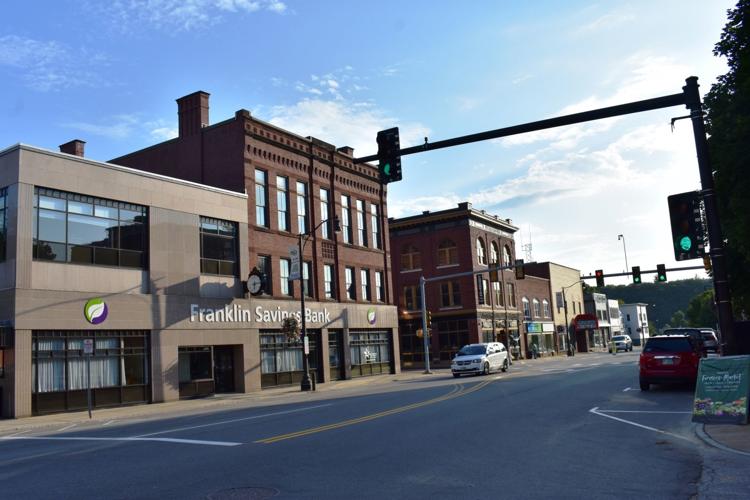 Part of that plan, he said, includes the $12 million rehabilitation of the River Bend Mill, which was purchased by CATCH Neighborhood Housing and was converted into 45 units of affordable housing.
Other ways in which the city is moving forward, he said, include a façade renovation of buildings along Central Street, which goes through the heart of Franklin's downtown, and a whitewater park on the Pemigewasset.
"We are growing our tax base, and we've become an attractive location" for both businesses and residents who want the comfort of predictable municipal spending, Giunta said, noting that the overall tax rate in Franklin is currently $21.96 per $1,000 of assessed valuation.