HANOVER — Mary Albert had been going to Greenland for years to study the ice sheet and gather data on the effects of global climate change when she was approached by Greenlanders to help get them off fossil fuels.
"They came to me and said 'everything we do is based on diesel fuel,' " Albert said.
Albert, a professor at the Thayer School of Engineering at Dartmouth College, was recently awarded a $2.6 million National Science Foundation grant to help the people in Qaanaaq, a community with a population of less than 700 and one of the northernmost towns in the world.
Albert's ice sheet study has been funded by the National Science Foundation, which encourages its scientists and researchers to make contacts in the communities in which they study. Albert started giving talks to people in Greenland about what she learned about climate change through her work, and that's when the people of Qaanaaq came to her.
These Greenlanders live off the land and sea, she said, hunting and fishing in the remote town of about 600 people. They need diesel for their boats, as well as their snowmobiles and home generators. There is no national electric grid on Greenland, Albert said.
"For them it's really important because their future is at stake," Albert said. "They live off the land in a far northern area and they'll lose their culture if they can't stay there."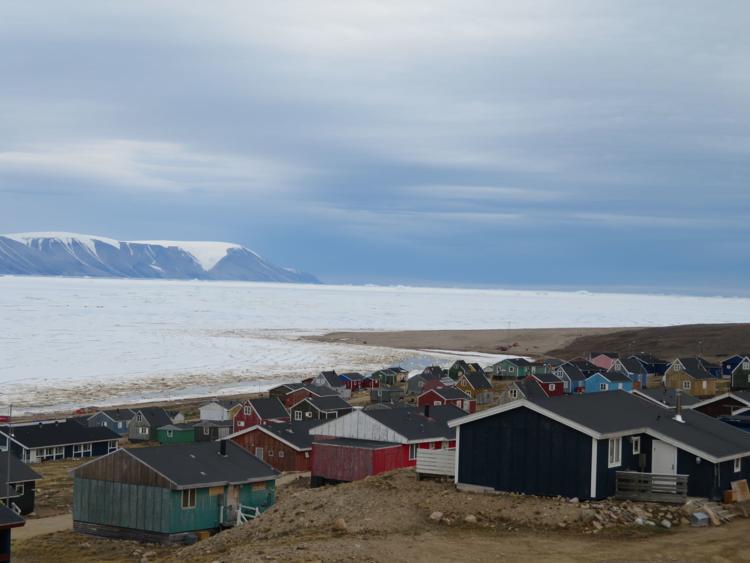 Albert knew she couldn't make an impact on her own, so she put together a team at Thayer and applied for a grant to get the project started. She and her team, which includes people in Greenland, will be going to Qaanaaq in April to get the four-year project started.
The first order of business is to develop a renewable energy system for the village. Albert said solar energy could work, despite the fact there are months at a time in winter when the sun never rises. The summer sees months with constant sun, and the problem then becomes how to harness the excess summer solar energy to use in the winter.
One option is to use the extra power in summer for a water pumping system and reservoir. In the winter, the water can be released to run downhill and power a hydroelectric generator, she said.
The team will also work with the residents on designing new, more energy efficient homes that fit the hunting and fishing lifestyles of the people.
More importantly, the team will look at middle and high school curriculum that draw students to electrical engineering and other fields where they will be able to put their knowledge to use to build a sustainable future. Ultimately, giving the people in Qaanaaq the tools to make their own impact is the key to sustainability, she said, and not what the Thayer team can do.
"It's not as if we have a magic wand and can just change things and everyone will be happy," she said.