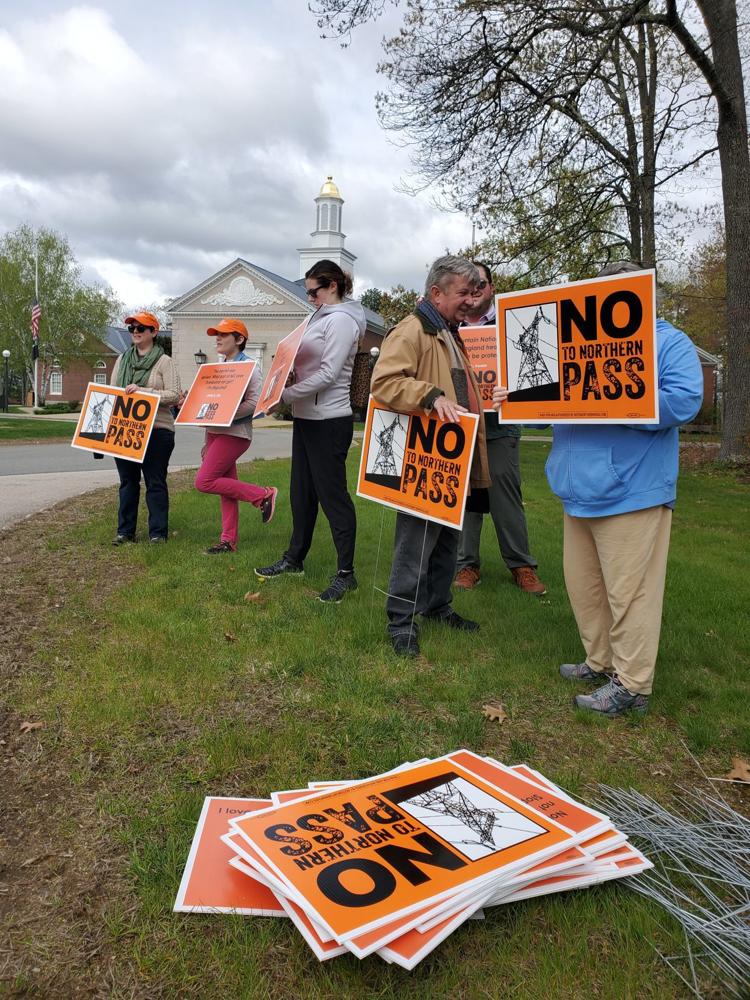 CONCORD — Eversource would consider revising Northern Pass or proposing a new transmission line project in New Hampshire if the state's highest court turns down its appeal heard Wednesday.
Reapplying with a revised Northern Pass application is "certainly something we'd consider," Eversource New Hampshire President Bill Quinlan said outside the state Supreme Court.
"We'll evaluate the outcome of the court, but a new application is certainly possible," Quinlan said. "You know we hope and expect that this project as currently configured will go back to the Site Evaluation Committee for reconsideration."
The SEC unanimously rejected the Northern Pass project in February 2018 and a year ago turned aside a request to reconsider its decision and resume deliberations.
The 192-mile Northern Pass route would have run from Pittsburg to Deerfield through more than 30 communities, bringing hydropower from Quebec into New England.
On Wednesday, the five justices asked dozens of questions to lawyers representing both sides.
Chief Justice Robert Lynn said Northern Pass faulted the committee for not considering ways to lessen or eliminate impacts created by the project.
"Underlying that theory that the SEC had that obligation, it seems to me sort of a sense that the SEC is supposed to view these projects with a view toward granting the application, that there is sort of some presumption that if there's a way to get to this, you should allow it, and that seems to me to be in some ways at least inconsistent with the burden of proof," Lynn told Northern Pass attorney Bill Glahn III.
"Why can't they say, 'Look, you're the applicant, you proposed this, we don't think you met your burden of proof and case closed,'" Lynn said.
Glahn said the committee failed to consider all evidence in the record, didn't consider mitigation efforts and didn't consider "all the significant benefits."
Glahn said the project tried to work with cities and towns to lessen the impacts. "Many of those towns simply stiffed-armed the project," he said.
The normal time frame for a decision is three to six months, but complex cases like Northern Pass can take up to a year, said court spokesman Carole Alfano.
"The normal time frame for a decision is 3 to 6 months. However, for complex cases (which NP seems to qualify as), it can be up to a year," Alfano said by email.
Attorney Amy Manzelli, who represented the Society for the Protection of New Hampshire Forests, said Northern Pass didn't meet its burden to receive approval.
Northern Pass's "position seems to be that there's some sort of entitlement, that when you submit the application and you go through the process, you should therefore get your approval," Manzelli said. "That's not the way development works."
State law requires the Site Evaluation Committee find a project meets four criteria. The committee said the project had not met its burden to show the project would not "unduly interfere with the orderly development of the region."
Lynn compared the SEC to a local zoning board considering various criteria required to approve a variance.
"That in order to find, to grant a variance, you have to find A, B, C, D and E and as frequently happens a zoning board says we don't ... have to consider B, C, D and E because the applicant didn't meet the burden of A," Lynn said.
Glahn said the statute didn't necessarily require all four criteria be considered. At another point discussing the law governing the SEC, Lynn asked whether "what the Legislature really did here, whether it was a good idea or not, is they effectively delegated a political decision to the Site Evaluation Committee."
Michael Iacopino, a committee attorney, said members conducted the proceedings properly.
"I am very comfortable that the Site Evaluation Committee did everything correctly, followed all relevant rules, applied the standards as required by the law," he said in an interview this week. Not all seven SEC members remain on the board. Glahn said he would favor a committee, even with some new members, to restart deliberations.
Senior Assistant Attorney General Christopher Aslin, who served as counsel for the public, said "it's difficult to see a path to a redo" and that letting new members read the transcript rather than sitting through 70 days of hearings "would change the dynamics."
Project foe Jack Savage said the justices "seem to get to the heart of the decision, particularly Chief Justice Lynn's observation or question about it seems that the applicant had this presumption that they should have gotten granted a permit simply by applying, but that's inconsistent with this notion that they have the burden of proof."
Protesters outside the courthouse included Jennifer Roff and her daughter, Florence, 11.
"It bothers me the answer already's been a no, and you don't keep asking for a new answer until you hear the one you like," said Jennifer Roff.