MANCHESTER – A new owner is suiting up for George's Apparel.
Jay Wolf, who owns Jordy's Men's Store in Dorchester, Mass., has bought not only the Elm Street building but its business, as well.
"We're hoping nothing changes, but he's new; we'll see," said general manager Holly Auger, whose tenure predated its late owner, George Angelopoulos.
Last year, George's Apparel celebrated its 30th anniversary under Angelopoulos before he passed away in July at age 92.
John Clayton, executive director of the Manchester Historic Association, said Angelopoulos created a "landmark business" in the city before many retail stores migrated elsewhere.
"For years, Elm Street was the retail hub of Manchester, and George's Apparel was literally the last man standing when it came to downtown retail," Clayton said.
Wolf, who couldn't be reached Friday, bought the building for $600,000 through his 675 Elm St. LLC.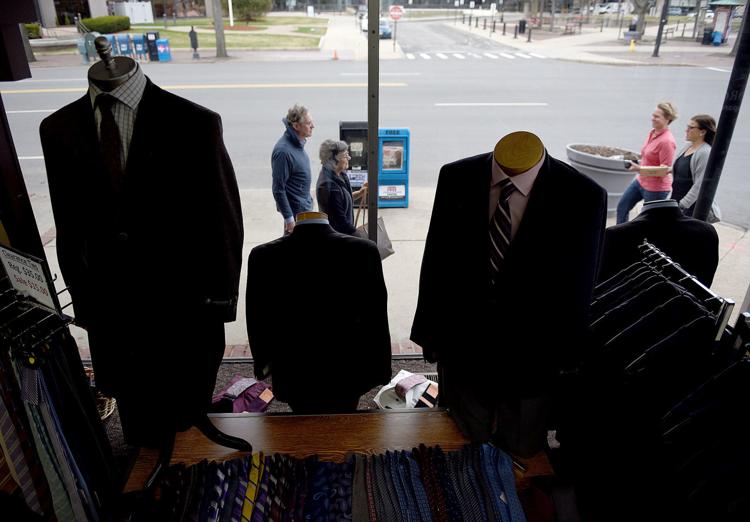 "This is our busy time," Auger said. "We're picking up now from proms and weddings."
She thinks the new owner could tweak the inventory, who's already added shoes.
"If anything, he'll add things like casual pants," Auger said.
She said the business remains profitable.
"Oh, my God, yes," she said.
George's reacted to the changing trends of business people by adding wedding suits and tuxedos, which made up about 40 percent of the store's business, Auger said last year.
"With the tuxedos and weddings, that helps," she said Friday. "It's picked up quite a bit."