Developers broke ground Wednesday on a new, $40 million assisted living facility on Old Bedford Road.
The three-story, 95,000-square-foot complex will sit on a 16-acre parcel at 24 Old Bedford Road, and include 105 apartments.
"I think this is going to be excellent for Bedford to have additional senior housing. It is going to be a beautiful facility," said Paul Harrington, vice chairman of the Senior Living of Bedford's Board of Trustees.
Senior Living of Bedford is a nonprofit organization that was formed to help create Bowman Place at Olde Bedford, the new assisted living and memory care community.
The 24-hour care facility will have a total of 105 apartments — 69 assisted living apartments and 36 apartments for memory care residents — as well as a total of 150 beds, according to the plans.
"The demand for this is great in Bedford, and we are going to try to make the facility quite unique and state-of-the-art," said Harrington.
There will be about 60 full-time employees at Bowman Place, said Alan Yeaton, chairman of Senior Living of Bedford's Board of Trustees.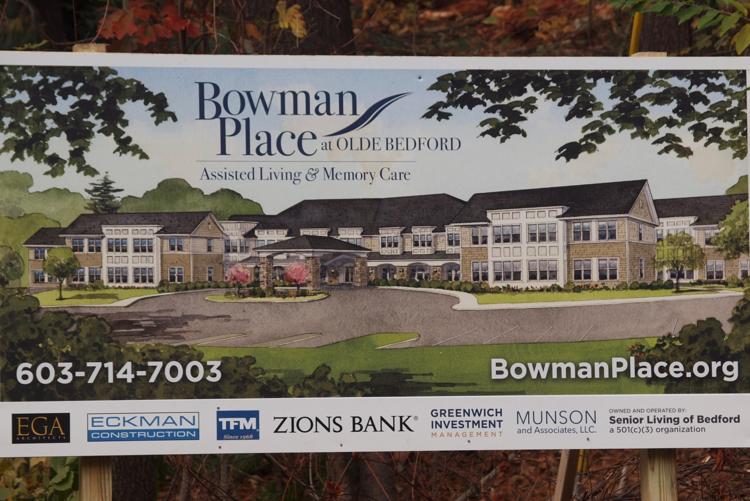 "The facility is uniquely designed to deal with dementia patients," said Yeaton. There will be two secure memory care neighborhoods incorporated into the design of the project.
"We believe this will be a great place to live," said Yeaton, adding the innovative housing aims to help residents remain as independent as possible for as long as they can.
Bowman Place will offer residents assistance with dressing, grooming and coordination of medicine, according to a release, which further says that three meals a day will be served in a two-story dining room.
Amenities such as common areas, activity rooms, a library, a fitness area, game rooms and more will be available at the facility.
The senior living community also incorporates an enclosed memory garden, walking paths, park-like grounds and a culinary staff, according to the release.
Developers are hoping to have the facility open in the spring of 2021.
Eckman Construction of Bedford is building the complex, which was designed by EGA Architects of Newburyport, Mass.
Bowman Place achieved financing through the services of Zions Bank of Newton, Mass., and a bond represented by Greenwich Investment of Stamford, Conn.