Regal has signed a lease agreement to open an 11-screen movie theater with up to 1,800 seats at the Market and Main development in Bedford.
"It will be state of the art, cutting-edge technology and the newest one that has come out yet," Terry Robinson of Encore Commercial LLC, said of the theater, Bedford's first in about 13 years.
Regal is part of Market and Main's second phase of development along South River Road, which includes dining, retail shopping and a proposal for 200 luxury apartments.
The theater giant already has locations in Newington, Concord and Hooksett. According to its website, Regal operates 549 theaters with a total of 7,211 screens, all of which have been closed since March 17 because of the COVID-19 pandemic.
Regal will serve as the anchor of the second phase of Market and Main, and will be constructed on the second level of one of two five-story buildings that will both include retail stores on the lower level and proposed apartments on the upper levels.
"The theater would be built simultaneously, at the same time as both buildings," said Robinson, who expects that the theater would open before the apartments are completed.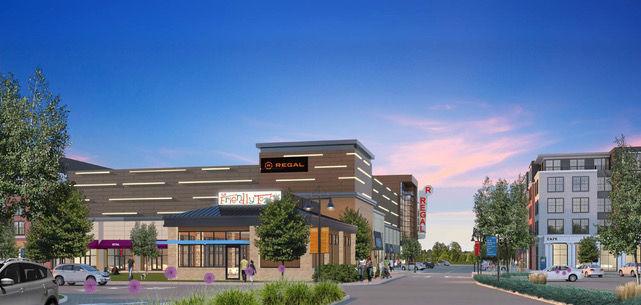 Although the Market and Main project was approved by town planners several years ago, changes have been made to the project; a new site plan will be presented to the planning board on June 1. Those plans will include a waiver seeking 200 apartment units that are currently not permitted under the town's zoning regulations.
"It wasn't intended to take this long and we certainly had every intention of following through with our initial site plan and approval that took place close to three years ago," said Robinson. " ... The change to add luxury residences is a huge enhancement into enticing the right tenants, whether it be retail service or entertainment — it was a big motivator for the theater."
While many Bedford residents have voiced opposition to the proposed apartments, many have also expressed the desire to have a movie theater in Bedford.
"I know there is some opposition out there, but there is also a lot of excitement," Robinson said. "This is not an apartment complex, this is a lifestyle and community way of life. We are hopeful that we will have the support that we need to continue."
E.J. Powers of Montagne Communications, a spokesman for the project, said Market and Main is a $120 million investment that will generate nearly 1,700 full-time jobs and between $467,000 and $740,000 in new net annual tax revenue.
"Living in Bedford, I want what is best for the community at that parcel," said Powers.
The Friendly Toast and Trader Joe's previously opened at Market and Main during the first phase of development.
"In light of the current COVID-19, we are as committed as ever to seeing this project through to a successful conclusion," said Robinson.
He said it will take an estimated 22 months to complete the second phase of construction once the new site plan is approved. The 200 luxury apartments will rent for $1,775 to $2,450 per unit.
Several planning board members have said they would not support a waiver for apartments at Market and Main unless the project incorporates workforce housing.