MANCHESTER — A year ago, Tracey McCormick wandered into an ax-throwing venue while on vacation in Texas. McCormick now owns a buzzing ax-throwing venue of her own, called RelAxe. It is the first such business in New Hampshire.
McCormick's business is part of a growing trend: four ax-throwing bars have opened in Massachusetts over the last year, and there are ax-throwing venues in cities around the country where patrons hurl short-handled hatchets at wooden targets.
After a career in human resources, McCormick had been looking to start a business of her own. She wanted to do something that would allow people to relax, like a reiki studio, where she could practice the "energy healing" art.
Then, she chanced upon the ax-throwing bar and her plans changed. When she sank her first ax into a target, she felt a release.
"As soon as we started throwing, it felt good," McCormick said. "I found this was more relaxing than some of the meditation I was doing."
Back home in New Hampshire, McCormick couldn't get ax-throwing out of her mind.
"I said, 'I'm opening this business,' and talked about it non-stop until I did it," she said.
With help from her siblings and cousins, McCormick started her ax-throwing business. Ax enthusiasts around the country have helped her along the way, McCormick said. On ax-centric Facebook groups, she received tips on her throwing form. Other ax bar owners gave her ideas for her own business, like separating target lanes with chain-link fencing, and using old targets to make tables.
RelAxe opened earlier this year in an industrial park near Manchester-Boston Regional Airport. Business has grown through the fall. McCormick said word got out on social media, and she has been buoyed by a wide range of customers — families, millennials and company groups all throw axes, she said.
Business has been so good that she is looking for a second location and thinking about franchising.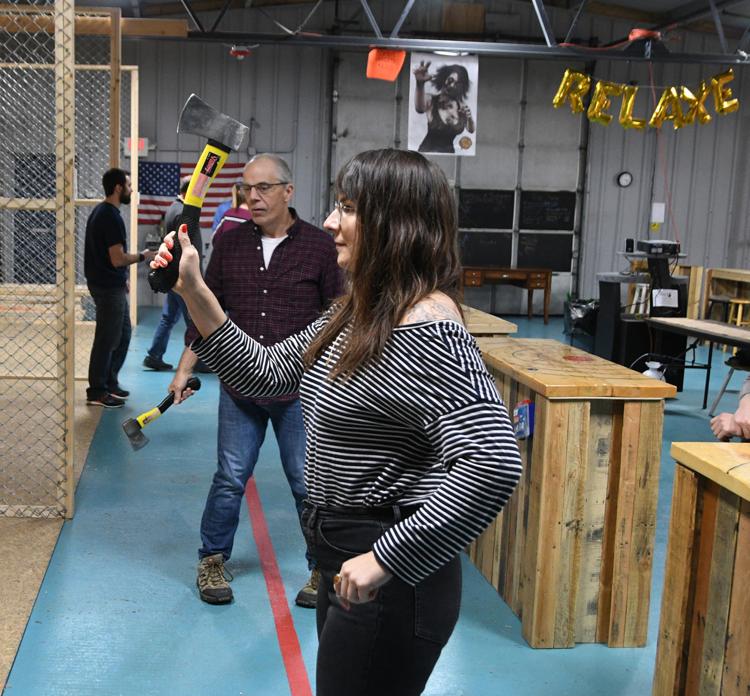 On Friday, about 20 people flooded into RelAxe as it opened at 4 p.m., a mix of family groups and friends. After a quick lesson and safety lecture, the axes started flying.
The first few tosses were awkward, as throwers figured out how to hold the ax, when to step forward and let the ax fly. For a few minutes, the room was loud with axes clattering to the floor.
Then the throwers got the hang of it — with a few pointers from one of the practiced 'axperts' pacing the room. The sharp blades land in the target with a satisfying thwack.
"As you start to stick it, you feel that release," McCormick said.
As throwers started hitting the targets, they threw their arms up in triumph. The "axperts" offered different kinds of axes to try, including heavier axes and axes with longer handles in different shapes.
RelAxe has its regulars, she said, and a competitive league started at RelAxe in late September. Two local throwers are heading to an international competition this month, McCormick said.
The ax-throwing venue is more like a bowling alley than the spa-like reiki studio McCormick thought she would open. But she's happy with her choice, she said, because she's doing something she enjoys, and creating a community around it.
"When you love your job, it's good," she said. "I get to watch people laugh."