The New Hampshire Sunday News in partnership with the Greater Manchester Chamber is profiling how small businesses are responding to challenges prompted by the coronavirus pandemic.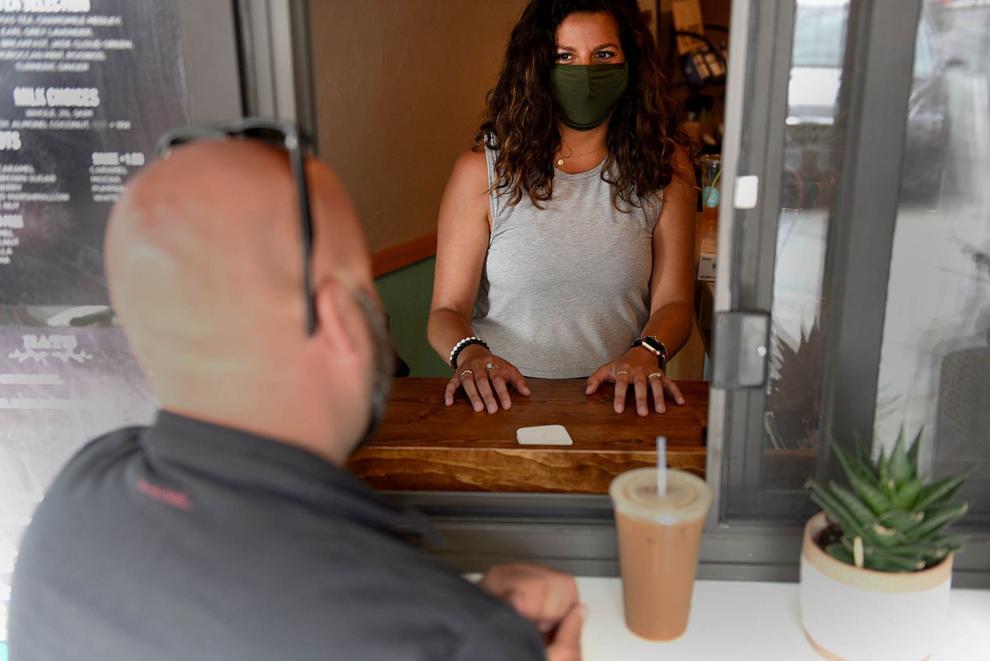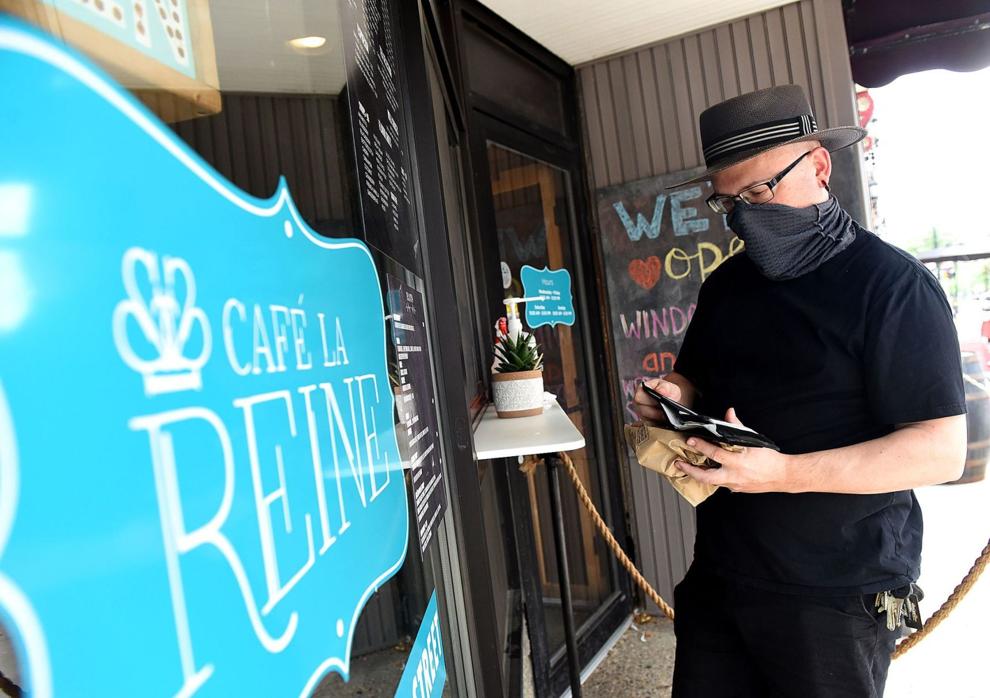 MANCHESTER — A few weeks after Cafe la Reine reopened amid the coronavirus pandemic, owner Alexandra Horton reached out to Queen City Glass.
"I asked if they had any takeout windows, and they happened to have one in stock," she said. "They just popped my old window out and put this in really quick."
The new window allows the cafe to serve its made-to-order food items and drinks at the 915 Elm St. location, much like a seafood shack or ice cream parlor. Ben & Jerry's across the street has a similar takeout window.
On the sidewalk, the cafe offers three two-person tables, but the indoors remains closed, its 25 seats having to be reduced to less than 10. The 900-square-foot long, narrow space is too small to have both tables and customers in line.
The cafe's seventh anniversary in March got interrupted by Gov. Chris Sununu's order for food service businesses across the state to stop serving dine-in customers effective March 17.
Horton decided to shut down.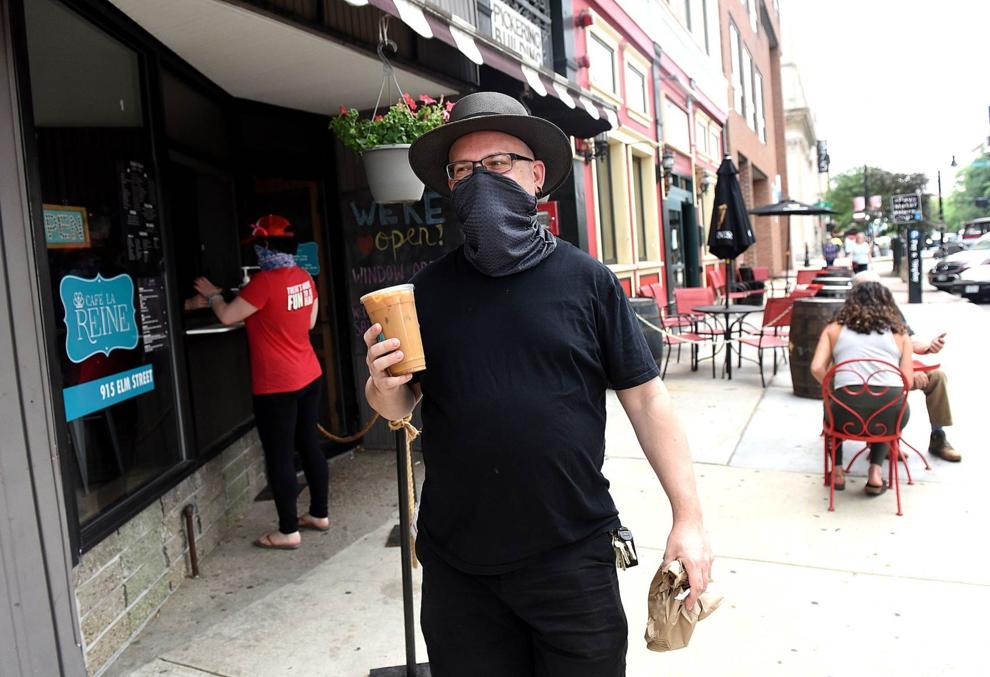 "There were so many ups and downs and thoughts, 'Will we be able to reopen again? Is this it for us?' I don't want it to be it for us, obviously," said Horton, 31. "This is my life. I love what I do, and I love this community."
The cafe reopened on May 5.
Horton worked with Citizens Bank to secure a Paycheck Protection Program loan through the federal Small Business Administration to help pay 2½ months of payroll, rent and utilities. The loan allowed her to bring back three of her 10 employees.
The cafe also received money from the state's Main Street Relief Fund based on what the business is projected to lose. The state approved 5,466 grants for a total of $334 million. Horton declined to disclose how much her business received.
Before getting the window, the cafe offered curbside pickup and delivery with orders placed online through the cafe's website, cafelareine.com.
"We would just run orders outside and lock the door after every order, which is a lot of work and a little frustrating," Horton said.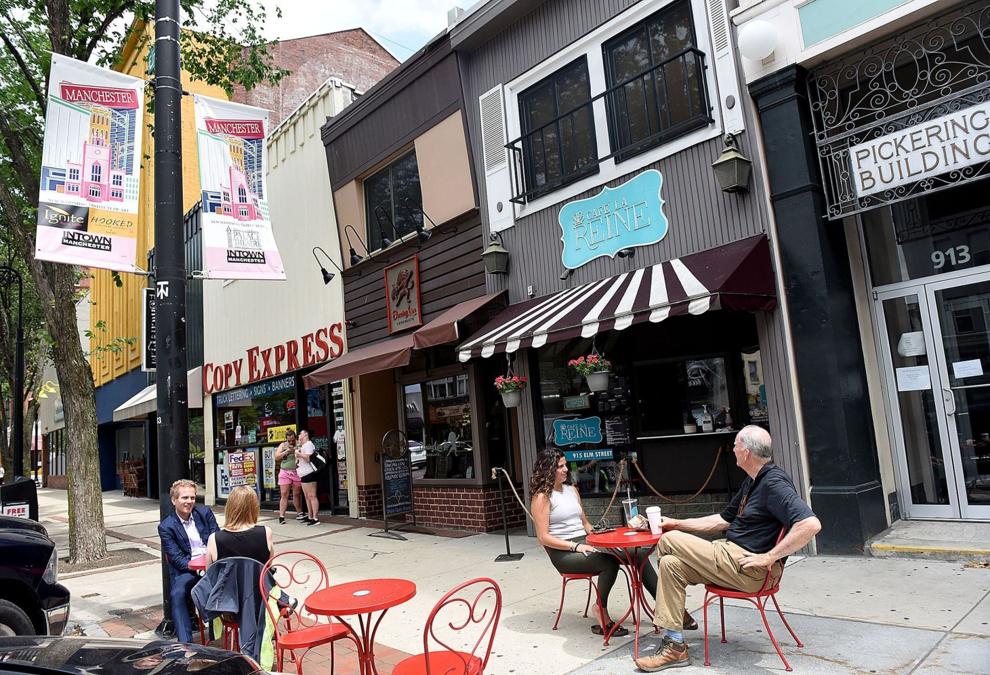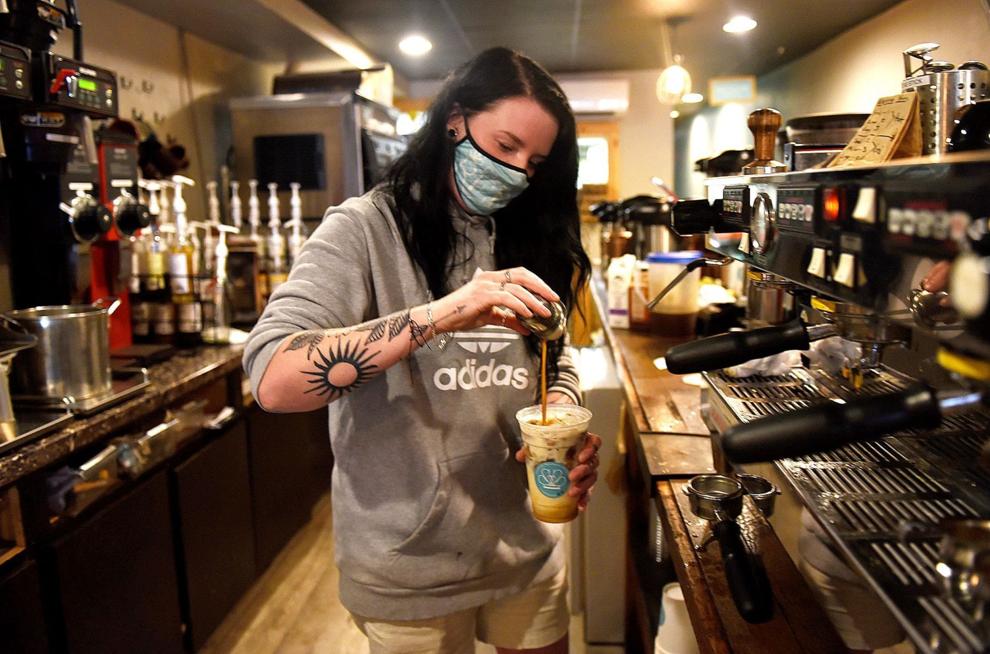 Staple on Elm
Horton opened the shop in 2013 as a recent graduate of Saint Anselm College with a business degree. It quickly became a popular gathering spot downtown.
"I always wanted a coffee shop downtown that was open later than 2 or 3 p.m.," she said, noting the previous 7 p.m. closing time. "But now we're only open until 3 p.m."
The hours have been adjusted to opening at 8 a.m. Wednesday, Thursday and Friday and 9 a.m. Saturday and Sunday. The offerings include its full drink menu and many of the popular breakfast items, including acaí bowls, avocado toast, bagels and sandwiches. More items will be added back as business picks up.
Before the pandemic, the cafe continued an "upward trend" and was short-staffed. Now, business is down about 75%. Most customers come from nearby businesses during the day and college students into the evening.
"We just haven't been seeing them, up until this past week, because no one was back at work yet," Horton said.
Will Stewart, executive director of nonprofit Stay Work Play NH, said Cafe la Reine is a spot for people to come together to meet for business, meet up with friends or go on a date.
"These types of community spots are vital to a community," he said. "It certainly has that reputation, especially being there dead center of Elm Street right across from City Hall. They are in the middle of the two large office towers."
He has also had meetings there serving as the city's Ward 2 Alderman.
"You are kind of in the middle of everything," he said. "I might be there to meet somebody or sometimes I'll just take my laptop there to get out of the office and work. I know I will see a lot of people I know."
Plans for the future
Horton thinks the takeout window works for now but is unsure if it will be there permanently.
"It won't work in the winter," she said.
Once restrictions are lifted on capacity, she plans to reopen indoors.
"There are just too many restrictions right now for us to be able to open inside because we are so small already," she said.
She is taking it day by day and paying attention to the state guidelines. Much more of her time is spent focusing on health guidelines and other work, such as tracking her loans.
Horton can't wait to welcome people back inside.
"We are really making sure that this is a clean, safe and sanitized environment for you, and we just really need our customers to start coming back downtown and frequenting the restaurants because I know a lot of us are hurting," Horton said. "It is not any one restaurant. Everyone is hurting."