The New Hampshire Sunday News in partnership with the Greater Manchester Chamber is profiling how small businesses are responding to challenges prompted by the coronavirus pandemic.
MANCHESTER — The day before the Hanover Street Chophouse reopened last week, a crew scrambled to rearrange the dining room, fold cloth napkins and prep the bar after being closed for more than three months.
Owner Steven Clutter expects to make further changes after its first weekend. The upscale restaurant is only allowed 50% occupancy, according to state reopening restrictions.
Regular customers will notice other changes: No valet parking, only one white tablecloth instead of two and customers asked to pull menus up on their smartphones.
"We will open for three days and see how it goes and make adjustments," Clutter said. "We will adjust the menu, adjust the service, and if that goes well we will open four days, and then we'll go to five days."
Clutter, who also owns The Crown Tavern a few blocks away, adapted the concept there to accommodate takeout when Gov. Chris Sununu ordered restaurants across the state to stop serving dine-in customers effective March 17 — St. Patrick's Day. The Chophouse reopened Thursday.
The Crown also reopened for indoor dining. The hours have changed for both, including the days open.
Before the COVID-19 pandemic, revenue was up 15% year over year at both restaurants. Now, it's down 40%, according to Clutter. He chose to reopen without taking on any new loans.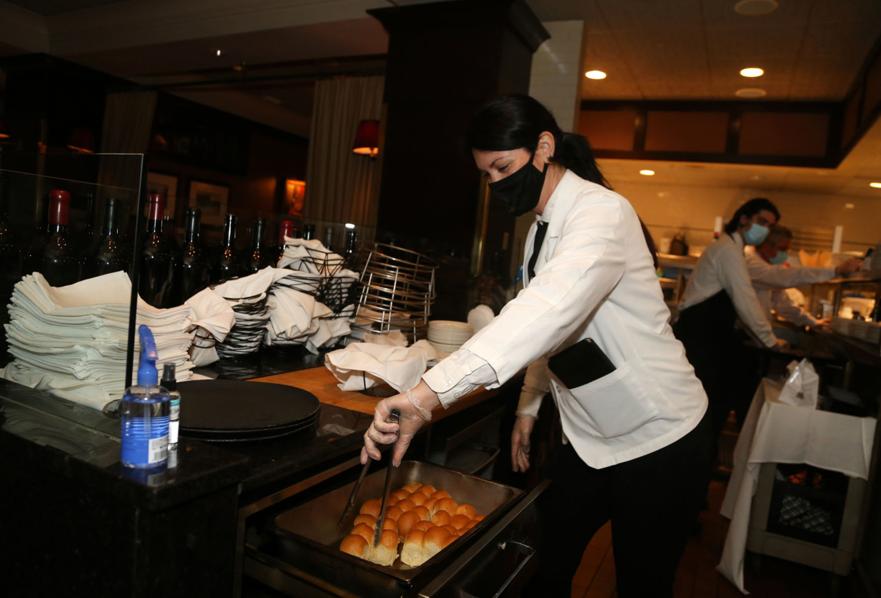 The Chophouse opened in 2005, with Clutter buying it in 2013. The Crown opened in 2017.
"Last year was a record May at Chophouse," he said. "May is probably the second best month of the year behind December."
The restaurants are reopening during two of the slowest months for the industry. To help make it through the closure, the Crown offered takeout and the Chophouse hosted pop-up butcher shops on Saturdays.
"My accountant says, 'You're not making money. You are just losing less,'" Clutter said.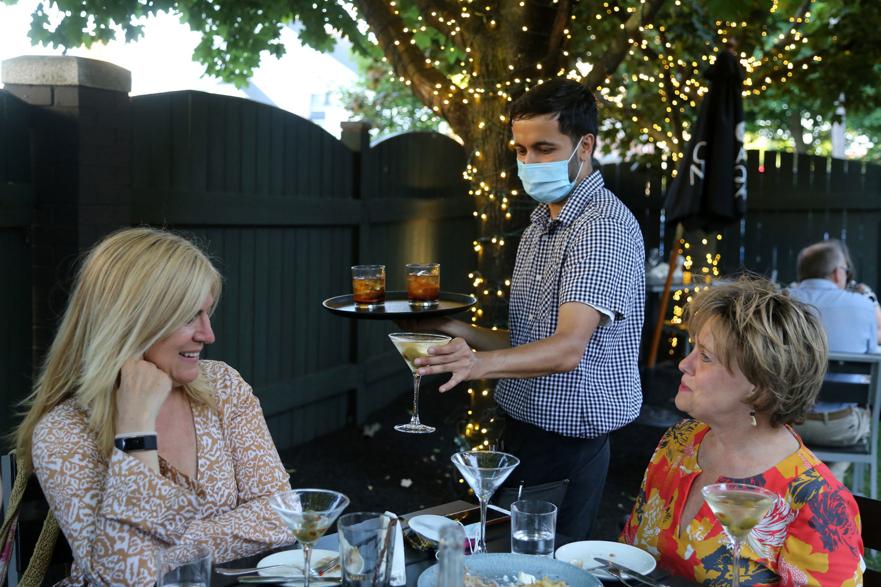 Shutting down
Just before the dinner crowd on Monday, March 16, Clutter held a Chophouse staff meeting where he announced Sununu's shutdown order.
"I told them, 'I just found out that tonight is our last night,'" Clutter said. "They were just looking at me, and I told them they would have to collect unemployment."
At the time, 110 people worked between the two restaurants. About 40 people are back until business picks back up.
During the week, the Chophouse hosted a lot of business meetings, which have come to a halt. The building has function rooms on the lower level.
"Business dining is Monday through Thursday. They are all on Zoom now. They aren't flying around," he said. "Business dining is going to take a long time to come back."
Another factor is the Palace Theatre, which is expected to reopen with a limited number of seats. The Hanover Street performing arts center is a magnet for local restaurants.
About two-thirds of the audience will go out to eat before a performance, said Peter Ramsey, president and CEO of the Palace.
"It is why we have to battle this COVID because it can be done safely," he said. "I've been to the Crown four times since they reopened, and every time I feel very safe. The employees wear masks, everybody is six feet apart and the food is terrific."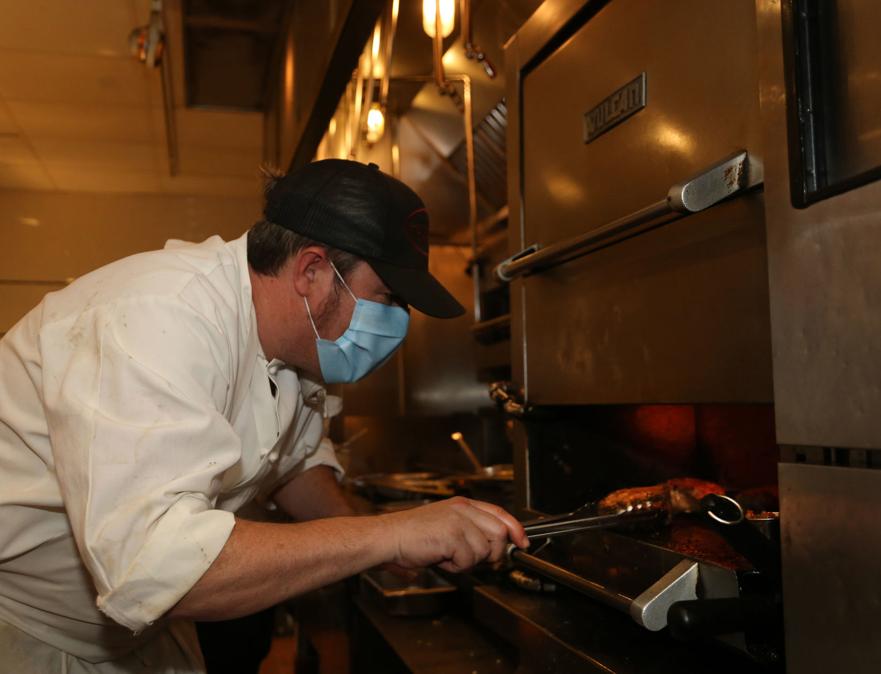 Clutter shut down the Crown for 12 days to come up with a takeout plan.
"Over at the Crown we figured out a formula that keeps a small group of people employed and brings in enough guests and enough revenue," he said.
Clutter even worked a few shifts washing dishes himself.
Ready for reopening
A lot of work had to be done to get the Chophouse reopened, including shampooing the carpets, polishing the floors, power washing sidewalks and landscaping.
The Chophouse indoor seating is down from about 196 to 92 due to the space restrictions.
The biggest challenge is ordering the food and scheduling the staff given the uncertainty.
"What is the longer conversation is the menu," Clutter said. "You have to come up with a menu that you have the people for that you can execute where you don't have to bring in the extra staff."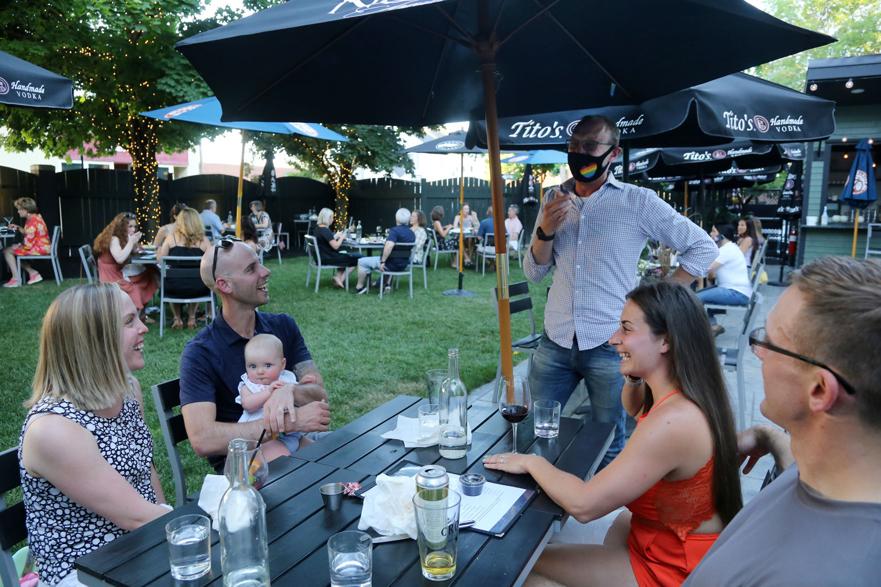 Some of the cost savings will come from small changes such as using single table cloths.
"We held on as long as possible," Clutter said. "If we can take 40% off our linen bill that is what we need to do. It is finding little things like that."
Clutter intends to launch an online ordering platform to boost takeout orders at the Crown.
"We hadn't done any of that when all this happened," he said. "We were taking credit cards over the phone, and it was crazy. It was a painful process."
Mike Skelton, president and CEO of the Greater Manchester Chamber of Commerce, called the Chophouse a cornerstone of the city's fine dining scene.
"The Chophouse has been an integral part of the diverse restaurant community that has grown in Manchester over that last two decades, which I believe rivals any destination in the Northeast," he said.
While July and August are typically slow, Clutter hopes for a strong showing because more people aren't traveling this summer.
"I think we are going to have a steady July with friends and family, which we haven't seen in 3½ months," he said.
Clutter feels like he is opening a new restaurant all over again.
"When we reopened the Crown it was like day one with butterflies in your stomach. Last minute changes. The clock is ticking," he said.
"We know we can do it. We've been doing it for so long."