MANCHESTER -- A former mill building where workers first made shoes and later circuit boards now is being envisioned for artists and others to live and work in the same space.
Liz Hitchcock and Amy Chhom are in the process of buying the former Cohas Shoe Factory building at 252 Willow St. to create up to 60 residential units for people looking for loft space.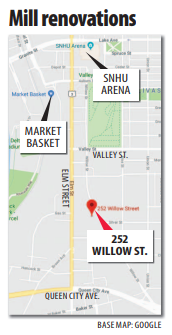 "We want them all to be able to live/work — if that's artists or technology-based businesses," Chhom said last week.
The four-story building — to be renamed the Factory on Willow — received a boost last week when the Zoning Board of Adjustment approved a variance to allow artisan lofts, a photography studio and dwellings in upper stories of a building with a commercial first floor in that zoned district.
Hitchcock, whose work includes opening a bookstore, Bookery Manchester, on Elm Street last spring, sees the mill project as a significant investment that would add to the city's redevelopment, especially on South Elm Street.
"I think it's pretty exciting," said current building owner Dick Anagnost. "You can have your shop and live there, too."
Hitchcock said she had hoped previous projects in the area would have spun off more development.
"We all thought that something would happen after Market Basket (on Elm Street) and (Elliot at) River's Edge (on Queen City Avenue)," Hitchcock said. "We need something other than a different restaurant to attract people to Manchester."
In November, aldermen approved a tax credit program for five years for the renovation of property at 379, 387 and 409 Elm St., opposite Market Basket. Ronald Dupont of Oak Leaf Homes LLC has said his redevelopment plan for that property includes retail or office space on the ground floor, and 90 market-rate residential units on five additional floors above it.
Hitchcock said she has spoken to Dupont about his plans.
Officials with the Willow Street project said it was too early to discuss the project's total cost or the monthly rents. They might apply for tax-credit financing for historic structures. The project would be completed before the end of 2021.
Hitchcock said the rents would be set only high enough to cover the project's debt.
"This is not a huge money-making scheme of the Hitchcocks," she said, referring to herself and her high-tech husband, Jeremy.
Several former mill buildings sitting along the same rail spur, including 252 Willow St., have been redeveloped, resulting in more property tax money for the city, according to Robert Gagne, chairman of the city Board of Assessors.
"Oh sure, something that's got a couple of floors of vacant mill space isn't as valuable as something with 30 or 40 apartments," Gagne said.
Anagnost said the new owners' plans will help the neighborhood.
"Any time you redevelop them, it's an anchor of the neighborhood and it spurs redevelopment around it," he said. "That's happened to every one of them that has been rehabbed."
Anagnost said the sale is expected to close around February, with the sales price still under negotiation. The city assessed the building at slightly more than $2 million.
Jeremy Hitchcock, co-founder of Dyn, now Oracle + Dyn, is focusing on education and startups while his wife "has been spending the last 15 years creating community via arts and culture," Chhom said.
"In collaboration with Jeremy's initiatives, we see the arts, culture and creative economy as an attraction/amenity for businesses and employee recruitment," Chhom said. "This project helps to further our mission and brings much needed attention to the South Elm corridor."
Chhom, who once served as director of development at Anagnost's real estate development company, said the project would help the arts community in Manchester. While the New Hampshire Institute of Art nurtures artists, once students graduate they become isolated, she said. A community of artists living and working in the same building would provide social support, collaboration and feedback.
Chhom said she graduated with a fine-arts degree but found it too expensive to rent both an apartment and studio. Unlike other lofts in the Millyard and Mill West, her project is in a less-crowded area, and the building would offer a lawn for residents. Parking would not be as much of a challenge as in other mill redevelopments closer to downtown.
The soon-to-be owners said the lofts, to be on the top three floors, could also be used by people in the gig economy who live and produce out of their home.
Built in 1904 by William Howe McElwain, it operated as the Cohas Shoe Factory. A succession of shoe manufacturers and government operations bought the building before it stood empty for years prior to Electropac buying it in 1979.
"In the late 1970s, when (Electropac owner) Raymond Boissoneau had a notion of converting the building to electronics manufacturing, he became fascinated with the history of the old shoe shop," said John Clayton, executive director of the Manchester Historic Association and the Millyard Museum
"He started collecting information and over time, he installed a mini-museum in his building at 252 Willow St. to document that history, and he was rightfully proud of that display," Clayton said. "There wasn't necessarily that sense of pride regarding our mill buildings back then, so Ray was something of a pioneer. It's great to see the way mill owners celebrate that history today, but give Ray credit for being one of the first."
Electropac grew to more than 330 workers at five locations in New Hampshire. Mass Design Inc. acquired the firm in 2015 and moved the operations by year's end.
The building, with a receiving area in the rear making it five stories there, currently has two tenants on the street-level floor..
Today, Tom Lessard, the owner of Bike Barn, which moved there last summer and rents 3,700 square feet, welcomed the loft concept.
"That'd be great," he said. Around New England, he said, there seems to be "more and more mixed commercial and housing."