It's a good year for New Hampshire maple syrup.
The syrup season at Folsom's Sugar House in Chester got off to an early start this year with the first tree being tapped at the end of January.
Typically, the season starts in mid-to-late February, said Brian Folsom, who operates the small business with his wife, Susan. The sugar house and store opened to the public in 1990.
So far, "we're probably around 140 or 150 gallons," he said, with an average season yielding 175 gallons from the 16-by-20 foot sugar house.
It takes about 40 gallons of sap to produce one gallon of syrup.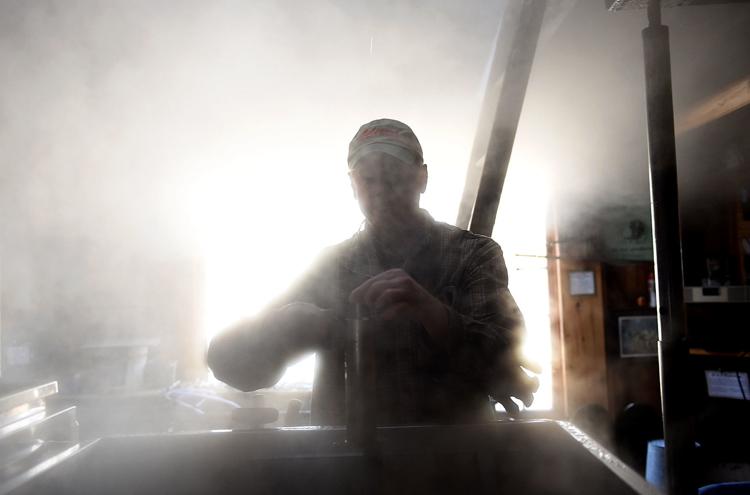 The state is packed with small maple syrup producers like the Folsoms. Last year, they put out 148,000 gallons of syrup — the lowest amount in three years, according to the U.S. Department of Agriculture. It pales in comparison to Vermont's more than 2 million gallons.
2019 Maple Syrup Production by state
| State | Production (gallons) |
| --- | --- |
| Vermont | 2.07 million |
| New York | 820,000 |
| Maine | 580,000 |
| Wisconsin | 270,000 |
| Michigan | 195,000 |
| Pennsylvania | 157,000 |
| New Hampshire | 148,000 |
| United States | 4.24 million |
Still, maple syrup is among one of the top crops in the state, according to the USDA.
Thanks to the warm winter, most sugar houses in the state started tapping about one or two weeks earlier than normal, said Nick Kosko, owner of Meadow View Sugar House in Union and former president of the New Hampshire Maple Producers Association.
But the warm weather could present challenges later in the season.
"If the trees decide to start budding early, then the season will come to a quick stop," he said. "There's really not much to slow things down, but it has led to big sugar runs. Some people are at a record pace this year."
David Kemp, who operates Yankee Maple in Jaffrey, is New Hampshire's representative to the North American Maple Syrup Council. He said early flows have been "good to excellent" this year.
"I don't know whether it is going to last with no snow cover and no forecast of snow or cold weather coming," he said. "It may be a harbinger of an early spring."
Yankee Maple typically produces about 300 gallons each season.
New Hampshire Maple Syrup Production
| Year | Production (gallons) |
| --- | --- |
| 2017 | 160,000 |
| 2018 | 163,000 |
| 2019 | 148,000 |
Kosko aims for 700 to 900 gallons of syrup a year out of his 12-by-45-foot sugar house. He's about halfway there so far this season.
While New Hampshire doesn't produce nearly as much maple syrup as Vermont, the industry draws tourists in pours millions into the state's economy, Kosko said.
The sugar houses will be tourist attractions next weekend, when member producers host their annual Maple Weekend open houses.
"It is a growing industry," Kosko said. "Every year, we are adding taps and adding production."
"New Hampshire is the most underutilized state in the maple belt," Kosko said. "We only tap about one percent of the maple trees in the state."
Most of the White Mountain National Forest in New Hampshire is untapped and real estate is more expensive in the southern tier, making large syrup operations less economical.
Many maple trees were destroyed when a hurricane ripped through the state in 1938, according to Kemp.
"My opinion is the maple industry is still suffering from that," he said, noting much of the regrowth was pine and oak in support of the forestry industry.
New Hampshire Maple Producers Association has about 400 members, but this doesn't account for every backyard operation around the Granite State.
"For most of us that do it, it is a labor of love," Kemp said. "It is perhaps a hobby where if things go well you can make a little money. Most of the time most of what (money) you make goes back into the operation."